What is Koko's Kitchen?
Koko's Kitchen was started as a way to share healthy, delicious recipes with people from around the world. It has grown into a place to share my knowledge in raw foods, and natural health and beauty, as well as my love of travel. I want to use my passion for food and natural health to help others reach their best body, mind, and soul.
Subscribe by E-Mail
Receive new posts straight to your inbox!
Partners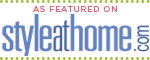 Featured Author