Catching Up and Chewy Chocolate Raspberry Cookies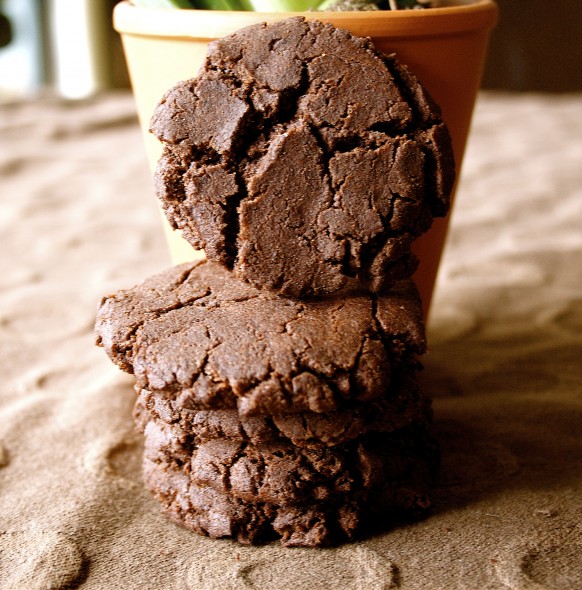 So, it's been a little while since my last post- I got a GREAT new job and it's full time, so it's left me with a little bit less time for cooking and baking but I've tried to catch up, so don't worry, I have a few posts up my sleeve for this week! I'll start with these Chewy Chocolate Raspberry Cookies from Veganomicon. This book has been sitting on my shelf and I almost forgot I owned it! These cookies taste chocolate-y with just a hint of raspberry flavour. They are crisp on the outside and nice and chewy on the inside.
Chewy Chocolate Raspberry Cookies
1/2 cup raspberry preserves
1 cup sugar
1/3 cup canola oil
1 tsp vanilla extract
1 tsp almond extract
1/2 cup plus 2 tbsp unsweetened cocoa powder (sifted if clumpy)
1 1/2 cups all purpose flour
3/4 tsp baking soda
1/4 tsp salt
Preheat oven to 350 degrees, lightly grease cookie sheet.
In a large mixing bowl, stir together raspberry preserves, canola oil, sugar, vanilla and almond extracts.
In a seperate mixing bowl, sift together the other ingredients. Add the dry to the wet in 3 batches, mixing well with a fork after each addition. When you get to the last batch you may need to use your hands to work the batter into a soft and pliable dough.
Roll the dough into walnut size balls and then flatten them with your hands into 2 1/2 inch diameter discs. Place on a cookie sheet and bake for 10 minutes.
Remove from oven and let cool 5 minutes and then transfer to a cooling rack.
**This was my first time making these and I think that some dark chocolate chips or dried unsweetened raspberries would be a great addition.
Yum