Cumin- Carrot Salad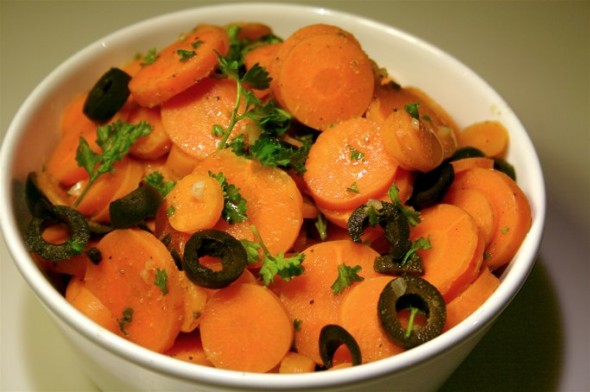 If you can remember back to this post, I made a meal inspired from the Middle East. This particular dish is a cumin- carrot salad. I used organic carrots and they were so fresh and sweet, it added an entire element of flavour compared to regular carrots. Yum! For those of you that don't know, cumin is an extremely healthy spice. It has a unique flavour and wonderful properties that aid in digestion, help fight off colds, and cumin is actually very rich in iron. It's also a powerful antioxidant, and has even been said to aid those suffering with insomnia. It's used extensively in Ayurvedic healing, and you can see why! Try this salad, and experience the benefits of cumin.
Cumin-Carrot Salad (adapted from the NY Times)
1 lb of organic carrots, thinly sliced
3 tbsp olive oil
2 garlic cloves, minced
pinch of salt
fresh ground pepper
1 tsp ground cumin
2-3 tbsp lemon juice
1/4 cup chopped parsley
1/4 cup black olives, sliced
Place the carrots in a steamer above 1 inch of boiling water, cover and steam 5 to 8 minutes, until tender. Remove from the heat, rinse with cold water, and drain on paper towels. Heat 2 tbsp of the olive oil in a frying pan and add the garlic and cumin. Stir until fragrant, about 30 seconds. Stir in carrots, salt and pepper. Remove from the heat and stir in the lemon juice, remaining olive oil, parsley, and olives. Serve at room temperature. Serves 4.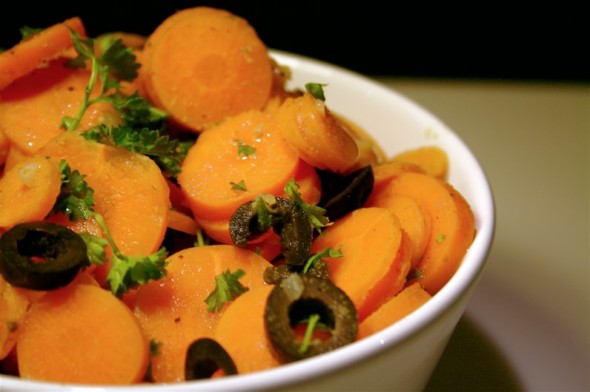 Yum