Dairy Free Iced Cappuccinos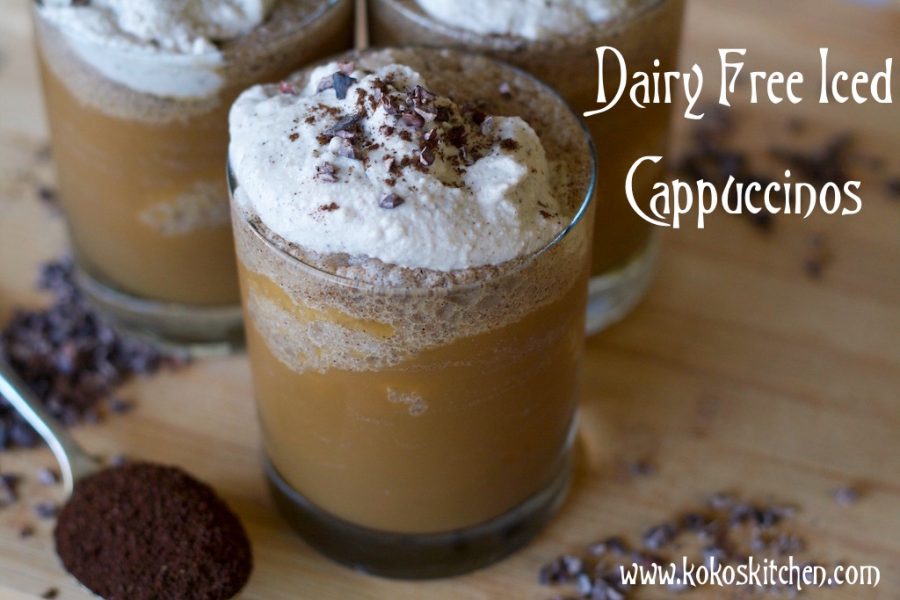 I have a one cup of coffee per day rule. I am a happy little Koko when I get my morning cup of coffee. I get a tiny bit less happy when I miss out on it. I also love going to coffee shops. I don't know why but enjoying a cup of coffee at a coffee shop with a good friend as we chat and people watch is literally the best! Also…said coffee shop must have almond milk. As my friends know, steamy almond milk is PURE BLISS for me.
It's summer now though, and sometimes just the thought of hot coffee makes me start to sweat. If walking all the way to the coffee shop for an icy drink is a little too much for you to bear on a hot summer's day, fear not! Iced cappuccinos are sooo easy to make for yourself at home.
I like to make a big batch and freeze it into ice cube trays. That way I can pop the cubes out into the Vitamix and blend until smooth. It's a super quick way to get my coffee fix in the morning! You can also throw the cubes in with some frozen bananas and almond milk and a bit of cacao powder for a nice mocha smoothie.
The sweetener in this recipe is an easy-to-prepare simple syrup made with coconut sugar. I have used coconut sugar because it is low on the GI scale, meaning it doesn't spike your blood sugar up and let ya come crashing down soon after. It has more of a slow, steady release into the bloodstream. You could definitely use for this simple syrup in other recipes – ahem, cocktails?
P.S. A question for the coconut whipped cream fans – does anyone else stand in the grocery store aisle shaking cans from each brand of coconut milk to see which one makes the least "liquid" noise. Ya'll know the more liquid there is, the least cream there is. Bahaha!
I have included some links to the more difficult to find ingredients in this post. Keep in mind that these are referral links to iherb.com and you can always use code OKO712 to get 5-10% off your first iHerb purchase.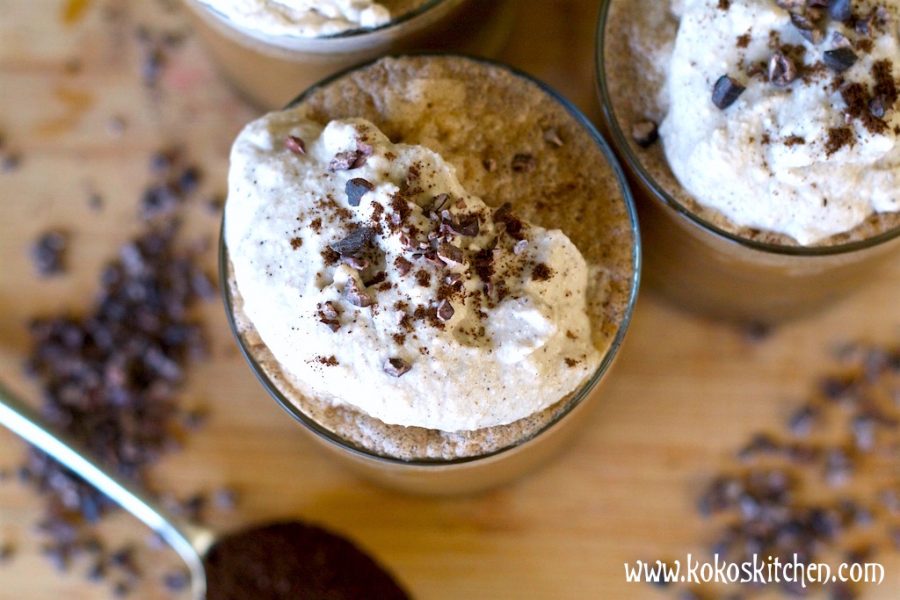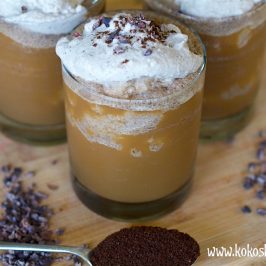 Dairy Free Iced Cappuccinos
Ingredients
Coconut Whipped Cream
400

ml

can coconut milk

refrigerated overnight

coconut syrup or maple syrup

vanilla bean powder or vanilla extract
Coconut Sugar Simple Syrup
1/2

cup

coconut sugar

1/2

cup

water
Iced Cappuccino
500

ml

strong-ass coffee, chilled

I mean strong!!!

1/2

cup

coconut milk

(I used what was left in the can after making the whipped cream)

1/2

cup

almond milk

1/4

cup

coconut sugar simple syrup

(or more!)

1/2

tsp

vanilla bean powder

ice cubes
Instructions
Coconut Milk Whipped Cream
Open the can of coconut milk and scoop the hardened cream off the top. Get as much as you can!

Whisk in a splash of coconut syrup or maple syrup and add a pinch of vanilla powder or a splash of vanilla extract.

Taste and adjust amounts accordingly.
Coconut Sugar Simple Syrup
Stir together coconut sugar and water in a small pot.

Bring to a boil for a minute or so and then remove from the heat. Give a quick stir to make sure the sugar has dissolved. Set aside.
Iced Cappuccino
Pour the coffee, coconut milk, almond milk, simple syrup (start with 1/4 cup) and vanilla into a high-speed blender. Give it a little whizz until well combined.

Fill the blender with ice (I used a whole 14-cube tray) and blend until Iced Capp/Frappucino consistency.

Taste and adjust for sweetness - you may need to add more simple syrup depending on how you like your coffee!

Top with coconut whipped cream and sprinkle with cacao nibs.

Enjoy!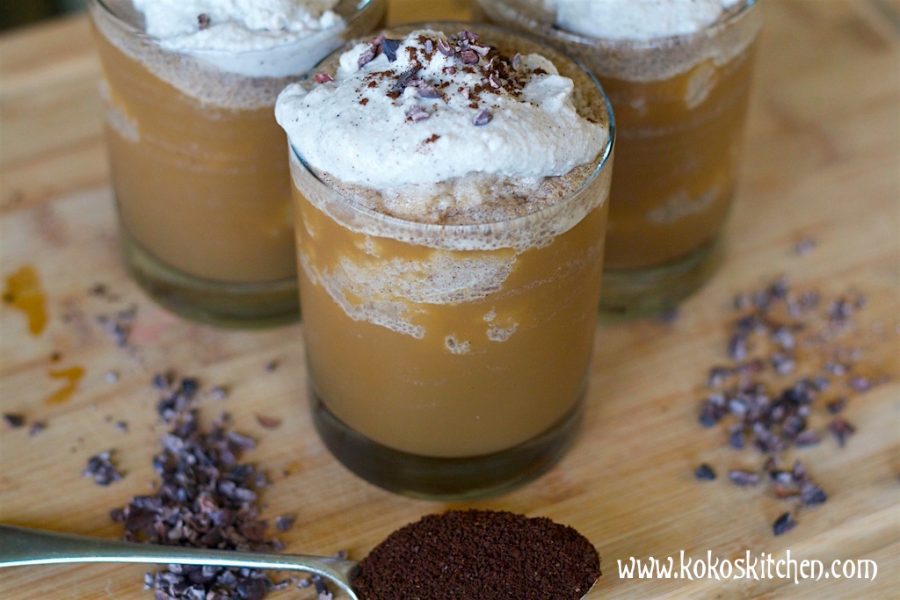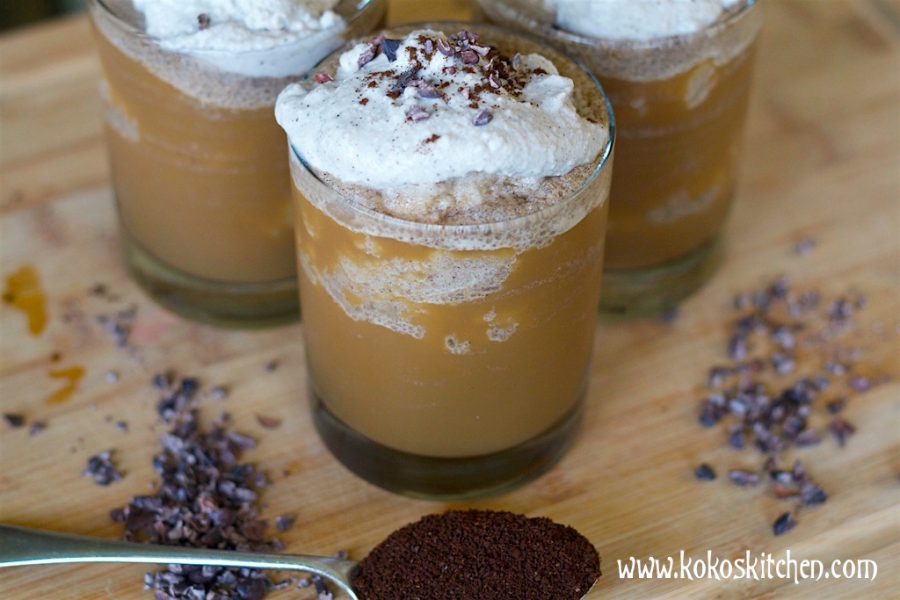 Yum