Herb & Feta Polenta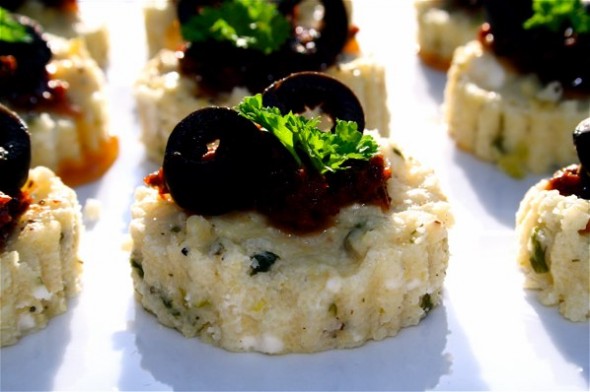 I feel like it's been longer than usual inbetween posts for me. I have had midterms all of last week, so I was a bit busy studying (or trying to….). Honestly, who can study with the excitement of the Olympics coming up in just under a week! I can't wait to have some fun amidst all the chaos and hectic activities downtown. And now onto the food….
I really wanted to make something sort of unique, and cute. I decided on Herb & Feta Polenta with Sun-Dried Tomato Tapenade. I had never made polenta before and I think I had only tried it once. I really like the look of these for appetizers- they are easy to make and can need to be made ahead of time. The polenta has a pretty neutral flavour with just a bit of feta in each bite-sized cake. The sun-dried tomato tapenade livens it up with a splash of balsamic vinegar, and black olives. Try these for some classy superbowl hors d'oeuvres 😉
Herb & Feta Polenta with Sun-Dried Tomato Tapenade (adapted from Vegetarian Food for Friends)
3 tbsp butter
1 tbsp olive oil
1 garlic clove, crushed
3 scallions, finely chopped
1 1/4 cups boiling water
1/4 cup + 2 tbsp polenta or yellow cornmeal
4 oz feta cheese, crumbled
1 tsp of dried dill
sea salt and black pepper
sliced black olives
2 oz sun-dried tomatoes, soaked in water and 1 tbsp apple cider vinegar overnight
1/3 olive oil
1 tbsp balsamic vinegar
1/8 tsp red chili flakes
small handful of fresh basil
Polenta:
In a saucepan, combine butter, olive oil, garlic and scallions and cook until scallions are translucent- a couple minutes. Pour in boiling water, add polenta in a steady stream whisking the whole time to prevent lumps. Cook until polenta thickens and starts forming large bubbles. Stir in feta, dill, salt and pepper. Pour into a well-greased 8 inch square baking pan. Smooth the top of the polenta. Chill in the refrigerator for several hours or overnight.
Cut out approximately 16 rounds with a 2-inch diameter cookie cutter. Top with a spoonful of tapenade and 2-3 slices of olive. Garnish with fresh dill or cilantro. Serve and enjoy!
Tapenade:
Drain the sun-dried tomatoes, and put in a blender with the olive oil, balsamic vinegar, chili flakes, and basil. Process until fairly smooth, and add salt and pepper to taste.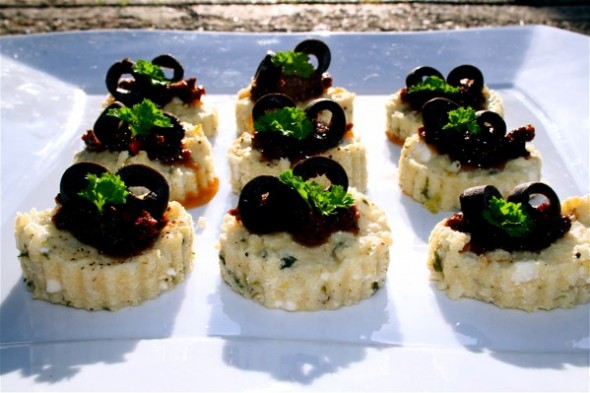 Yum