Homemade Veggie Burgers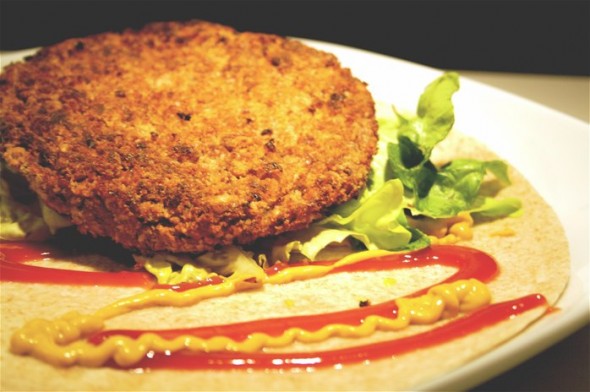 I love veggie burgers because they are so easy to make, healthy, and filling. For a long time I have been wanting to make my own veggie burgers- avoiding soy, preservatives, and unneccessary ingredients. Many people think that when they are buying packaged veggie burgers in the grocery store, that they are 'veggie, and therefor healthy', but that's not true. A lot of brands use nasty 'improvers' to help flavour the burger, and they can be really awful for your body. Not to mention extra sugar, and artificial colours.
I based this burger around two kinds of beans- chickpeas, and red kidney beans for healthy fibre and vegetable protein. I added vegetables, spices, and seeds for extra yummy flavour, and used chickpea flour to bind the burger together. I lightly coated the outside of the patties in panko bread crumbs and baked them in the oven with just a small drizzle of olive oil on each one.
I loved these burgers, and my meat-eating family enjoyed them too! I put mine in an wrap with ketchup, mustard, avocado, and lettuce. Yum!
These almost remind me of a burrito in burger form! So without further ado, here is the recipe:
Veggie Bean Burgers
2 19 fl oz cans of beans- I used chickpeas and red kidney beans
1/2 red pepper, chopped
1/2 red onion, chopped
2 cloves garlic, chopped
3 Tbsp ground flaxseeds
1 Tbsp sesame seeds
1 Tbsp pumpkin seeds
2 Tbsp crushed pecans, chopped
1/4 tsp each smoked paprika, cumin, coriander
pinch of salt and pepper
3/4 cup oats
3 tbsp chickpea flour
1 Tbsp cilantro, finely chopped
Panko bread crumbs
olive oil to drizzle
Combine all but the last three ingredients  in a food processer and pulse until a chunky paste is made (ie. a few whole chickpeas should still be visible)
Remove the mixture to a bowl and stir in oats, chickpea flour, and cilantro until mixed. To make the patties, spread panko crumbs onto a plate. Take 1/4 cup of the burger mixture at a time and make into a ball. Press down on the ball to make an even veggie patty. Coat top, bottom, and sides in panko. Place on a parchment-line sheet tray and drizzle a bit of olive oil on top. Repeat with the rest of the mixture.
Preheat the oven to 400 degrees F and bake for 12 minutes, flipping halfway through. Serve in a bun or tortilla, with all your favourite toppings!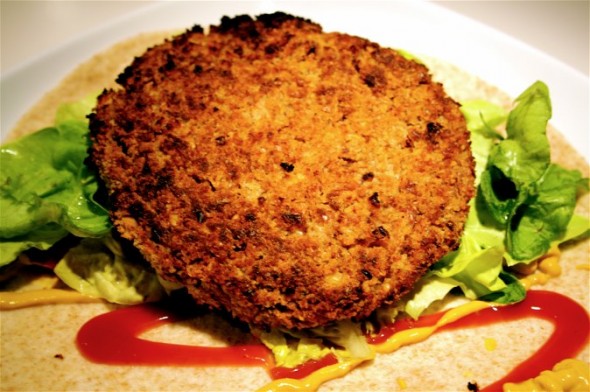 Yum