Iron Cupcake Competition- Cinnamon Dulce Mocha Pound Cake Cupcakes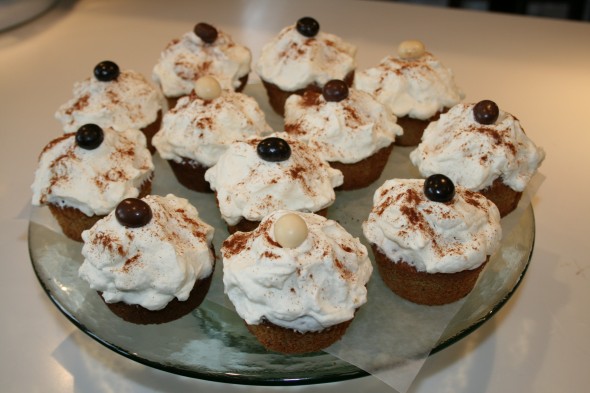 This month's Iron Cupcake theme was coffee. Now, I'm not a huge coffee drinker though I do usually have one cup a few mornings each week. For this competition, I wanted to create an extravagant cupcake that didn't only feature coffee, but one that took after a yummy, fattening, Starbucks drink! I took a recipe for Mocha Chip Pound Cake Cupcakes and added my own touch my making Dulce De Leche to fill them with. Then, I made a Cinnamon Whipped Cream Frosting and placed a chocolate-covered coffee bean on top. I had never tried dolce de leche, and I rarely eat whipped cream but I must say that these were delicious! They look and taste just like a fancy barista-made drink. If you like the sounds and looks of them, please vote for my CINNAMON DULCE MOCHA POUNDCAKE CUPCAKES in the Iron Cupcake Competition! Voting opens on March 1st at 8pm.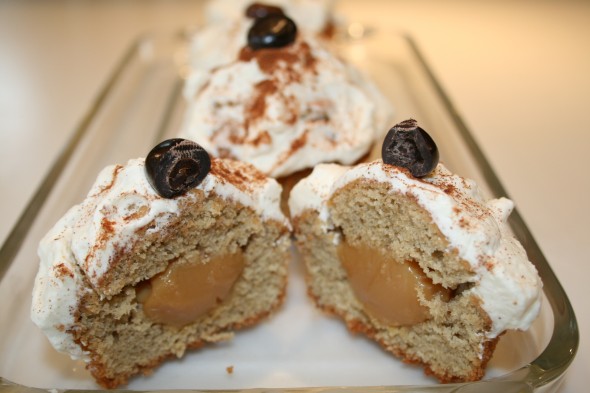 Cinnamon Dulce Mocha Pound Cake Cupcakes
Mocha Chip Pound Cake Cupcakes (Courtesy of A Baker's Field Guide to Cupcakes)
2 1/4 cups all-purpose flour
1 tsp baking powder
1/4 tsp salt
1 1/2 cups unsalted butter, at room temperature, cut into small pieces
1 1/2 cups sugar
1 tbsp vanilla extract
6 large eggs
2 tsp instant espresso powder
2 tsp Kahlua
2/3 cup miniature semisweet chocolate morsels  (**I omitted these)
Preheat oven to 325 degrees F. Place paper liners in all wells of one 12-cup and one 6-cup cupcake tin.
Whisk flour, baking powder, and salt together in a small bowl to aerate and combine; set aside.
In a large bowl with an electric mixer on medium-high speed, beat butter until creamy, about 4 minutes. Add sugar gradually, beating until light and fluffy, about 4 minutes, scraping down the bowl once or twice. Beat in vanilla extract. Dissolve the espresso powder in the Kahlua and beat it into the batter. Beat in eggs, one at a time, scraping down after each addition, allowing each egg to be absorbed before continuing. Add the flour mixture in 4 additions, beating just until smooth on low-medium speed after each addition. (Fold in chocolate morsels).
Divide batter evenly among cupcake wells. Bake for about 25 minutes, or until a toothpick inserted in the center shows a few moist crumbs. Cool pans on racks for 5 minutes, then remove the cupcakes to cooling racks to cool completely.
Dulce De Leche (Recipe here)
2 can sweetened condensed milk
Place the unopened cans into a pot large enough to hold them.
Cover the cans with water and over medium-high heat, bring to a simmer.
Reduce the heat and gently simmer for 2 hours. Keep an extra pot of boiling water on the side to replenish evaporated water from the pot. The cans of condensed milk should always be covered by simmering water.
When cooked, let the cans cool in the water bath. When cooled, remove the cans.
Open the cans, scoop out the Dulce de Leche and serve.
After making the dulce de leche, I simply cut the middle of my cupcakes out by moving my knife around the top, cutting inwards to create a triangle-like space in my cupcake. I put a small spoonful of dulce de leche in it and then squished the top back on (cutting the tip of the cut-out top off, if needed). If this does not make sense, a fabulous tutorial can be found here.
Whipped Cream Frosting (Courtesy of A Baker's Field Guide to Cupcakes)
1 1/2 cups heavy cream
3 tbsp confectioners sugar
1/4 tsp vanilla extract
In a large, chilled bowl with an electric mixer on medium-high speed, beat cream until it begins to thicken. Add sugar and vanilla extract and beat until soft peaks form.
Continue to whip until stiffer peaks form, but do not overwhip. If it shows clumps and lumps, it is overwhipped. Simply stir in some additional liquid cream to smooth it out. Frosting is ready to use and is best used immediately.
Dollop it onto your mocha cupcake in a way that makes it look like the whipped topping of a latte. Add some cinnamon and a chocolate-mocha bean on top. ENJOY!
The prizes offered include:
As an added bonus for February, SWEET CUPPIN CAKES BAKERY AND CUPCAKERY SUPPLY will be tossing in a variety of cupcaking supplies, http://www.acupcakery.com/index.html.
HEAD CHEFS by FIESTA PRODUCTS,http://www.fiestaproducts.com, HELLO CUPCAKE by Karen Tack and Alan Richardson, http://blog.hellocupcakebook.com, JESSIE STEELE APRONS http://www.jessiesteele.com; TASTE OF HOME books, http://www.tasteofhome.com; a t-shirt from UPWITHCUPCAKES.COM http://www.upwithcupcakes.com/. Iron Cupcake:Earth is sponsored in part by 1-800-Flowers,http://www.1800flowers.com .
Yum