Kaeng Khiaw-Waan Kai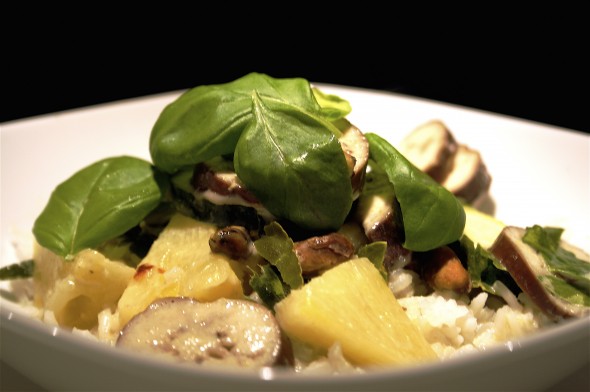 Kaeng Khiaw-Waan Kai…or Green Curry with Chicken for those of us who are struggling with their Thai language skills is an absolute must-try meal. When I first arrived in Thailand, I ate a lot of Pad-Thai and stir-fried vegetables or seafood until I discovered this winner. I can't count how many times I ate this dish over the course of my five weeks in Thailand- I couldn't get enough! This curry varied from restaurant to restaurant and I tried some with purely vegetable ingredients, and others that had seafood from prawns and squid and fish to a combination of them all. The first time I made this recipe at home I replaced the chicken with prawns and squid, as I don't eat meat. The second time I made it, I added zuchini, pineapple and pistachios and a couple of scallops. Serve this over rice and experience this divine dish from February's Cookbook of the Month.
Green Curry with Chicken
60ml (1/4 cup) coconut cream
2 tablespoons green curry paste (**I always add extra!)
350g (12 oz) skinless chicken thigh fillets, sliced (** or an equal amount of prawns, squid, scallops, etc. If you want this dish to be vegan, add extra eggplant or some zuchini and pineapple. Tender steak can also be used.))
440ml (1 3/4 cups) coconut milk
2 1/2 tbsp fish sauce
1 tbsp palm sugar
350g (12 oz) mixed Thai eggplants (aubergines), cut into quarters, and pea eggplants (aubergines) (**When I don't have these Thai eggplants on hand, I simply use regular or japanese eggplant, and zuchini. Adding pineapple is a wonderful touch and a handful of pistachios is great, too.)
50g (2 oz) galangal, julienned (** I have never had this ingredient on hand and therefore I just omit it. Galangal is a rhizome with a hot, peppery flavour.)
7 makrut (kaffir) lime leaves, torn in half (** This is so key in this dish that I often add several extra leaves.)
a handful of Thai sweet basil leaves, for garnish (**As you can see, I used regular basil)
1 long red chilli, seeded and finely sliced, for garnish (**I added red pepper flakes for that extra spice as I didn't have a hot chilli on hand this time)
Put the coconut cream in a wok or saucepan and simmer over a medium heat for about 5 minutes, or until the cream seperates and a layer of oil forms on the surface. Stir the cream if it starts to brown around the edges. Add the curry paste, stir well to combine and cook until fragrant.
Add the chicken (or seafood) and stir for a few minutes. Add nearly all of the coconut milk, the fish sauce and palm sugar and simmer over a medium heat for another 5 minutes.
Add the eggplants (and zuchini, pineapple and pistachios) and cook, stirring occasionally, for about 5 minutes or until the eggplants are cooked. Add the galangal and makrut lime leaves. Taste, then adjust the seasoning if necessary. Spoon into a serving bowl and sprinkle with the last bit of coconut milk, as well as the basil leaves and chilli slices (or flakes). Serve over rice.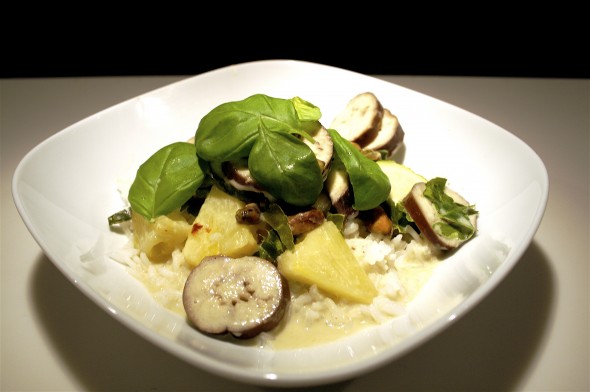 Yum