Orange-Chipotle Shrimp
I love eating salads, but I often add some protein in the form of seafood to them. I recently had a great salad made with lettuce, cherry tomatoes, about half of an avocado, goat cheese, and these orange-chipotle shrimp. I think these shrimp would make a great filling for shrimp tacos, as well! There really aren't exact amounts of each ingredient for this recipe. Just use however much shrimp you want, and make sure there is enough marinade to coat them all!
Orange-Chipotle Shrimp
about 2 chipotle peppers packed in adobo sauce
juice of one orange
honey
salt and pepper
1/2lb peeled shrimp (I take the tails off, too,  so there is less work to do while I am eating the salad)
cilantro, chopped
Mix the chipotle peppers, shrimp, orange juice, salt and pepper together. Let marinade for just a few minutes. Heat up a frying to medium hight heat, and add the shrimp. Discard the leftover marinade. Drizzle the shrimp with honey and cook for about one minute, tossing after about 30 seconds. Top with plenty of chopped cilantro.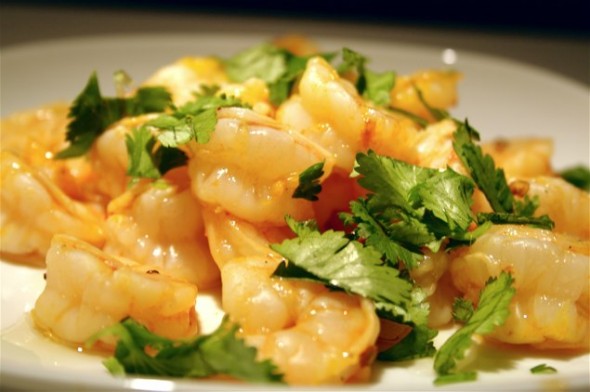 Yum