Quinoa Porridge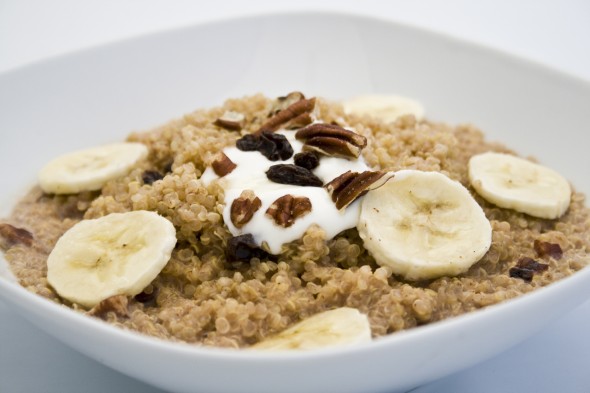 Being a vegetarian, I find it difficult to find breakfasts that include protein- no eggs, no bacon, no sausages…you get the point.
After searching for a wholesome, nutritious breakfast recipe that didn't take too long to make, I stumbled across a recipe for Quinoa Porridge- just what I had been looking for!
Quinoa is an ancient grain that happens to be closer to the beet and leafy green families than to other grains like oats or barley. I have even seen it referred to as a "vegi-grain". Quinoa is packed with protein and contains all of the essential amino acids, including lysine (rare in protein-containing cereal grains).
This particular recipe is adapted from Feasts and Fotos.
Quinoa Porridge (serves 2)
1/2 cup uncooked quinoa (rinse!!)
1/2 cup water
1 cup milk (I used plain Silk, although I think Almond Milk would be delicious)
1/4 tsp cinnamon
1 tbsp chopped pecans
1 tbsp raisins
1 tsp honey
1 tsp plain yogurt (optional)
Add quinoa, water, cinnamon and 1/2 cup of the milk in a pot and bring to a boil.  Reduce heat, cover and simmer for 10-15 minutes or until most of the water has been absorbed.  Add the remaining 1/2 cup of milk, pecans and raisins and allow to simmer for about 5 minutes or until it reaches your desired consistency (it will gradually get thicker).  Once it reaches the consistency you like, add the honey and the yogurt (yes, yogurt!) and stir to combine. Enjoy!
Yum