Review- Ancient Wisdom by Imperial Tonics and Raw Hot Chocolate Recipe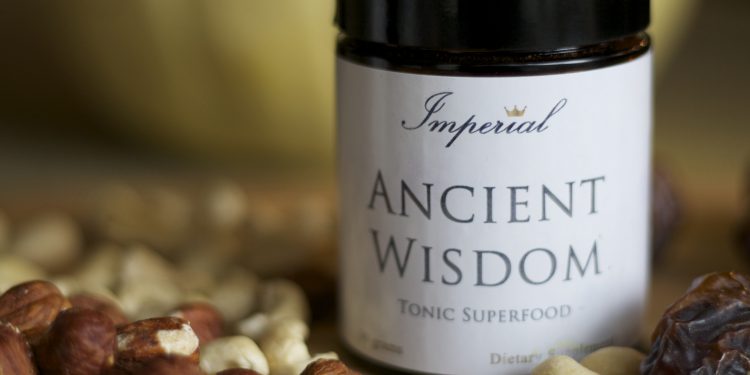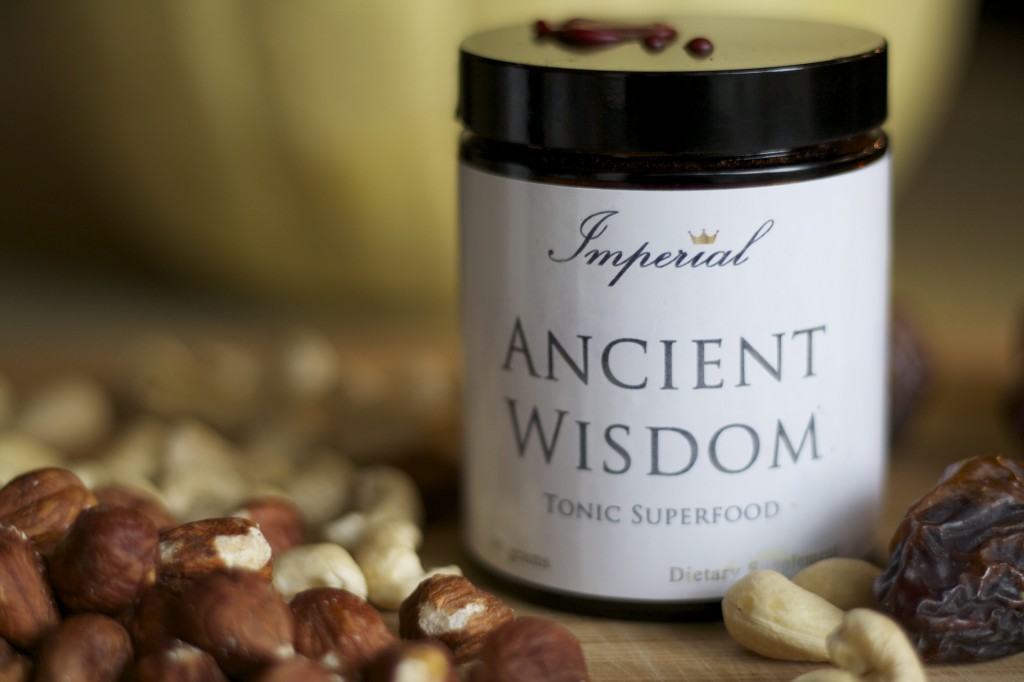 I first learned about Ancient Wisdom by Imperial Tonics from ma girl Em at This Rawsome Vegan Life. I was so stoked to read about the product and just a couple days later Imperial Tonics contacted me, asking to review it. I get contacted by a lot of different companies asking me to try their products and more often than not, I say no- unless it's something that I truly believe in. This blend of ancient superfoods is definitely something I can get behind. Can we also talk about how cool their little wax seal is. This appeared on the outside of the box it was packed in for mailing, too! It's the little things…
Ancient Wisdom by Imperial Tonics is a blend of Duanwood Reishi Mushroom, Schizandra, Goji Berry, Astragalus Root, and He Shou Wu. Talk about powerhouse ingredients!! I love this superfood tonic. I have tried it a few different ways so far, and I know that I will purchase this product again. It's not cheap…but honestly, I find that health-promoting products like this are so worth it. What is more important than your health!? Combined with a clean diet full of organic fruits and veggies, this product will just kick your healthy lifestyle up a notch. The proof is in the puddin' and I recently scored very well when I got my antioxidant levels tested…more on that in a future post though.
Imperial Tonics provided a few recipes to try Ancient Wisdom with and I started off with their Cacao Cappucino. It was absolutely delicious, although I am kind of off coffee right now. I am going to try it again in tea though, too!
I tried a scoop in a blueberry-banana smoothie and it added the coolest little somethin' somethin', like I've never tasted before. I loved it!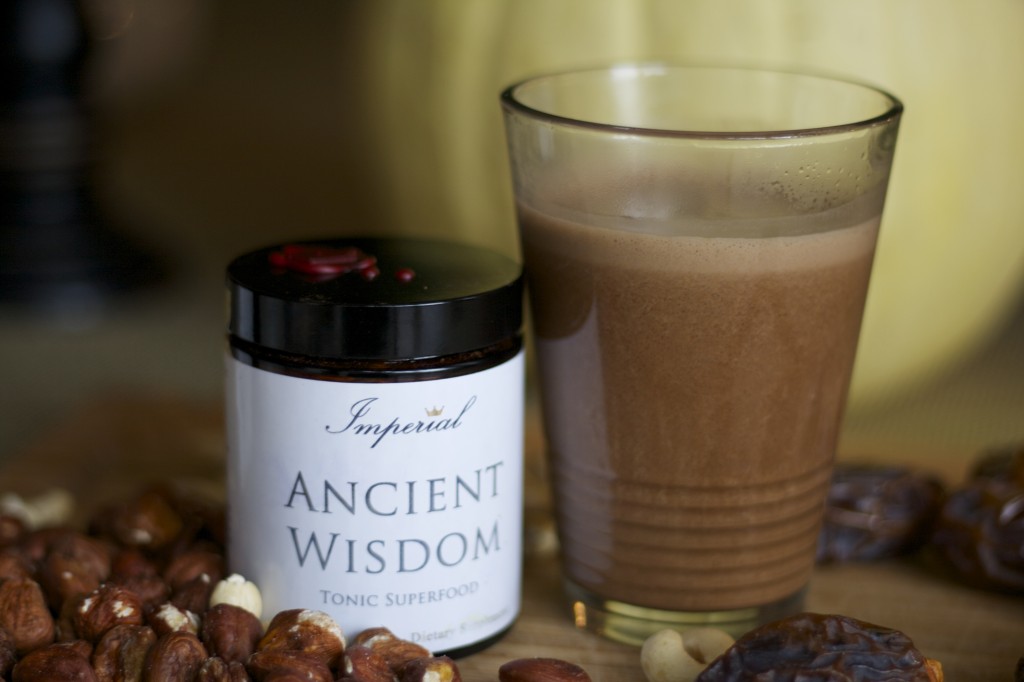 Lastly, I made this raw hot chocolate and it was to die for. I used the hazelnut-cashew milk that I recently made, and it combined it with raw cacao, raw honey, and Ancient Wisdom. I get excited just thinking about all the goodness in that one little drink.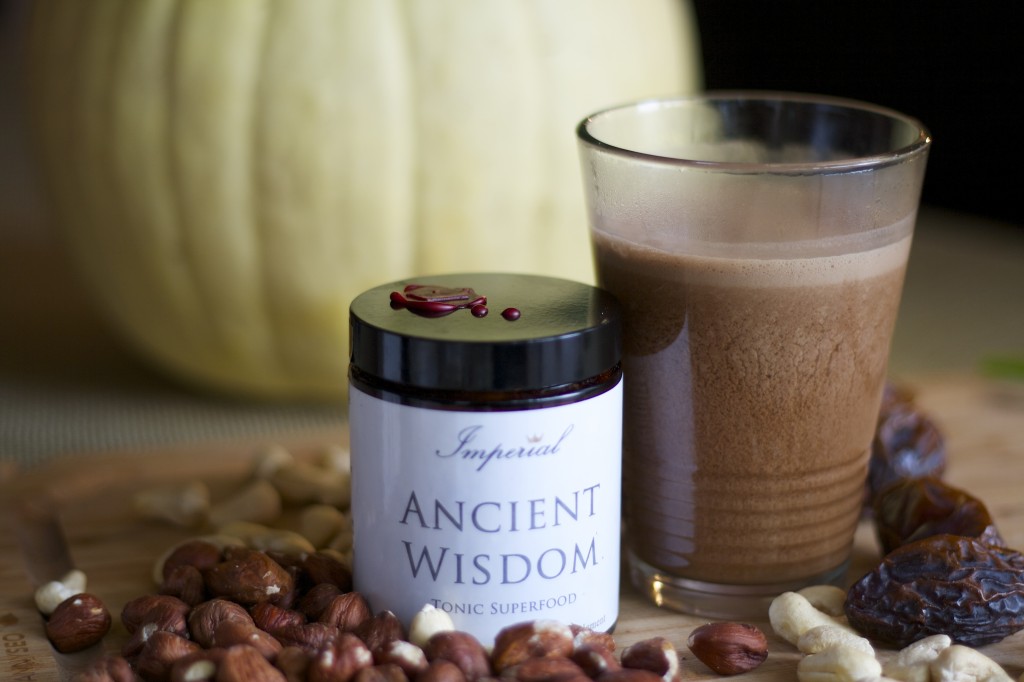 Raw Cashew Hazelnut Hot Chocolate
Rich, anti-oxidant and superfood filled raw hot chocolate.
Ingredients:
Coconut Oil – 1 TBSP
Hazelnut Cashew Milk – 1 Cup
Raw Cacao Powder – 1 TBSP
Raw Honey – 1 tsp
Ancient Wisdom – 1 scoop
Instructions:
Combine all ingredients in a high speed blender and blend on high for 3-5 minutes, until hot. Alternatively, you could whisk all ingredients together over the stove until hot. This may not be technically raw as it could get too hot but it's all good. If you want to be real precise you could get a thermometer and heat it only until 115 degrees.
Yum