Snowflake Sugar Cookies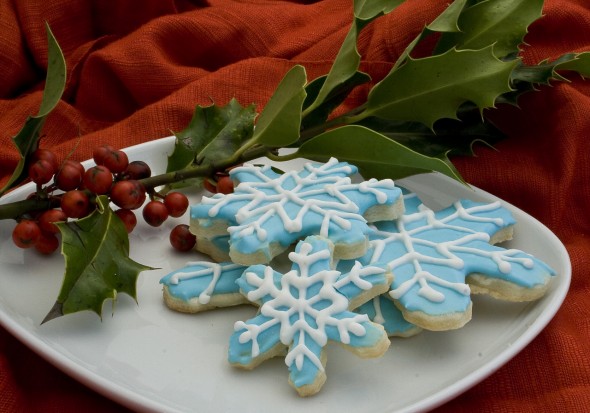 Christmas may be over, but winter sure isn't! It's not too late to bake up a batch of snowflake sugar cookies. I spent the weekend up in Whistler, where the snow is still abundant. I had made these cookies before Christmas but as they freeze so well, I thawed them out for this short vacation. These particular cookies come from Alton Brown's recipe which you can find here. The icing is delicious, and traditional Royal Icing from The Joy of Cooking. Enjoy!
Royal Icing or Quick Decorative Icing (about 2 cups)
The icing will become very hard. To avoid the naturally grayish tone that develops during preparation, add to portions that you want to keep white a slight amount of blue vegetable colouring. Do not use blue in any icing that you plan to colour yellow, orange, or any other pale, warm tint.
Sift:
1/8 teaspoon cream of tartar
3 1/2 cups confectioners' sugar
Beat until stiff, but not dry:
2 large egg whites at room temperature
Gradually add in the sifted sugar and:
2 tablespoons lemon juice
until it is of a good consistancy to spread. Cover with a damp cloth until ready to use.
**Note: PLEASE use real lemon juice, as bottled can create a flavour that you may find too tangy
Yum