Spaghetti Squash Stack
`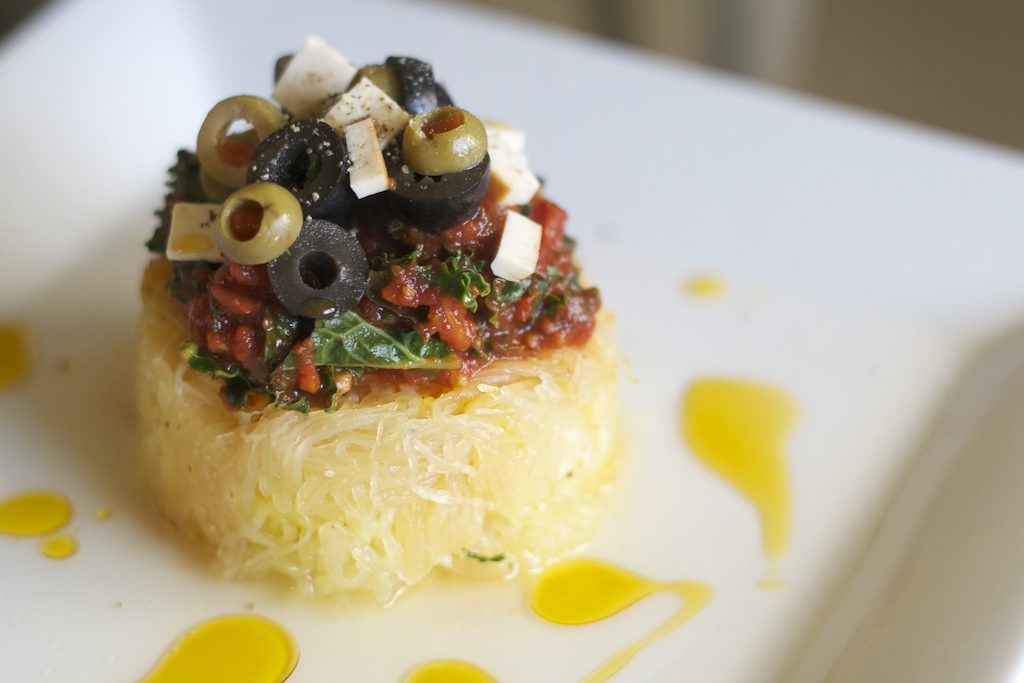 This is a really simple, healthy, vegetarian and vegan meal but I had a little bit of fun making it look fancy. I am a big fan of squash of all types, but spaghetti squash is one of my favourites. You can do it up with a variety of flavours (like this miso-sesame version) but it always tastes great just simply roasted with oil, salt and pepper. This is also a great gluten-free option!
I heated up a store-bought pasta sauce and threw in some fresh kale for added nutrition. I topped the mix with some chopped olives, smoked tofu (for protein!) and a drizzle of chili olive oil. Voila! Obviously you can serve this however you want, but I thought that the 'stack' looked really nice. You could squeeze a little moisture out of the squash first as it gets quite liquidy.
I am taking part in the 3-month challenge at GoodLife Fitness and this is one of my favourite meals now as I strive to create healthy options throughout this challenge. My strength and stamina are definitely increasing (thank you squats, thank you stairmaster….) and I'm looking forward to signing up for a 10k run soon. Also excited to be planning some hikes for this Summer which will hopefully feel a little bit less strenuous this year. I'm thinking Garibaldi again, and the Sea To Sky Summit, maybe a little Grouse Grind, or Joffre Lakes!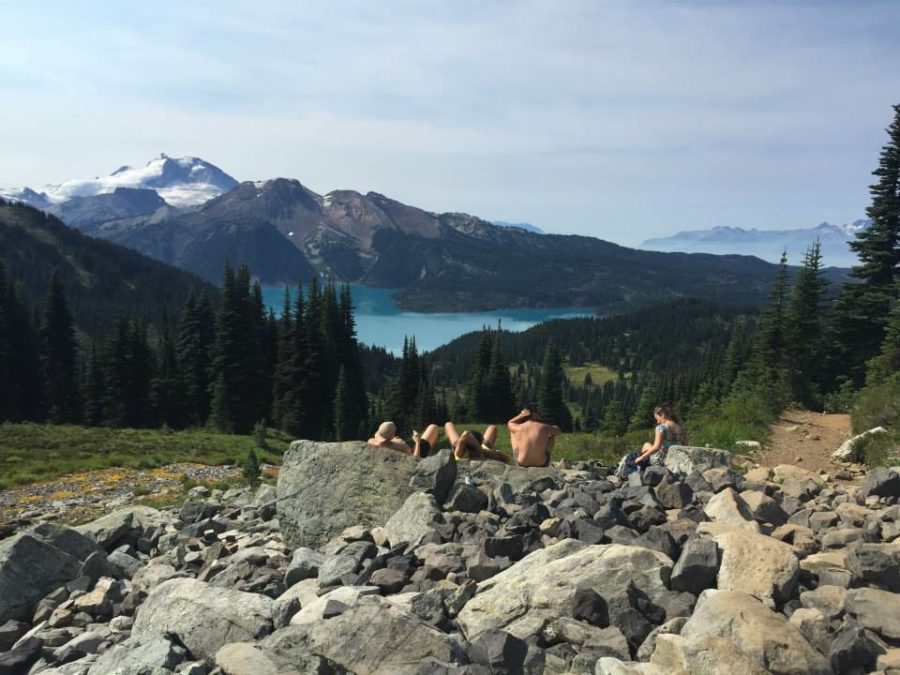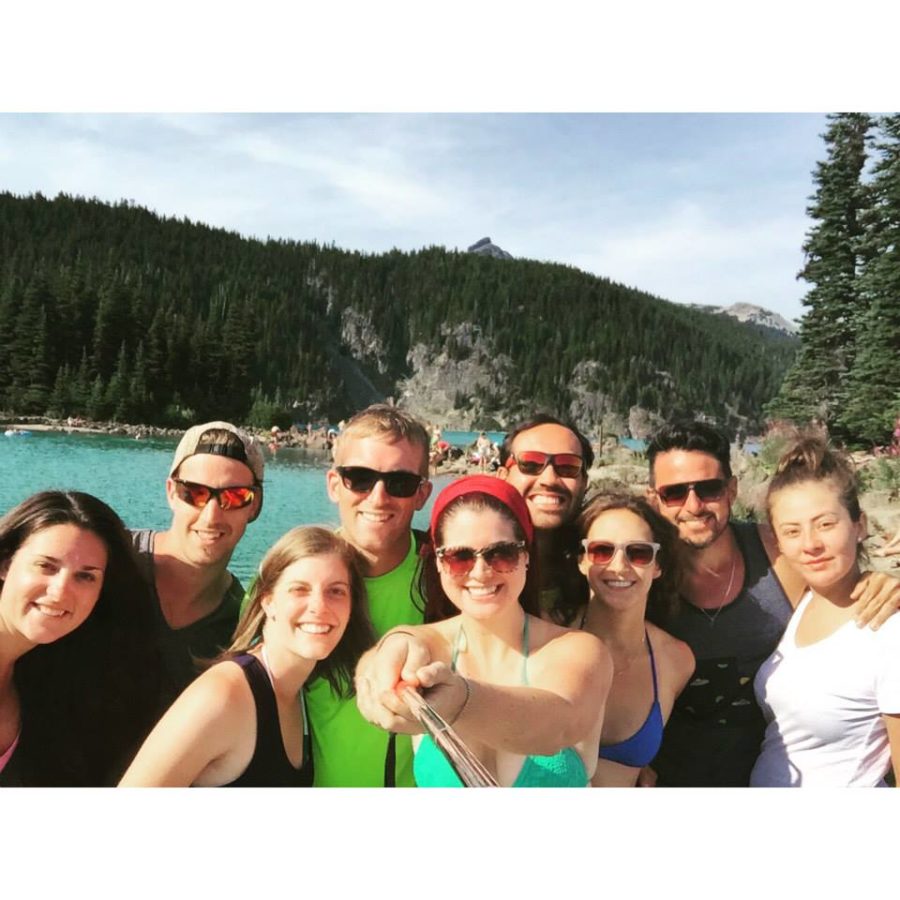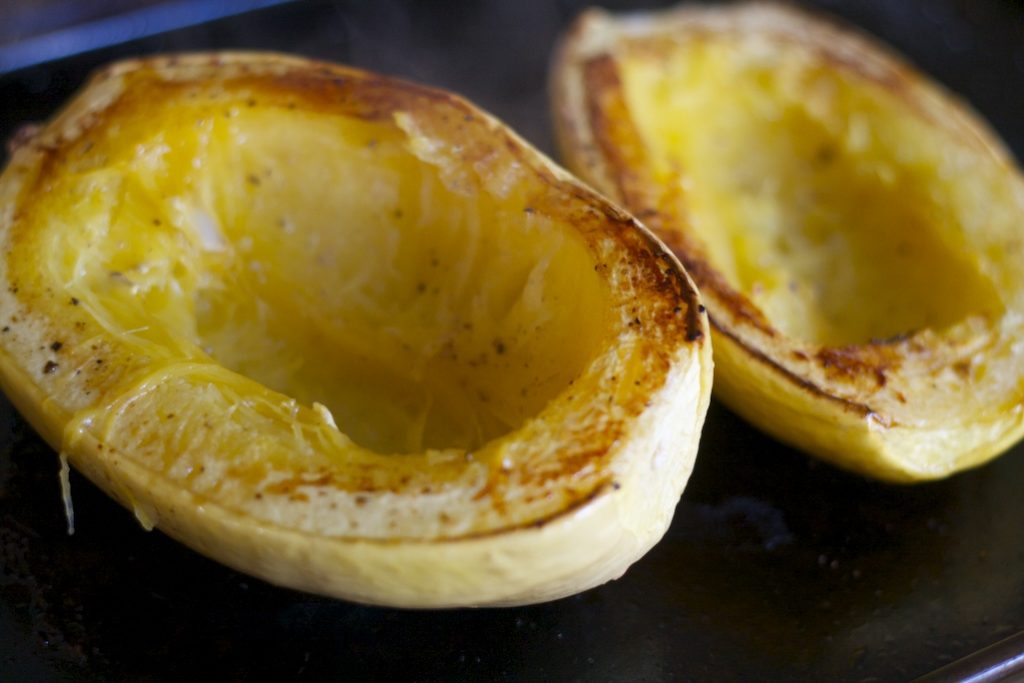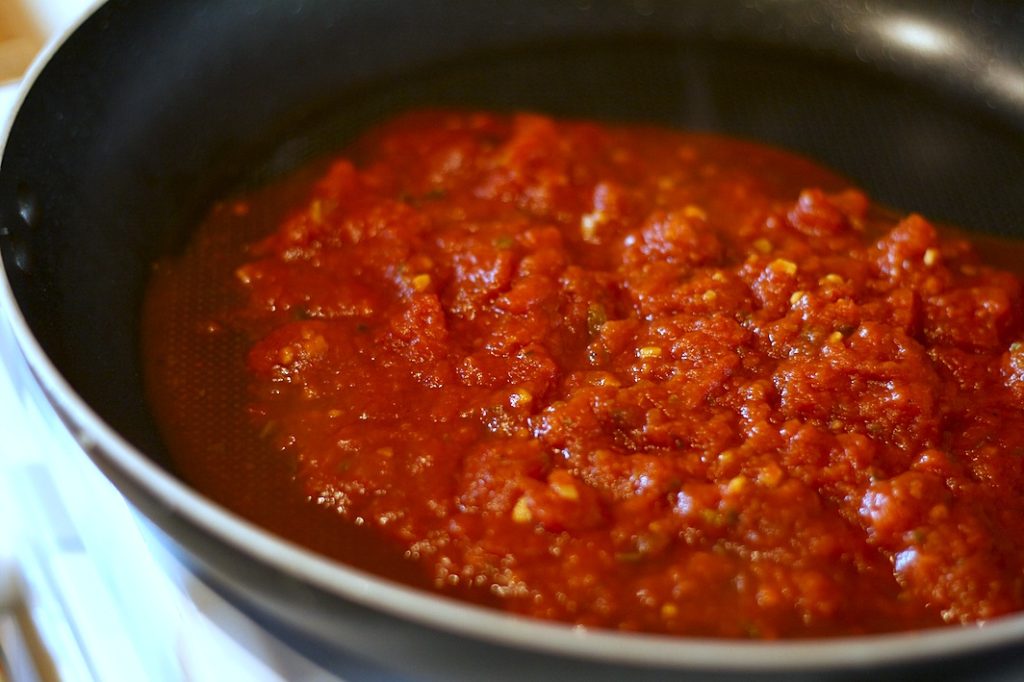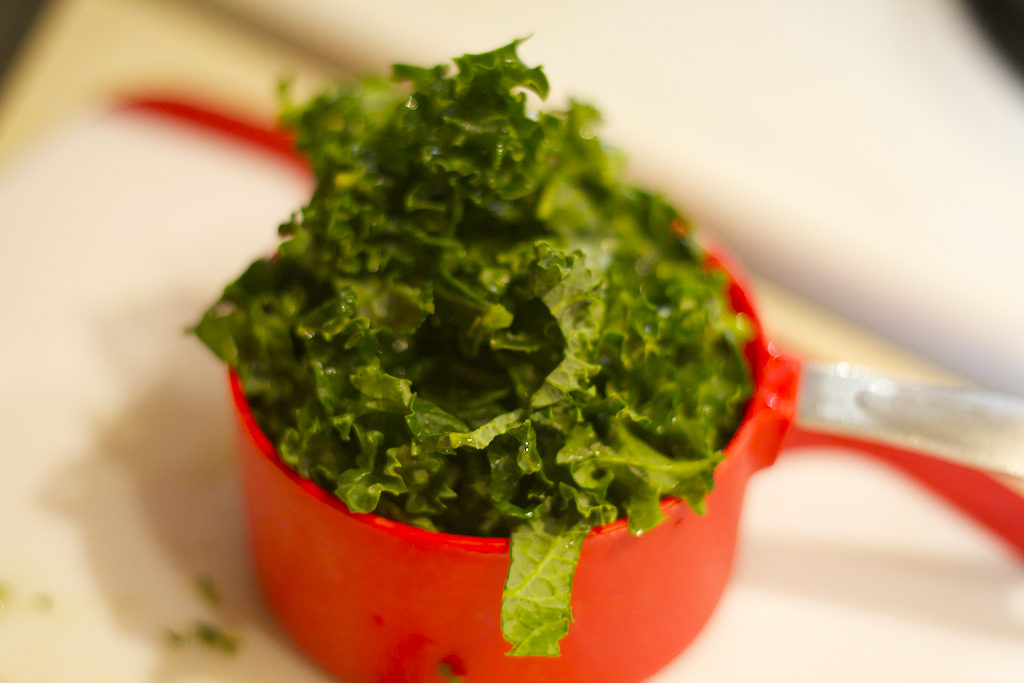 Spaghetti Squash Stack
1 spaghetti squash
1  jar pasta sauce (I've used both roasted garlic & onion as well as arrabiatta before)
1 cup finely chopped kale, packed
1/4 cup chopped olives (I used a mixture of green and black)
1/4 cup smoked tofu
chili oil (I used Coastal Olive Oils chipotle oil)
Preheat the oven to 375 degrees F
Cut the spaghetti squash in half and scoop out the seeds. Drizzle each half with olive oil and generously season with salt and pepper. Place cut side down on a baking tray and bake for 40-50 minutes – until flesh is softened and can be pierced with a fork.
Meanwhile, heat the pasta sauce in a pan and add the chopped kale, cooking a few minutes until heated through and kale has wilted.
When the squash is ready, remove from the oven and let cool slightly. Using a fork, scrape the squash from the skin.
To make a stack, I used a 1-cup measuring cup and tightly packed the squash inside it. Then I turned it over onto my serving plate to begin the stack. Spoon the pasta sauce on top of the squash. Top with the olives and smoked tofu. Drizzle with chili oil.
OR toss the squash with the pasta sauce, tofu, and olives and serve from a bowl.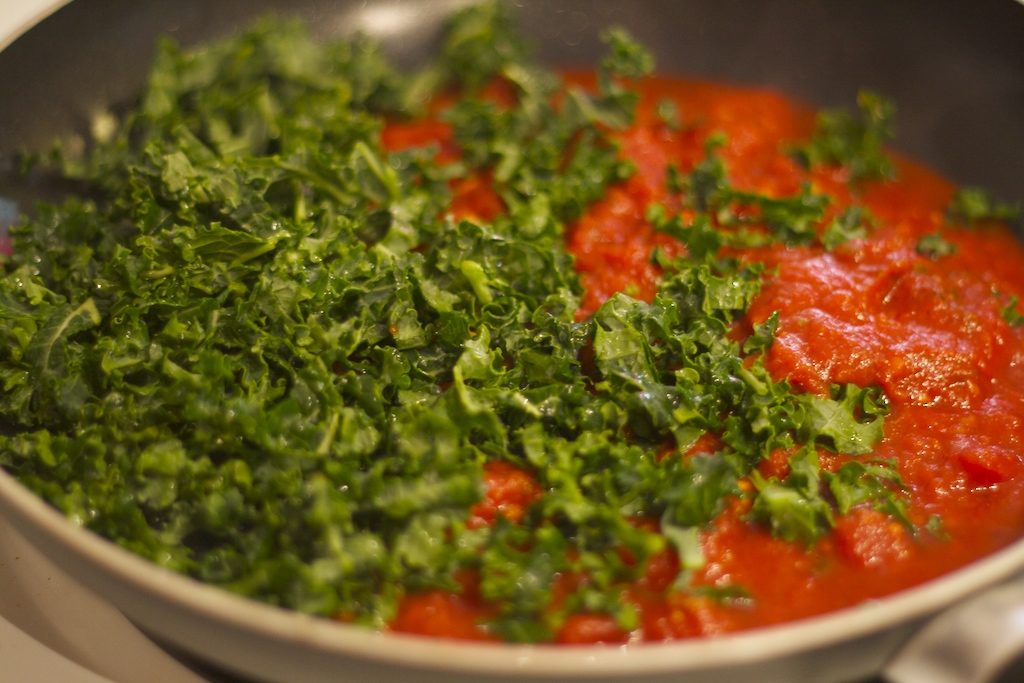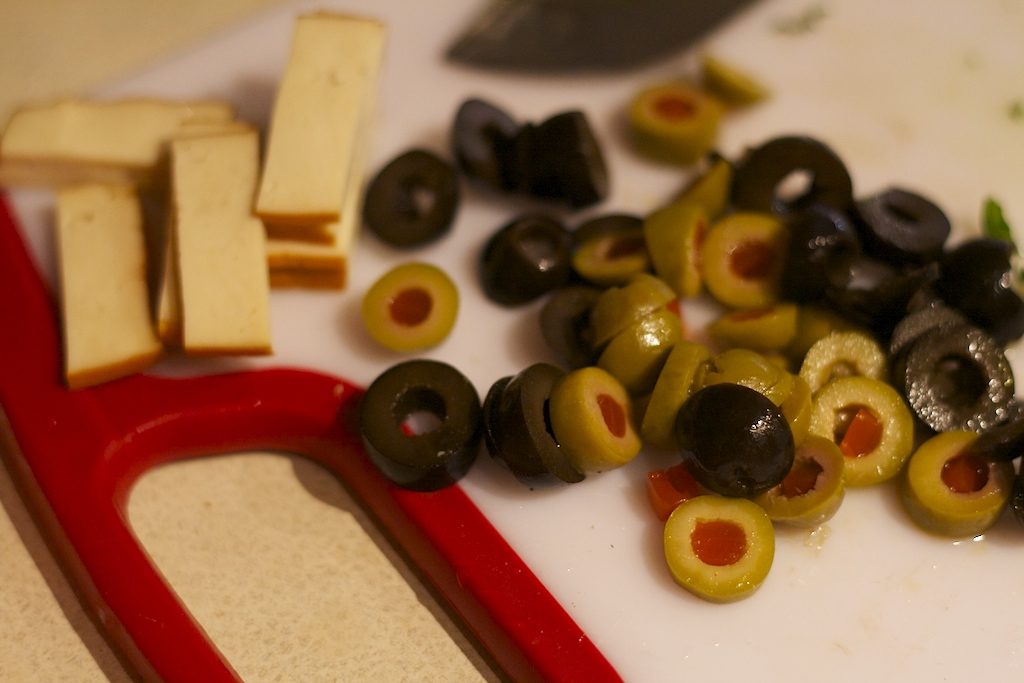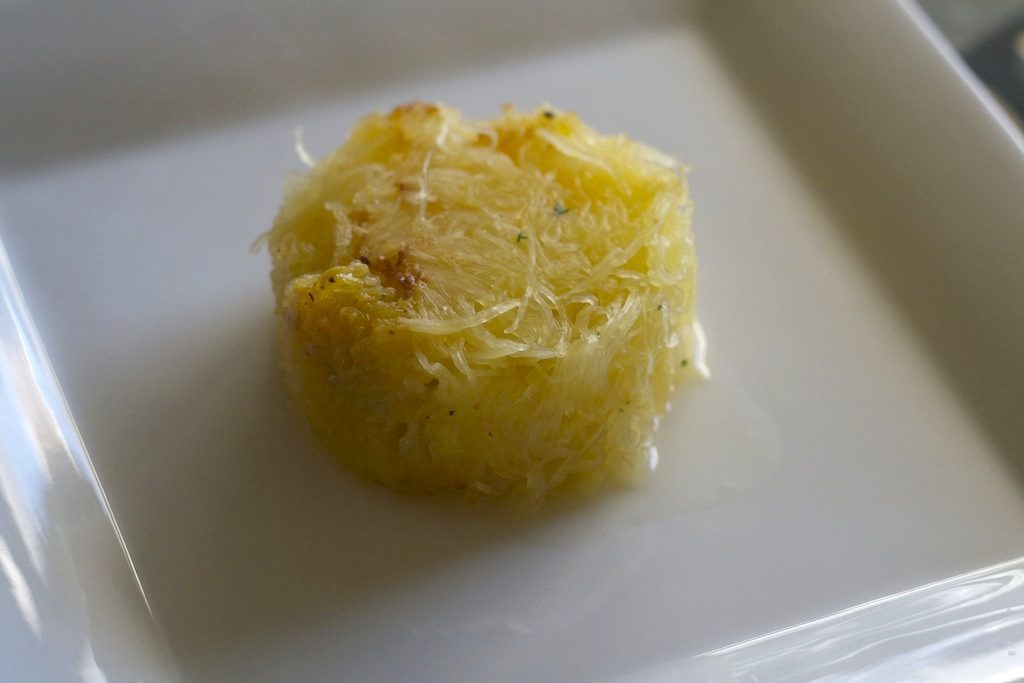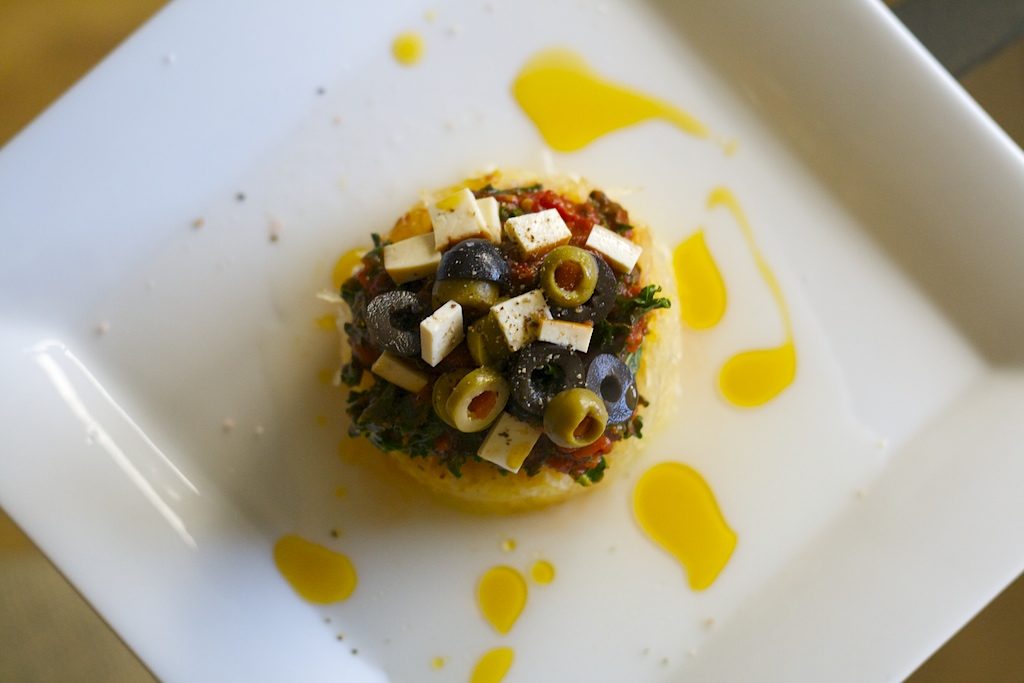 Yum