Spicy Parmesan Green Beans and Kale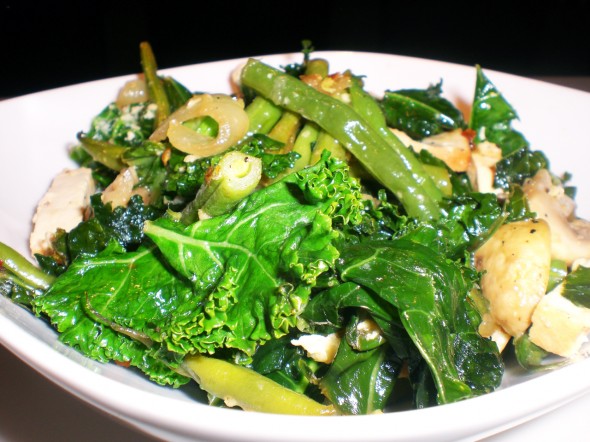 I wasn't sure that this dish would be flavourful, considering the small number of ingredients and the dare I say it….lack of GARLIC! But after tasting this dish, I was very pleased. I have only had kale a few times and so far this is my favourite way to prepare it!
Kale is chock-full of calcium, so skip your glass of milk and eat this super dish! If you are a newcomer to kale or on the edge about it, this is a great dish for you to start with!
The recipe is from Giada's Kitchen.
Spicy Parmesan Green Beans and Kale
3 tbsp olive oil
1 onion, sliced
1/4 lb cremini mushrooms, quartered and sliced (about 14 mushrooms)
1 1/2 lbs green beans, trimmed and sliced into 1-inch pieces
2 tsp salt
1/2 tsp fresh ground pepper
1/4 cup white wine
1/2 tsp red pepper flakes
1 bunch kale, rinsed, stemmed, and roughly chopped
2 tbsp lemon juice
3 tbsp finely grated parmesan cheese
Warm the olive oil in a large, heavy saute pan over medium-high heat. Add the onions and cook until translucent, about 4 minutes. Add the mushrooms, green beans, salt, and pepper and cook for 2 minutes. Add the wine and continue cooking until the green beans are almost tender, about 5 minutes. Add the red pepper flakes and the kale and continue cooking until the kale has wilted, about 4 to 5 minutes. Add the lemon juice and the Parmesan cheese. Toss to coat and serve immediately.
**I added some smoked tofu for extra protein, texture, and flavour- yum!
Yum