Valentine's Cookies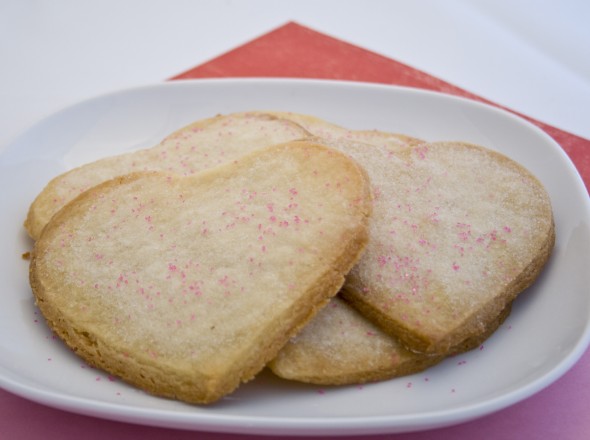 Well, Valentine's day is coming up and love it or hate it, February 14th will be here soon! I decided to start the festivities off by making up a batch up Vanilla Heart Cookies and I think you should, too! Though I normally stick to soft and chewy cookies, these ones are crunchy with a simple, tasty vanilla flavour. The recipe is from "The Big Book of Baking". Watch out though, these cookies spread quite a bit and may not look done after the required 15 minutes- but they are!! Look for that tinge of golden brown around the edges and you should be fine. Share the love!
Vanilla Heart Cookies
1 1/2 cups all-purpose flour, plus extra for dusting
scant 3/4 cup butter, cut into small pieces, plus extra for greasing
1 1/8 cup superfine sugar, plus extra for dusting (** If you don't have superfine sugar, simply put regular white sugar into your coffee grinder. It only takes about 3 seconds of grinding- you don't want icing sugar, so keep watch!)
1 tsp vanilla extract
Preheat the oven to 350 F, then lightly grease a cookie sheet (I used a silpat).
Sift the flour into a large bowl. Add the butter and rub it in with your fingertips until the mixture resembles fine breadcrumbs.
Stir in the sugar and vanilla extract and mix together to form a firm dough.
Roll out the dough on a lightly floured counter to a thickness of 1/2 inch 0r 1 cm.
Stamp out 12 hearts with a heart-shaped cookie cutter measuring 2 inches or 5 cm across.
Arrange the hearts on the prepared cookie sheet. Bake in the preheated oven for 15-20 minutes, or until just coloured.
Transfer to a wire rack and let cool completely. Dust with a little superfine sugar just before serving.
Yum