"Who Put Peanut Butter In My Chocolate" Cookies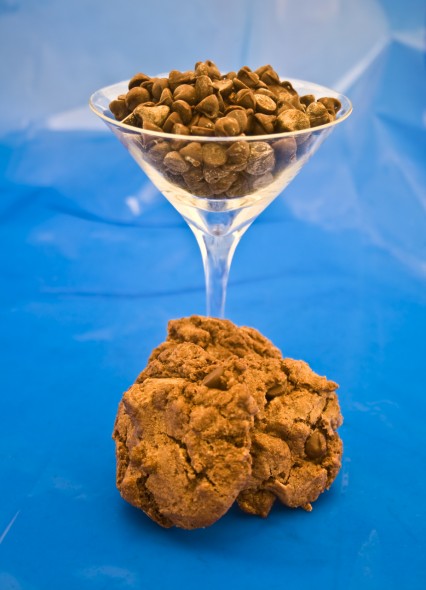 This is a vegan recipe courtesy of Dreena Burton's Eat, Drink, Be Vegan cookbook. I absolutely love this book for it's healthy and delicious recipes. Dreena manages to make all of the food taste rich- as if eggs or dairy products were used! This was my first time trying these peanut butter- chocolate cookies and as usual, "Eat, Drink, Be Vegan" didn't disappoint. Those of you with wheat allergies will be happy to know that these cookies are wheat free (if you use spelt or barley flour)!
"Who Put Chocolate In My Peanut Butter" Cookies
1/4 cup unrefined sugar
1/4 cup dark chocolate chips
1/4 tsp sea salt
1 cup + 1 tbsp barley or spelt flour (or 1 cup all purpose)
3 tbsp cocoa powder
1 tsp baking powder
1/2 tsp baking soda
1/4 cup maple syrup
2 – 2 1/2 tbsp agave syrup (or more maple syrup)
1 tsp pure vanilla extract
1/4 cup canola oil
1/4 – 1/3 cup natural peanut butter (smooth or chunky)
Preheat oven to 350 F. In a bowl, combine sugar, chocolate chips, and salt. Sift in flour, cocoa powder, baking powder, baking soda and stir until well combined. In a separate bowl, combine maple syrup, agave nectar, vanilla, and oil until well mixed. Add wet mixture to dry and stir until just well combined (do not overmix). With a knife, cut in peanut butter into batter, but just a little, so peanut butter remains in chunks and swirls in the batter. Line a baking sheet with parchment paper. Scoop rounded tablespoons of batter onto baking sheet evenly spaced apart. Bake for 11 minutes (no longer, or they will dry out). Remove from oven and let cool on pan for one minute (no longer), then transfer to a cooling rack.
Yum