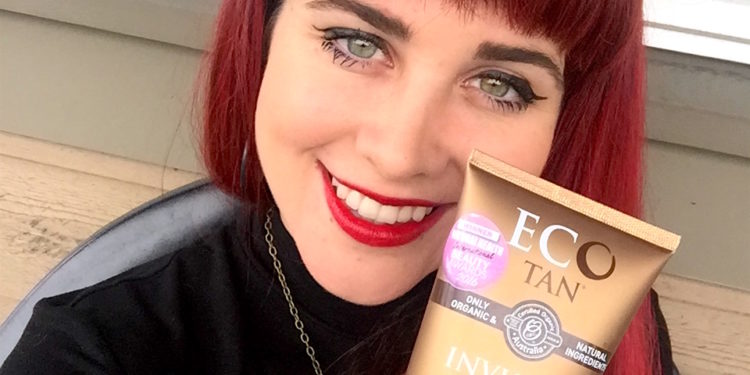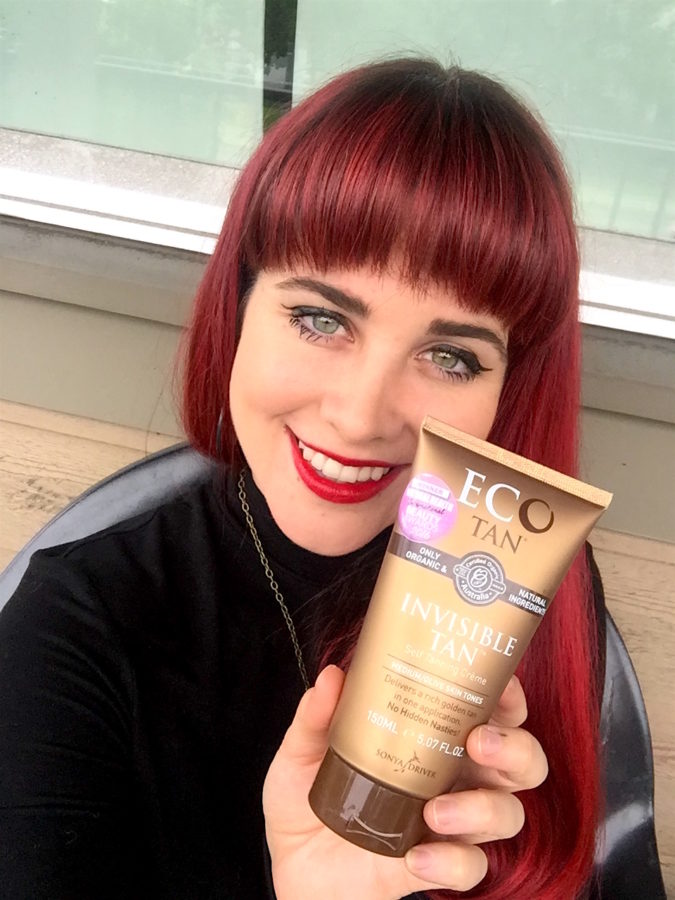 This weekend I went to Sephora looking for a new foundation amongst other things (hello Kat Von D tattoo liner!). Anyway, the lady that was helping me was so alarmed when she started testing products on my skin, she was all, "Oh wow…you're like….really pale. Definitely the lightest colour in every palette….so pale. OMG."
Oh yeah thanks girl – I know! Obviously I "love the skin I'm in" but I'm also fully aware of how pale I am and sometimes I think it would be nice to have a little bronzed action on this ghostly skin in the summer hahaha.
In comes Eco Tan to the rescue and this stuff is THE SHIT. I love it. I'm also blown away by just how much I love it.
I've never been a huge fan of self tanners because for one, I'm scared of looking like an oompa-looma and two, most self tanners make you look like an oompa-loompa and lastly, isn't self-tanner just filled with gross chemical ingredients that I don't want on my skin?
Eco Tan is a GAME CHANGER when it comes to all of those fears and doubts surrounding self tanner. There are ZERO nasty chemicals in this organic, vegan wonder product. There are no toxic chemicals, no synthetic ingredients and best of all…it gives the most lovely bronzed hue to your skin – not a speck of orange in sight!
I tried the Invisible Tan which is actually ideal for medium to olive skin tones but I went balls to the wall on this pale body and I'm so happy with the results.
I exfoliated my skin with a good coffee scrub 2 days before I applied the Invisible Tan. I rubbed it in nice and evenly and it goes on just like a regular moisturizer. I headed to  bed for a good eight hours while my Eco Tan got to work. And it did work. When I woke up and rolled over to say what up to Jared, he was like "Whoa, you're tanned" and I was like "Yeah, no biggie".
I love the sun but I respect it and I know that sunscreen is important. However, I think you all know how I feel about regular icky sunscreens filled with toxic ingredients. I've posted many times on the importance of safe sunscreens. Eco Tan tanning products are a safe and effective way to get the colour you want without overdoing it in the sunshine or harming yourself with yucky spray tan chemicals. They also have natural sunscreens!
I totally recommend this product and I had to share it with you all because it really worked for me and I believe in the principles Eco Tan follows as a company. The owner, Sonya Driver, is determined to only create her products from the best ingredients. The whole line is cruelty-free,  100% certified organic and accredited Toxic Free by Safe Cosmetics Australia.
I genuinely love this product and I HAD to share it with all of you!
If you're looking to get your bronze on, try Eco Tan!
Yum