Maple-Tahini Winter Salad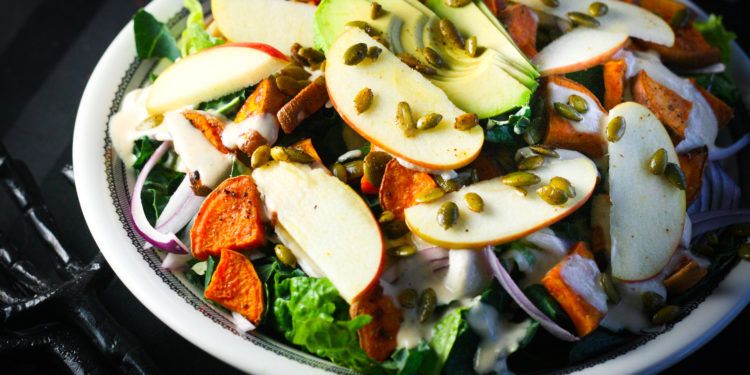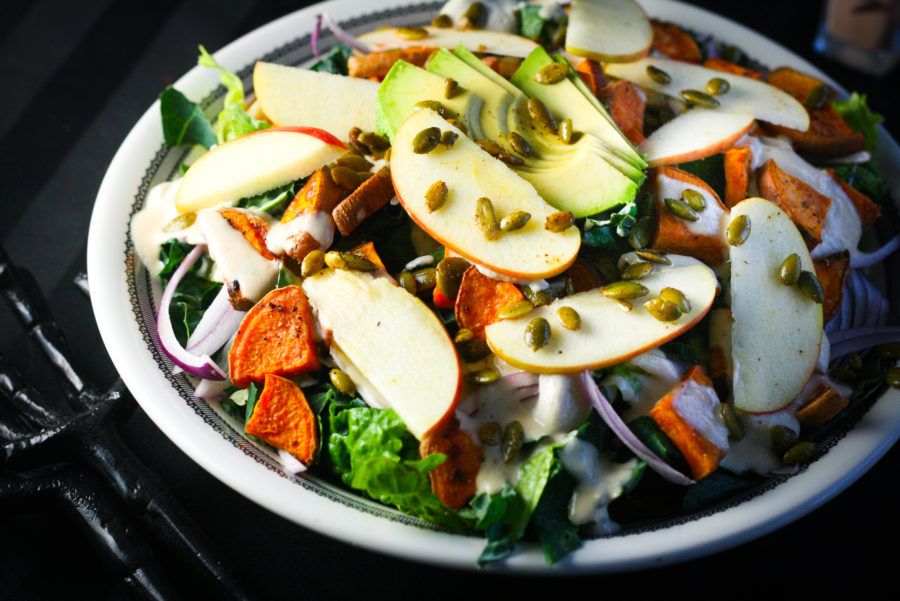 Gooooood morning everyone! It's finally a nice, bright sunny morning in Vancouver and it gives me hope that one day this grey Winter may end…
I have been craving citrus fruits and salads lately – weird! Perhaps it's my body telling me that Spring is coming…and also that I've been on a bit of a 'winter diet' lately and could use a bit more fresh food. I've been lacking big time in the vitamin D department and the sun just makes me feel so happy and motivated. The weather in Van City has left me with dry skin, a cold that won't go away and just a bit 'blah' feeling.
I've been drinking a lot of fresh juice to make up for this and add some extra nutrients into my life but I want to place emphasis on the health properties of the foods I eat, too! So I made this maple-tahini salad that I think is totally appropriate and satisfying for Winter. It's packed with hearty ingredients that fill you up and treat you well, nutritionally-speaking. It's foods like these that will contribute to health with a combination of healthy fats, fiber and lots of vitamins and minerals.
Getting my healthy eating back on track is a great idea for Spring but I'm also SO EXCITED to start working out with my long-time friend Mikala Condon. She is a personal trainer and her company is called 'Worthy of Strength' and operates out of East Van. Check her out!! I'm beginning a program with her and I can't wait to share my results with you. I may also tackle her Spring bootcamp for an extra kick in the butt.
Do you find your healthy lifestyle is easier to maintain in the Spring and Summer? What motivates you?
Maple-Tahini Winter Salad
A kale and romaine salad with simple maple-tahini dressing, roasted sweet potatoes, avocado, toasted pumpkin seeds, apple, red onion and cashew chevre.

Ingredients
Maple-Tahini Dressing
1/4

cup

tahini

1

tablespoon

maple syrup

1

tablespoon

lemon juice

1

tablespoon

apple cider vinegar

1

teaspoon

dijon mustard

1/4

cup

water

1/4

teaspoon

sea salt

freshly ground pepper, to taste
Cashew Chevre
3/4

cup

cashews

soaked

1/3

cup

water

2

tsp

lemon juice

pinch

of sea salt
Salad
1/2

head

romaine lettuce

chopped

1/2

bunch

lacinato (dinosaur) kale

finely chopped

1

medium

sweet potato

sliced into 1/2" rounds and quartered

1/4

red onion

finely sliced

1

apple

finely sliced

1/2

avocado

finely sliced

1/2

cup

raw pumpkin seeds

a

pinch

cumin, sea salt, pepper

cashew chevre or goat cheese

to taste
Instructions
Maple-Tahini Dressing
Mix all ingredients in a high speed blender. Add water until desired thickness is reached, starting with 1/4 cup

Yams
Toss yams with a glug of olive oil, sea salt and pepper. Roast at 425 for 20-25 minutes.

Pumpkin Seeds
Toss with a teaspoon of olive oil, and a pinch of sea salt, cumin, and chili powder. Toast over medium heat in a frying pan until fragrant and lightly browned (5 minutes or so)

Cashew Chevre
Combine all ingredients in a high speed blender. Store in the fridge.


*You can strain this mix using cheesecloth overnight for a firmer chevre

Salad Assembly
Toss all ingredients together along with the maple-tahini dressing. Enjoy!

Yum