Pumpkin Seed Pesto Zoodles

I would like to preface this post by saying that while I love zucchini…I currently have so much of it in my fridge that I cannot possibly accept any more "gifts" from family members and friends hoping to pawn off their surplus of garden zucchini on me. Anyone who has ever grown zucchini knows how it is- haha!
One of the ways that I like to use zucchini is to spiralize it into noodles a.k.a. "zoodles"! Zoodles are a great gluten-free alternative to pasta but they can also be used as a base for a variety of other dishes. I love to use zoodles in stir-frys, soups or instead of pasta when I want a lighter meal.
Zucchini isn't the only vegetable that can be used in this way. My spiralizer is one of my favourite kitchen gadgets and I have used it for potatoes, yams, cucumber, carrots, beets and more.
If you want to get your hands on a spiralizer, I have a few options on my Amazon Associates store. Click here to check them out.
Also, I've called on some friends from Food Bloggers Of Canada to take a peek at what they are using their spiralizers for. Check out this lovely round-up of recipes for more inspiration.
Cucumber Carrot Salad with Sesame Seeds by Making Healthy Choices
Baked Parmigiano and Herb Potato Noodles by Sugar Loves Spices
Carrot Cashew Zoodles with Crispy Sesame Tofu by Justine Celina
15-minute Zippy Garlic-Basil Marinara with Zucchini Noodles by The Taste Space
Spiralized Vietnamese Kohlrabi Salad by From Pasta To Paleo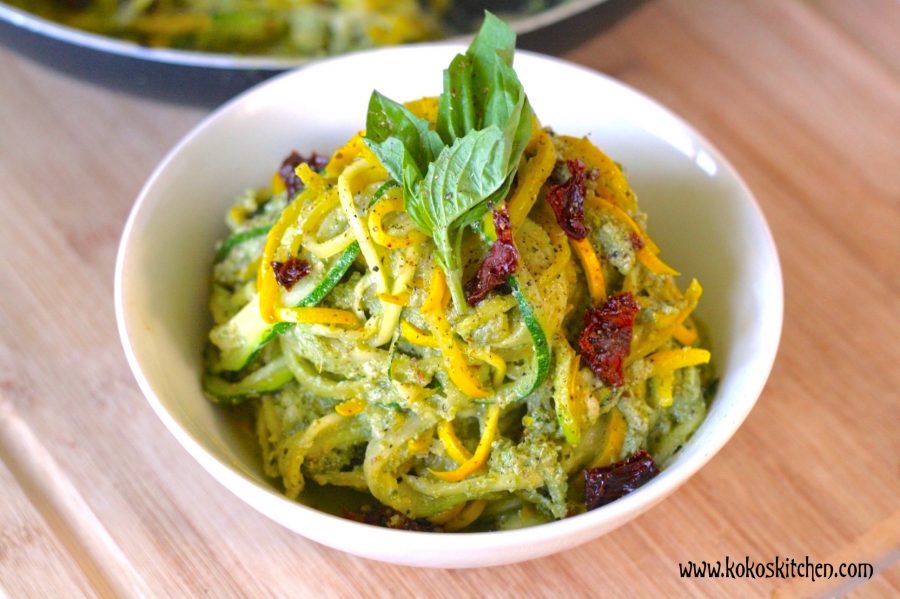 Pesto Zoodles
A gluten-free alternative to pesto pasta using a homemade pumpkin seed pesto.
Ingredients
Pumpkin Seed Pesto
2

cups

fresh basil

1/4

cup

raw cashews

1/2

cup

raw pumpkin seeds

unsalted

1

clove

garlic

zest and juice of one lemon

1

tablespoon

nutritional yeast

1/4

teaspoon

sea salt

freshly ground black pepper

to taste

1/2

cup

olive oil
Zoodles
roughly 1 kilogram zucchini

I used a mix of yellow and green

a splash of olive oil

1/2

teaspoon

crushed red pepper flakes

1/4

cup

sun-dried tomatoes

chopped

1/2

teaspoon

sea salt

freshly ground black pepper

to taste
Instructions
Pesto
Combine all the ingredients, except olive oil, into a food processor.

Pulse the mixture a few times and then slowly add the olive oil as the food processor runs.

Stop when the mixture reaches pesto texture - you don't want it completely smooth!
Zoodles
Using a spiralizer, process the zucchini into noodles.

Heat the olive oil in a large frying pan over medium heat.

Add the red pepper flakes and fry for a minute or so.

Add the zucchini noodles, sun-dried tomatoes, salt and pepper.

Cooking for just few minutes until zucchini has softened. Be careful not to overdo this, as the zucchini can go from soft to soggy very quickly. I like the noodles to be a little more al dente!

Stir in about half of the pesto sauce until just heated through.

Taste and adjust the amount of pesto to your liking.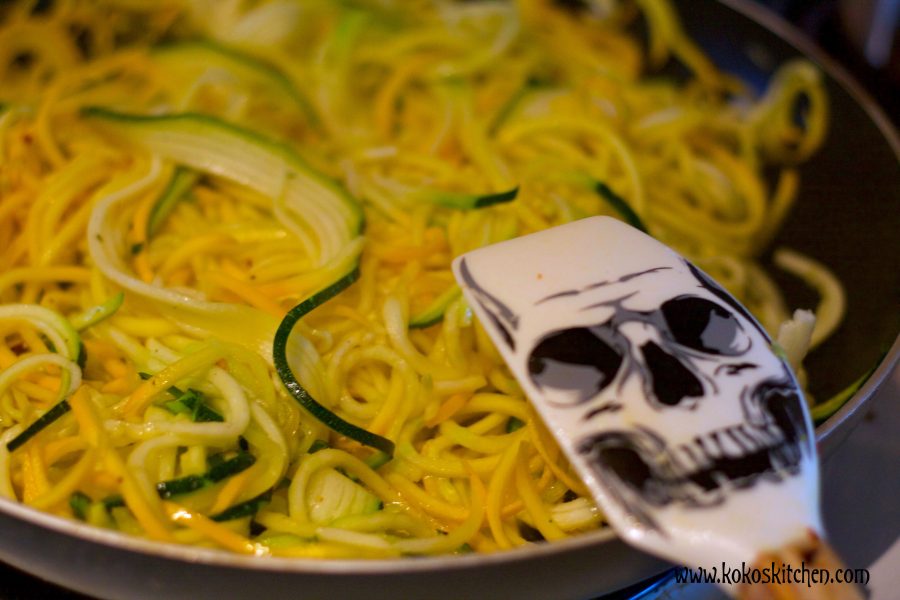 Disclaimer: Koko's Kitchen is a participant in the Amazon Services LLC Associates Program, an affiliate advertising program designed to provide a means for sites to earn advertising fees by advertising and linking to Koko's Kitchen.
Yum