Red Curry Squash and Lentil Soup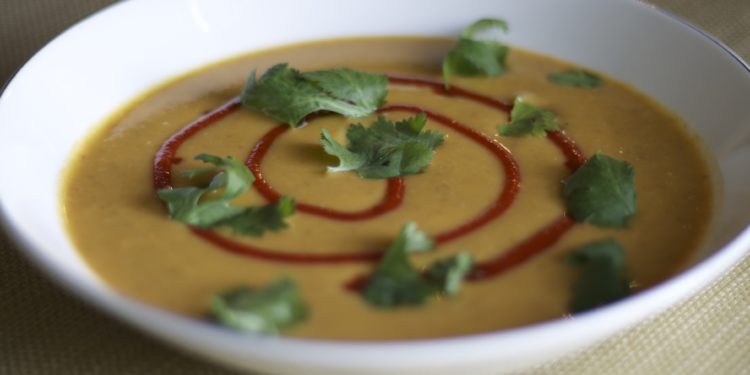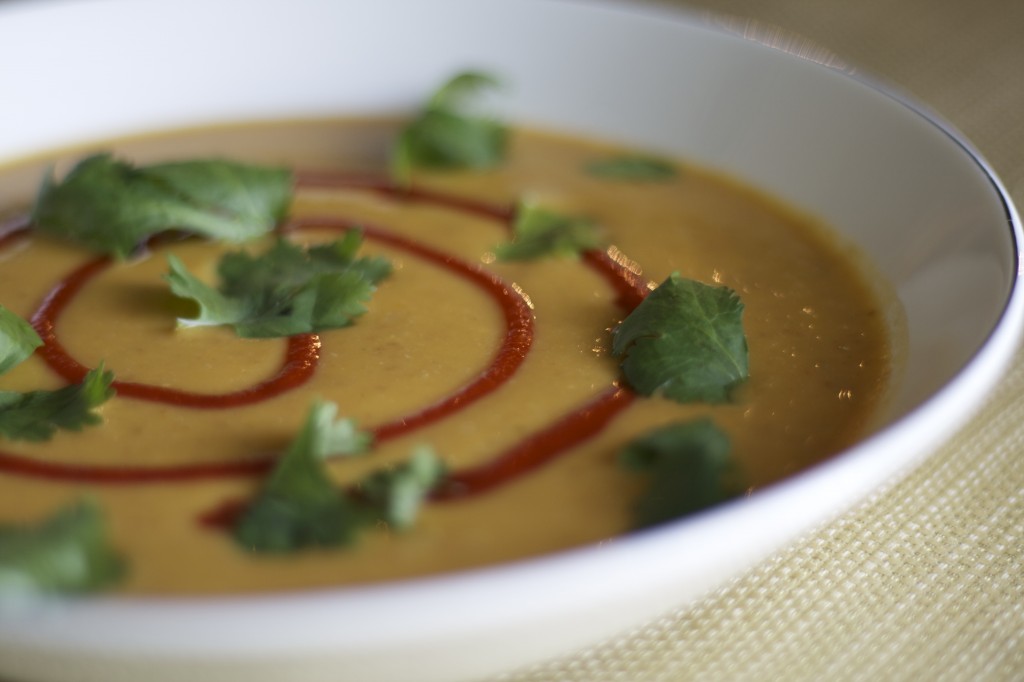 Happy Easter! Hope everyone is chowin' down on some sweeeeeets. I've lotsa dark chocolate in my Easter basket…thanks Easter Bunny!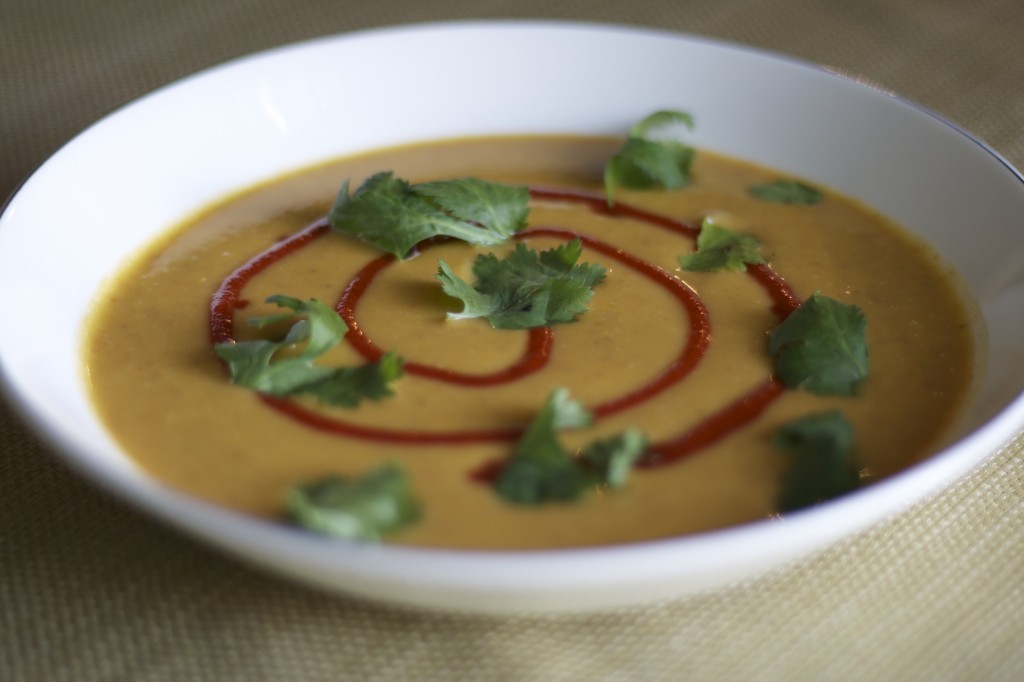 Red Curry Squash and Lentil Soup
By Koko, March 31, 2013
Thai red curry spices up this vegan squash and lentil soup.
Ingredients:
Coconut Oil – 1 Tbsp
White Onion – 1, diced (about a cup)
Garlic – 3 cloves, minced
Coconut Milk – 1 400mL can
Thai Red Curry Paste – 1 Tbsp- 4+Tbsp (depends on the brand you use, start with 1 Tbsp and taste)
Grated Fresh Ginger – 1 Tbsp
Lentils – 1 540 mL can, drained and rinsed
Butternut Squash – 1
Lime – 1, zest and juice
Water – 4 cups
Salt – 1 tsp
Red Chili Flakes – 1/8 tsp
Sriracha Chili Sauce – For garnish
Handful of cilantro – For garnish
Instructions:
Preheat oven to 350 degrees. Cut butternut squash in half and place open side down on baking tray. Roast for 45 minutes until tender. Remove from oven and scoop flesh out of skin and set aside.
In a large pot, add coconut oil and heat over medium-high heat. Add onion and let cook a few minutes until translucent. Add garlic and cook a minute longer. Add coconut milk. Stir in red curry paste, starting with 1 Tbsp. Taste, and add more if flavour isn't strong enough. Add butternut squash, lentils, ginger, lime zest and juice, salt, chili flakes and water. Bring to a boil, reduce heat, and let simmer for a few minutes. Using an immersion blender, blend soup until smooth. If using a regular blender, be careful blending hot soup. It's better to let it cool first. Pour into bowls and garnish with Siracha swirl and cilantro.
Now onto the soup. I've made a completely delicious Thai red curry spiced soup. It's made with butternut squash and lentils to pump up the protein. I used canned lentils to simplify the recipe and cooking time even further. Everything is blended together (I used the Vitamix <3) into a rich and silky smooth soup. The lime in this recipe pops with all the flavours from the red curry paste, too. Lemongrass….ginger….mmm, takes me right back to Thailand! Without the sweatiness, dehydration, hangovers, and unbearable bus rides.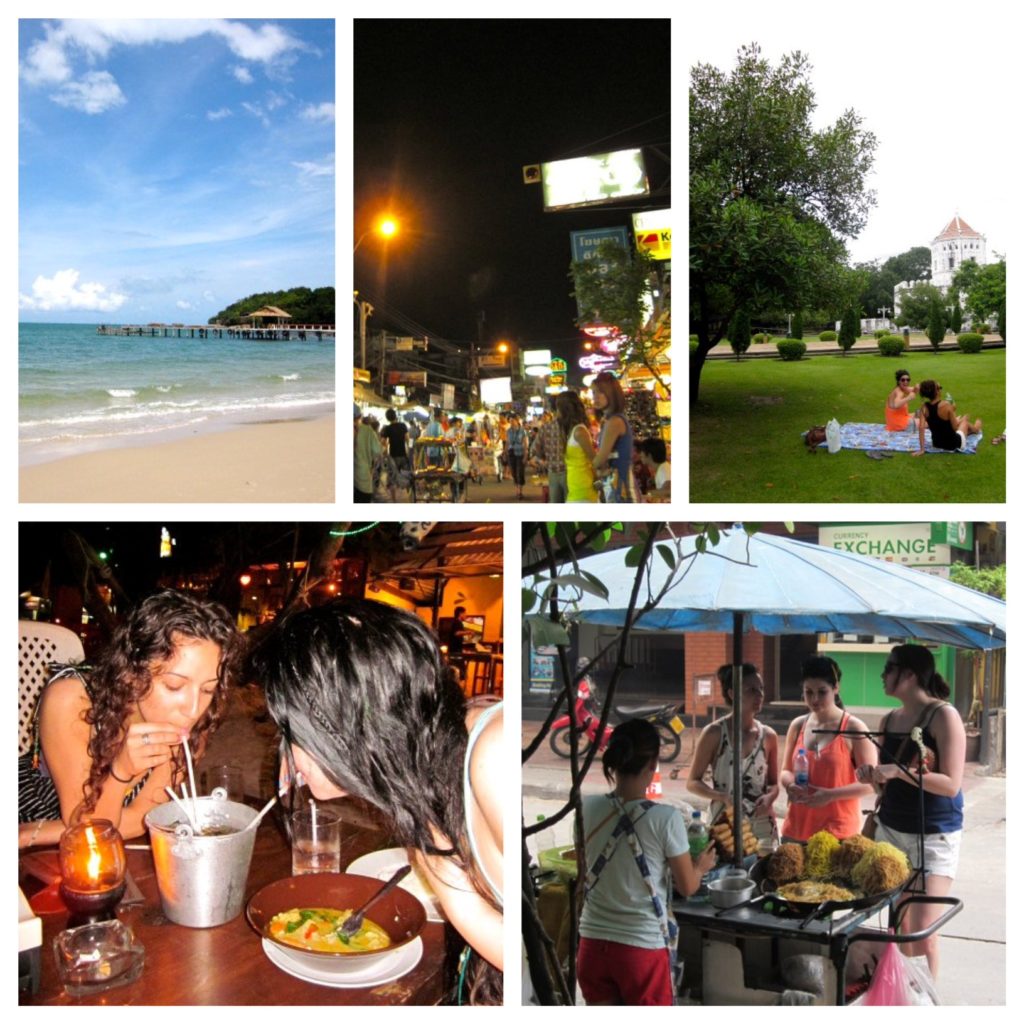 This recipe is totally vegan thanks to the lovely coconut milk that is used a lot in Thai cooking. And yes, that is a Sriracha swirl. Feel free to add this cool garnish into your soup bowl if you can handle a little spice. Enjoy!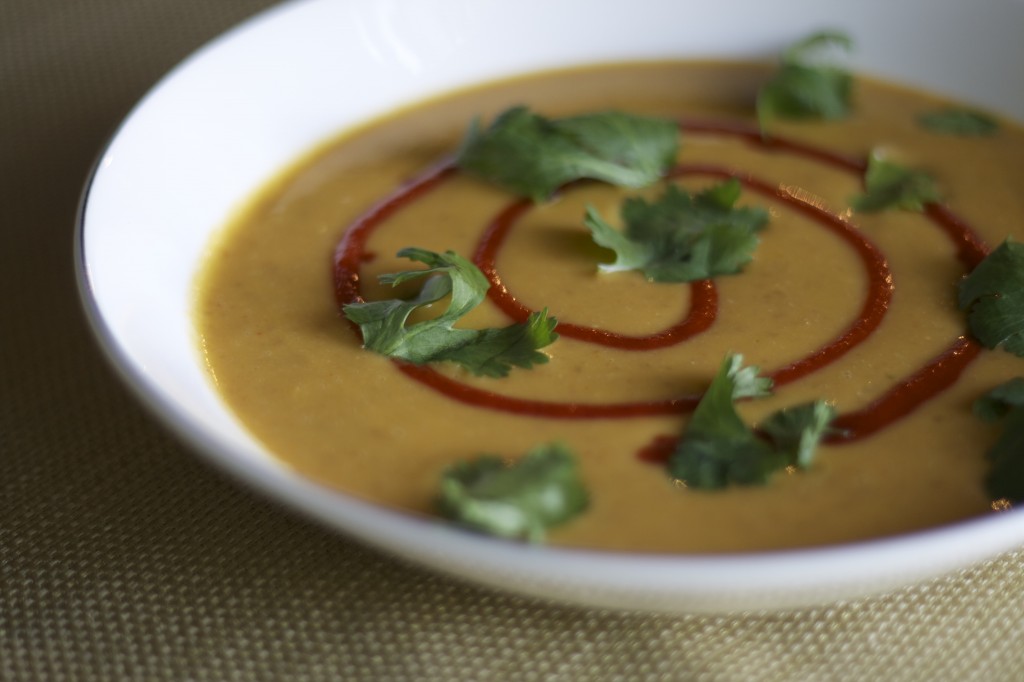 Yum