Vegan Sweet Potato & Black Bean Burritos with Avocado-Cilantro Sauce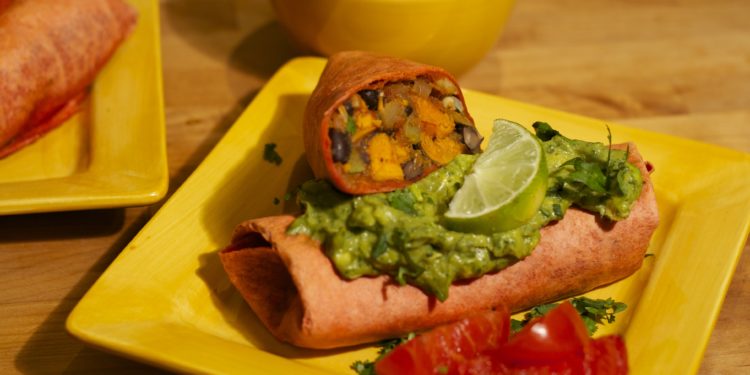 Hellooo there!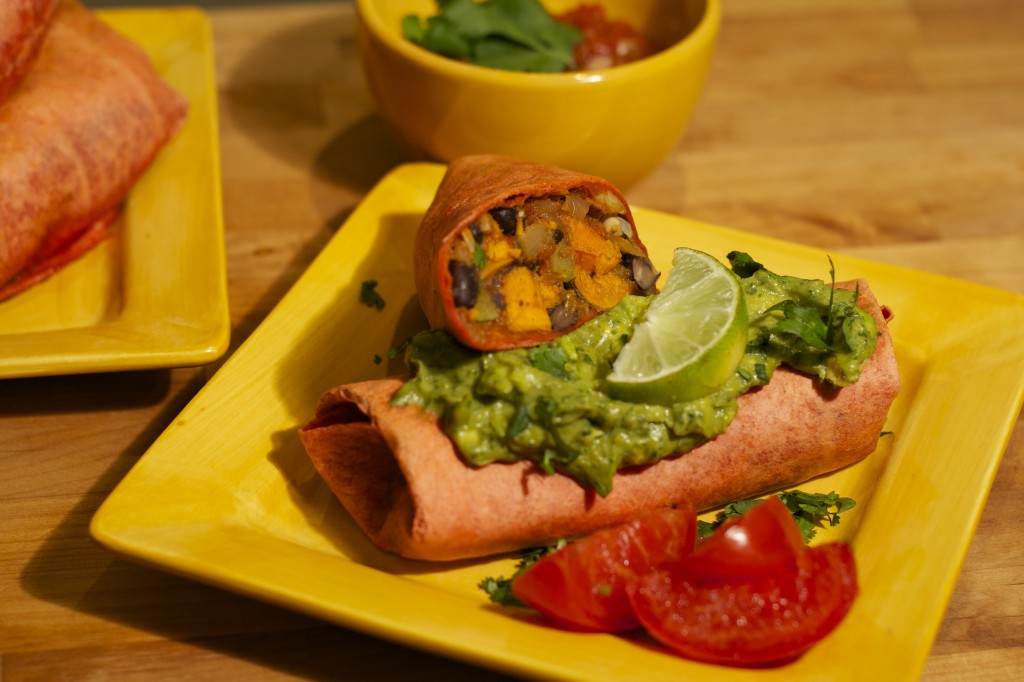 I've got a sweet little burrito recipe for ya today. It's not your usual burrito….considering it's meat-free and dairy-free, but I assure you, it's delicious. You might want more than one. Or you might just want to eat all the avocado sauce with a spoon….no? Just me? Anyways.
The steps are simple and these come together so quick, they also freeze great and I've eaten quite a few for quick lunches at work. I'm sure my co-workers were jealous 😉
Make these in your Banjara Maxi Dress from Drop Dead Clothing and your Fuun Koneko Beanie and it's even more fun, I swear! Even Justin Bieber does it….uh-oh.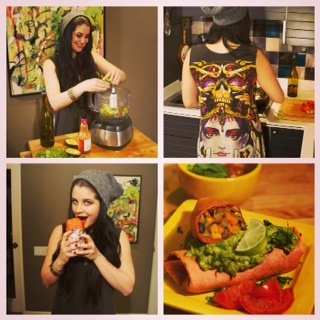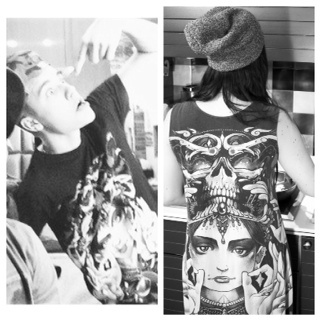 We are just two peas in a pod, aren't we!?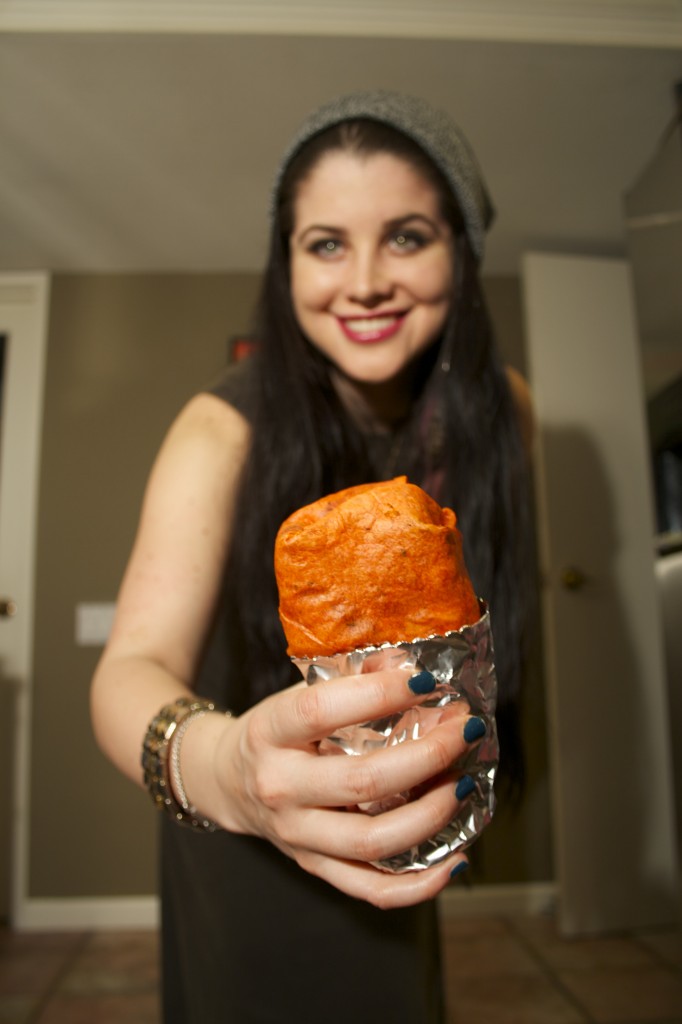 This month I've got some killer vegan burritos for you. These are anything but authentic, but does that really matter? They taste great. I've found that when you pack a tortilla with awesome veggies and spices, and slather it with avocado sauce, you just won't miss anything that a regular burrito has. These are super filling just like a regular burrito because of the black beans and sweet potato, but also because of the sauce on top. This avocado sauce is full of super healthy fats that will fill you up. And hey…avocado just happens to be one of my favourite things.
If you are a fan of the heat, you can spice these up a few ways. One, you can leave the seeds from the jalapeno in for lots of extra heat. Two, you can throw in some of your favourite hot sauce. I've already done this for the avocado sauce, but if you want the burrito itself spicier, you can add some into the mix there, too.
This recipe is so simple, anyone can make it. There are two basic steps…chopping vegetables and throwing them in a pan. You can do it! These are also perfect for freezing and re-heating. If you want to do that, just follow the recipe all the way through and let the burritos cool after you remove them from the oven. Wrap them up well in plastic wrap and place them in the freezer. Heat them up for a couple minutes in the microwave and they make a perfect healthy, on-the-go meal for when you're in a hurry, or for lunch at work or school. 
Vegan Burritos with Cilantro-Avocado Sauce
Burritos:
1 Tbsp olive oil
1 cup white onion, diced (about ½ a large onion)
3 cloves garlic, minced
1 jalapeno, seeds removed, diced
1 cup zucchini, diced
1 cup black beans (roughly ½ a 540mL can), drained and rinsed
3 Roma tomatoes, diced (get all the juices, too!)
1/2kg (1lb) sweet potato (roughly 2-3 tiny ones or one giant one) cooked, diced
1/2 cup spinach, packed
2 tsp chili powder
1/2 tsp ground coriander
1/2 tsp ground cumin
1/2 tsp sea salt
1/2 tsp sugar
4 tortillas
Cook sweet potatoes in microwave or roast in oven until tender.
Preheat oven to 375 degrees F/ 190 degrees C/ Gas Mark 5.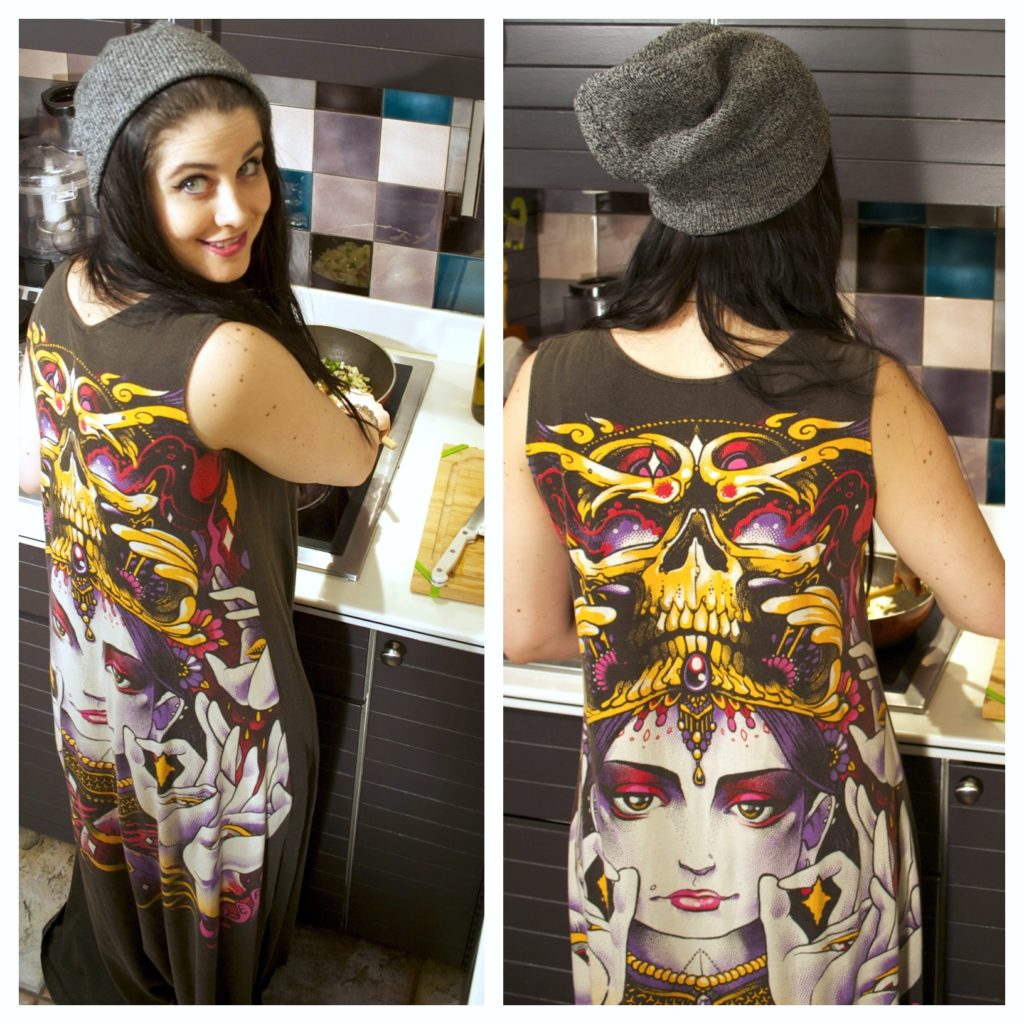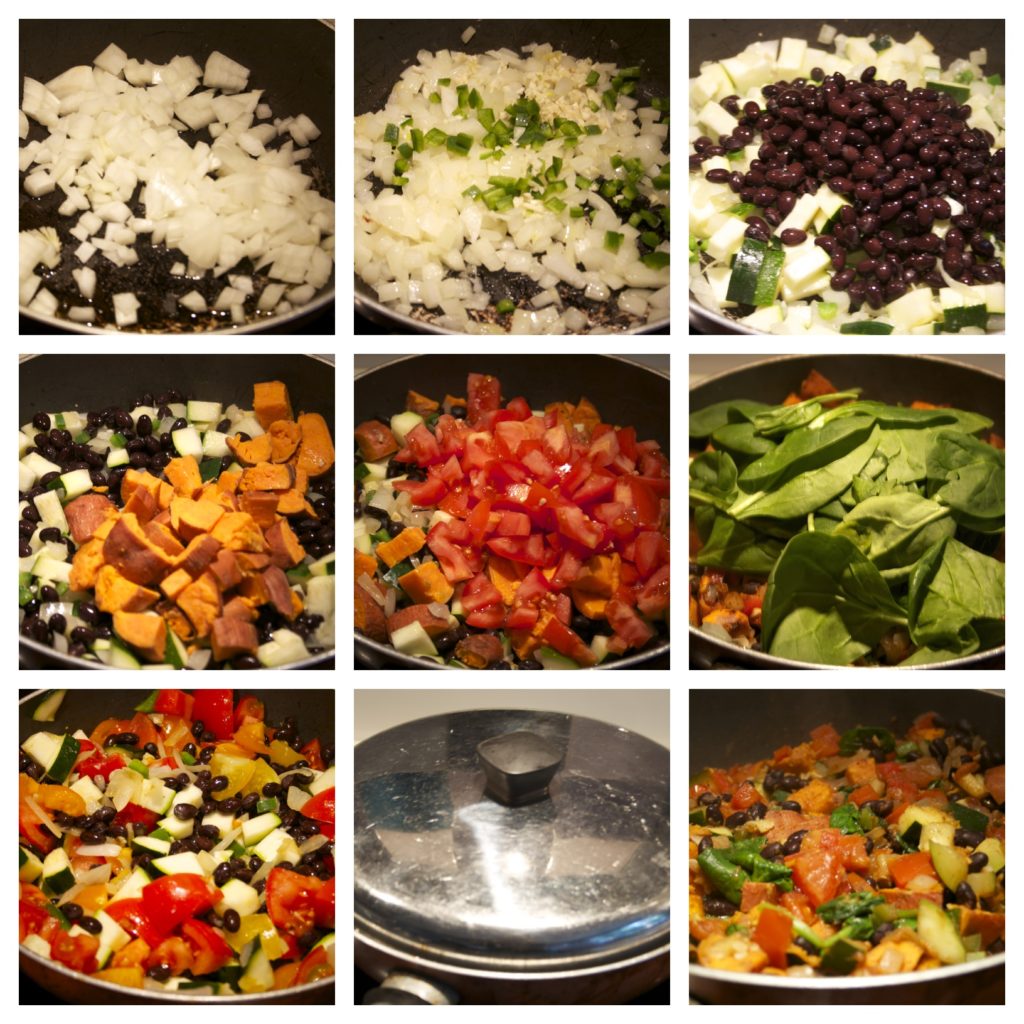 In a pan over medium-high heat, add olive oil. Add onions and sauté until translucent- a few minutes. Add garlic, and jalapeno and cook 1-2 minutes. Add black beans, sweet potato, and tomatoes and cook a couple minutes until zucchini softens. Add chili powder, coriander, cumin, salt, and sugar. Add spinach and stir until slightly wilted. Add a lid to the pan and let everything cook down for about 5 minutes. Remove lid, and remove from heat. Divide mixture among 4 tortillas and wrap tightly, tucking in the sides as you go. Place 4 burritos in a baking dish. Bake for 10-15 minutes until tortillas are slightly crisped. Prepare sauce as burritos are baking.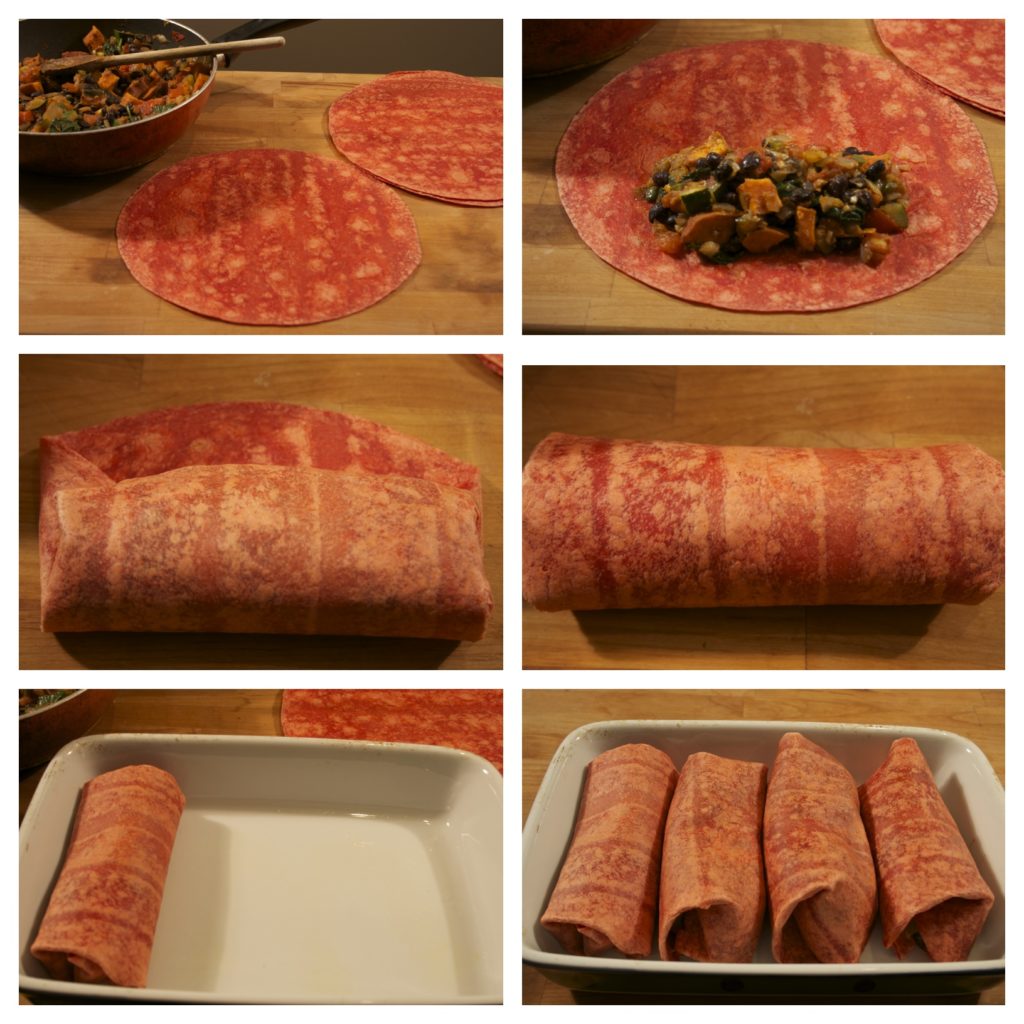 Sauce:
2 avocados
1 Tbsp olive oil
1 cup cilantro
1/4 tsp sea salt
1 clove garlic
juice of one lime
1/2 tsp cumin
1/2 tsp apple cider vinegar
pinch pepper
your favourite hot sauce, to taste. I used Frank's…I put that sh*t on everything. Sriracha would be another good choice.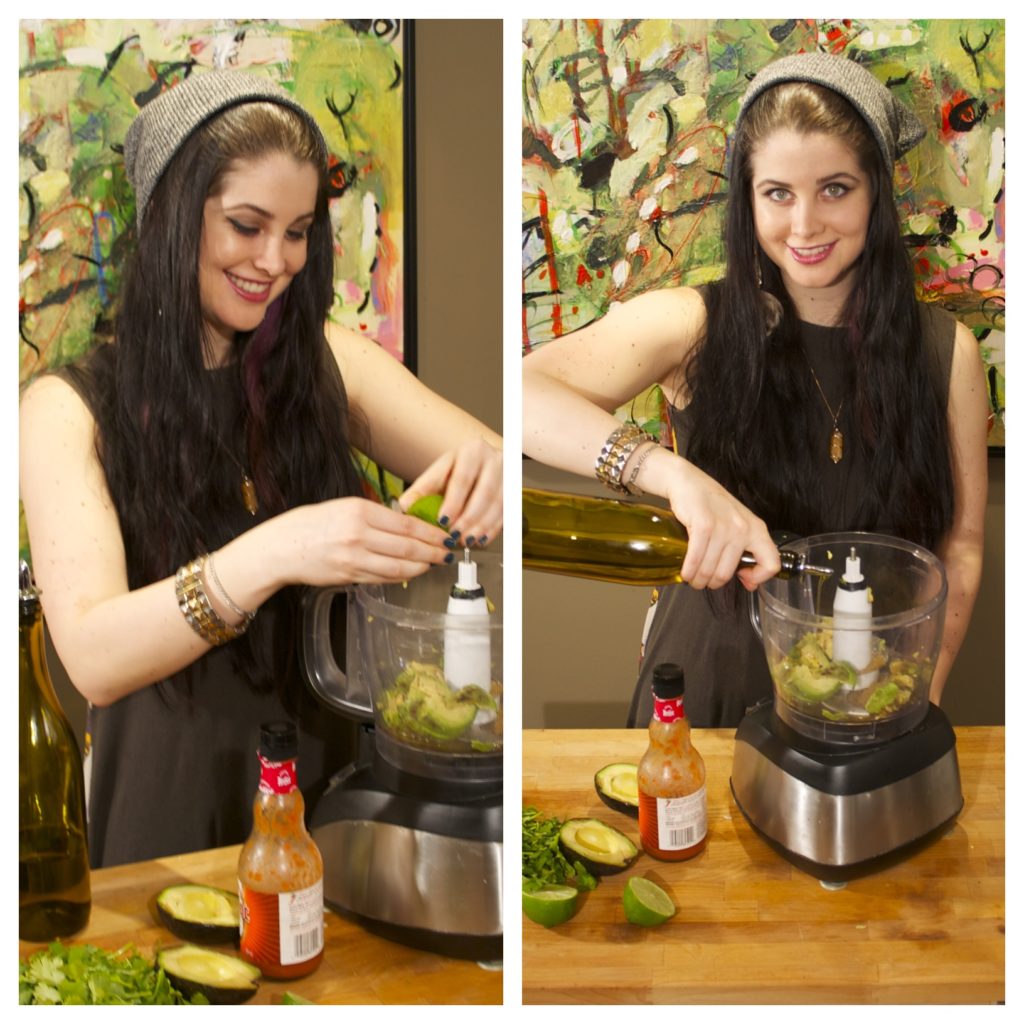 In a food processor, combine all ingredients and blend until pretty smooth. Drown Top burritos in this saucy guacamole and enjoy.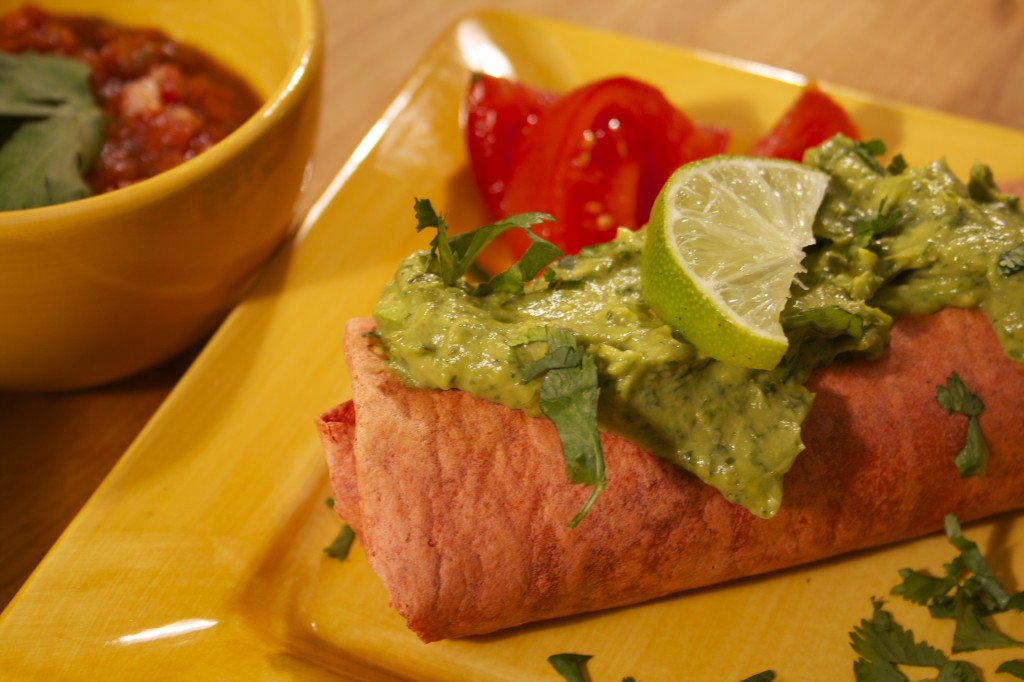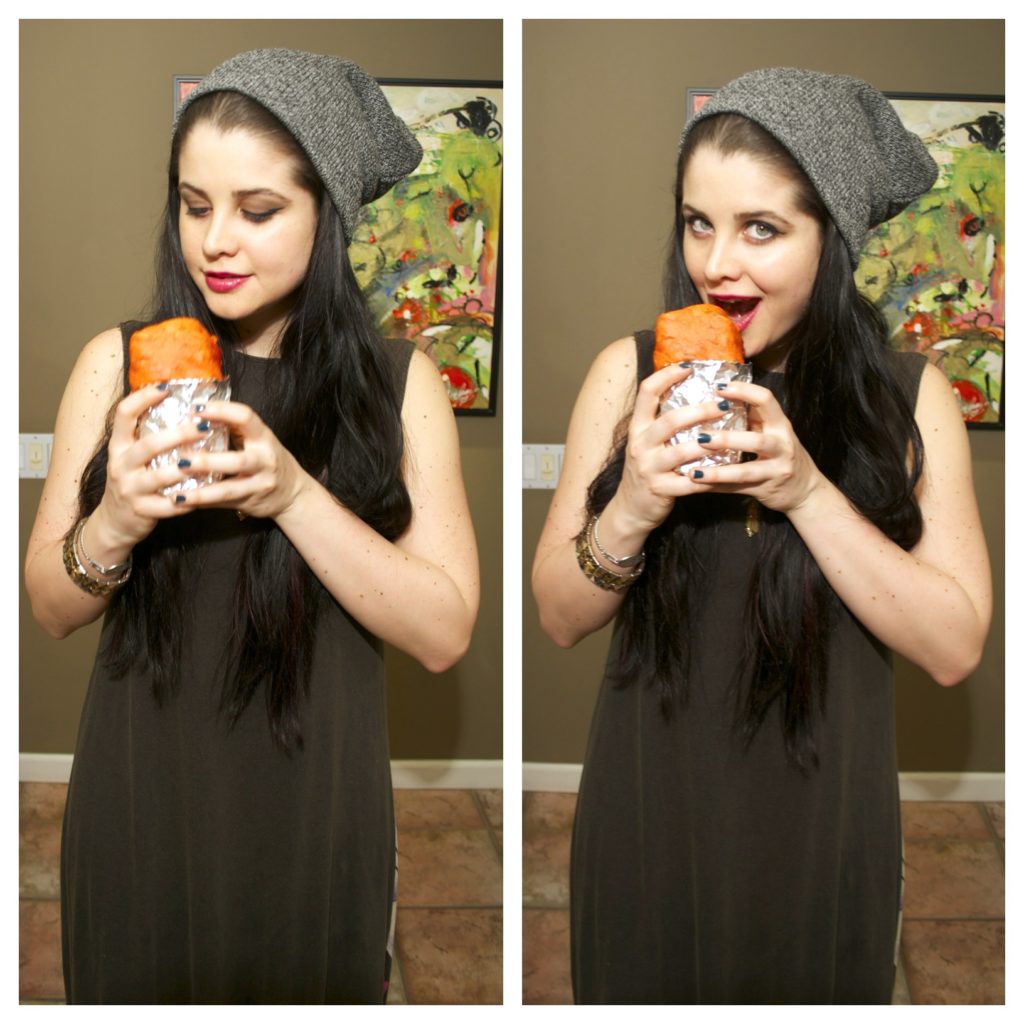 Yum