The Wicked Healthy Cookbook Review and Recipe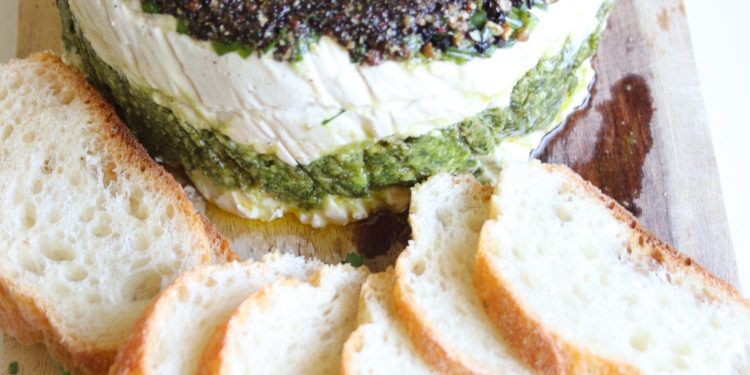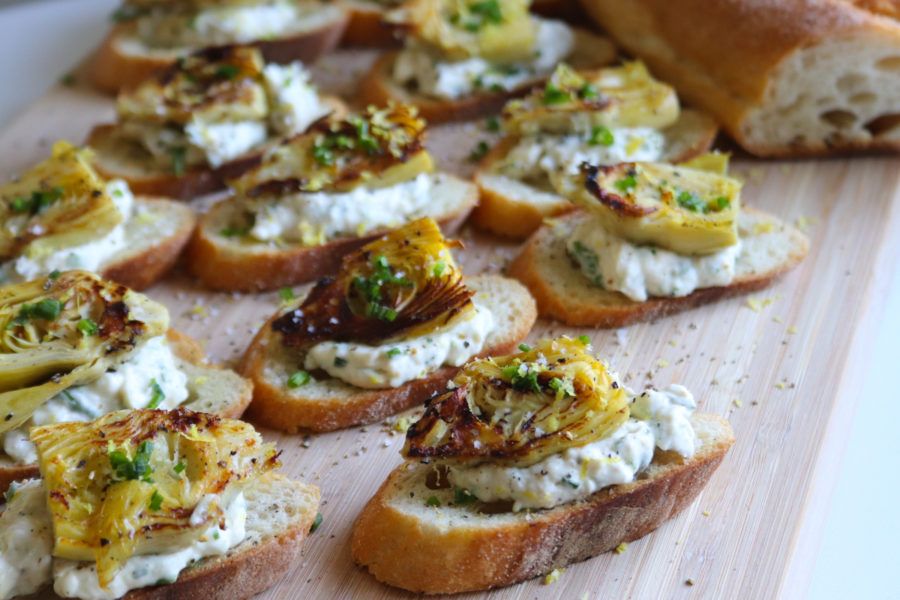 If you follow me on Instagram, you may have heard me yelling about the awesomeness of the Wicked Healthy Cookbook by Chad and Derek Sarno. I have been a fan of these guys for several years now and a follower of their Wicked Healthy blog.
The Sarno brothers are plant-pushers and are taking vegan cooking to an entirely new level. I would say the recipes in this cookbook take a fair amount of preparation and may require some ingredients you may not be able to find at a 'regular' grocery store but I can also say that every minute of preparation will be entirely worth it. These recipes are FIRE!!!!!
That's not to say that every recipe is complicated. For example, these grilled baby artichoke crostini with cashew creme fraiche and horseradish came together in a flash and were sooo tasty! I left them on counter and my brother demolished a few. My mostly carnivorous brother, that is. When he told me he liked them, I dropped the vegan bomb and he was shocked. Haha – got him!
Next I tried this dreamy cashew au poivre torte with basil parsley pesto. Again, this recipe was easy to make although the fermentation process takes a day or so. I love that this plant-based cheese is cultured with probiotics. This makes a more 'real' cheesy taste and introduces beneficial bacteria! Nourish Your Guts y'alllllllll!
The basil parsley layer just adds such a nice fresh taste. I think even omnivore friends would love this!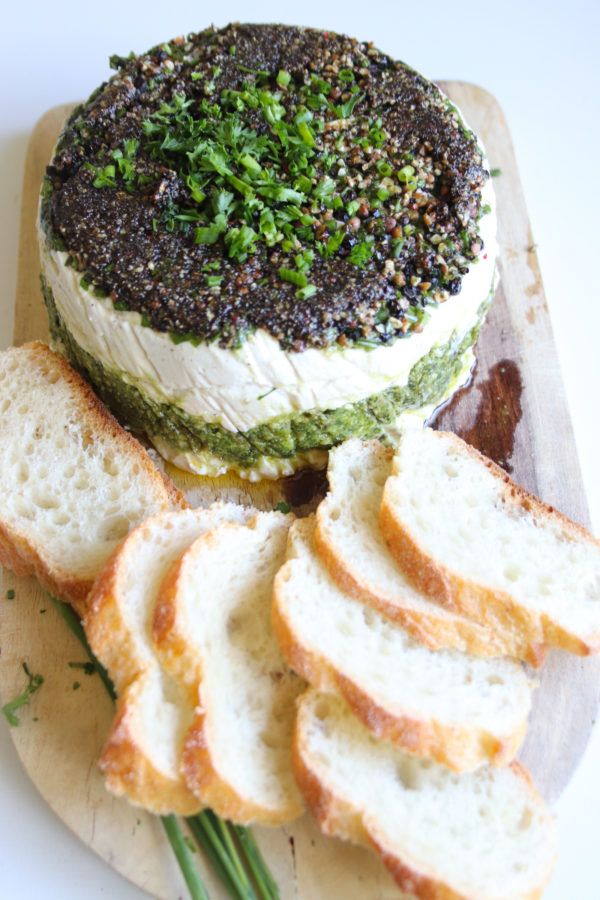 Lastly, I get to share a recipe with you!! How insanely awesome do these king oyster mushrooms look as a satay with spicy peanut-ginger sauce. I'm drooling!
Earlier in the month I hosted an Instagram giveaway for two copies of the Wicked Healthy Cookbook – follow me @kokobrill so you don't miss out!
This is just a tiny snippet of the amazing recipes found in this book. I cannot WAIT to try their vegan meringues, yummy cocktails, endless BBQ dishes, dumplings and more!
KING SATAY with SPICY PEANUT-GINGER SAUCE
Meaty king oyster mushrooms make this dish a win-win for meat eaters and plant eaters. The mushrooms have long, thick stems that you slice into thick strips, skewer, then roast to make satay. Yes! A creamy, gingery peanut sauce brings it all together.
SERVES 4 AS A STARTER COURSE, OR 8 AS A PICKUP APPETIZER
INGREDIENTS
MUSHROOMS
1 pound king oyster mushrooms
5 tablespoons vegetable oil
¼ cup water
¼ cup low-sodium tamari or soy sauce
1 tablespoon agave syrup
1 tablespoon sriracha or chile paste
1 teaspoon hot chile oil
SPICY PEANUT-GINGER SAUCE
1 cup smooth peanut butter
1/3 cup low-sodium tamari or soy sauce
1/3 cup fresh lime juice
1 tablespoon grated fresh ginger
2 cloves garlic, minced or pressed
¼ teaspoon smoked paprika
1 Thai chile, chopped; or ½ teaspoon red pepper flakes
½ to 1 cup water
METHOD
1. FOR THE MUSHROOMS: Slice off the mushroom caps and save for another use (see Pro Tip). Trim the bases so the stems are clean. (In the next steps, you'll be pressing the mushroom stems to make them thinner, flatter, and more pliable for skewering.)
2. Heat a large heavy pan (such as cast iron) over medium-high heat. When it's hot, swirl 3 tablespoons of the oil in the pan to coat the bottom, then add the mushrooms. After a minute or so, use a second heavy pan or a couple of foil-wrapped bricks to weight down and press/sear the mushrooms. Cook for 2 minutes, then pour the water around the mushrooms. (The steam will help soften the mushrooms and flatten the round shape into a squarer shape, which is easier to skewer.) Continue pressing for 2 to 3 minutes, then flip the mushrooms over. When the 'shrooms are tender and pliable, 2 to 3 minutes longer, remove them to a work surface. Let cool for 15 minutes or so.
3. Meanwhile, mix together the remaining 2 tablespoons oil and the tamari, agave, sriracha, and hot chile oil to make your marinade.
4. When the mushrooms are cool, slice them lengthwise into strips about ¼ inch thick. Arrange the strips in a single layer on a baking sheet and brush them all over with the marinade, using it all. Let marinate at room temperature for at least 1 hour. Or, if you have time, cover and marinate in the refrigerator for up to 2 days. The longer you marinate, the more flavor you'll get.
5. Soak a handful of wooden skewers in water to cover for 30 minutes. When ready to cook, preheat the oven to 350ºF. Thread each strip of mushroom on a skewer, making as many ribbon folds as possible without breaking the mushroom. Place the skewers on a baking sheet and bake in the hot oven until lightly browned, 20 to 30 minutes.
6. FOR THE SAUCE: Combine all the ingredients in a blender and buzz it all up until smooth. For a thicker sauce, use less water; use more to make it thinner.
7. Drizzle a little sauce over the skewers before serving with the remainder on the side for dipping.
OPTIONS
• Switch it up and use almond butter or cashew butter in the sauce instead of peanut butter.
• Garnish with fresh cilantro, chopped chiles, and lemon or lime wedges for squeezing.
PRO TIP
Use the leftover mushroom caps to make Mushroom Stock (page 284) or add them to the filling for Porcini Ravioli (page 211). Or just sauté them, toss with tamari, and add to your favorite noodle bowl.
Excerpted from the book THE WICKED HEALTHY COOKBOOK by Chad Sarno, Derek Sarno, and David Joachim. Copyright © 2018 by Chad Sarno and Derek Sarno. Reprinted with permission of Grand Central Life & Style. All rights reserved.
Yum