DIY Adult Capri Sun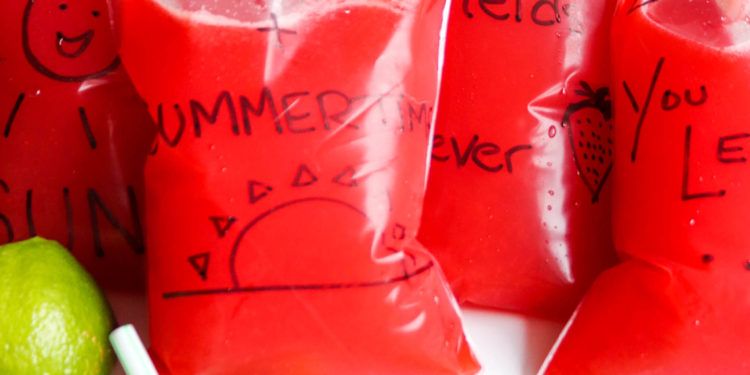 Remember those little silver juice boxes you used to love as a kid that were more bag than box? I'm talking about Capri Suns! I don't know about you but these were the king of all when it came to lunchtime trading in elementary school. Not much trumped a Capri Sun.
I wanted to make something fun that would take us all down memory lane for my birthday last year and remind us of the good ol' days. So I made some DIY Capri Suns…with a twist.
I bought some tall and narrow resealable bags on Amazon because they suited the shape of a Capri Sun better than a standard ziplock bag.
I threw some fun designs and sayings on them with black fine tip paint pens that I bought on Amazon. Get some funky straws and you are good to go!
Use a 1-hole punch to put a straw hole in the bag. Make sure you only punch through one side of the bag!
Next, time for the juice…spiked, of course! I made a super fresh strawberry limeade. I've sweetened this with honey but feel free to try agave or coconut nectar if you don't eat honey. I love how REAL this juice is – it's basically only 4 ingredients and the vodka is optional although if you are making these for a party it definitely starts things off with a bang!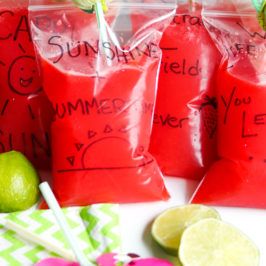 Strawberry Limeade Capri Sun
A recipe for fresh strawberry limeade with optional vodka for a spiked punch!
Ingredients
6

cups

water

1.5

lbs

organic strawberries

6

tablespoons

lime juice

1/2

cup

honey

1/2

cup

boiling water

1/2

cup

vodka
Instructions
Mix honey with boiling water and stir well.

Place strawberries, lime juice and 2 cups of water in a blender.

Blend until smooth and then strain into a large spouted container. Stir in the remaining water.

Prepare your ziploc bags by punching a hole in each one near the top and putting your designs on the bags.

Stir vodka into the mixture, or put 1 shot in each ziploc bag.

Fill each bag 3/4 full and seal completely.

Add your straw and enjoy! Paper straws work great for this, but I ran out!!
*This post may contain affiliate links, which means that I may receive a commission if you make a purchase using these links
Yum