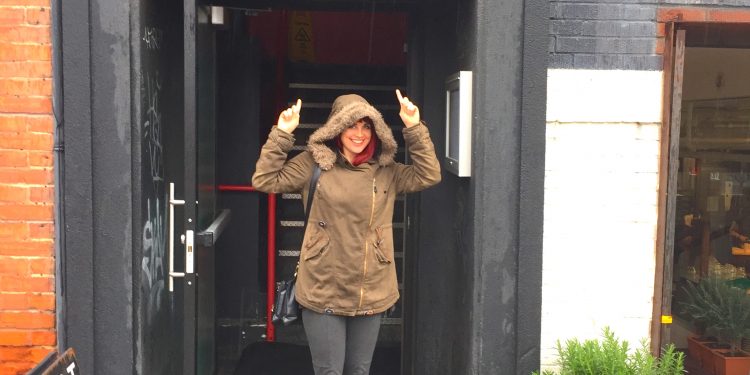 Recently I took a quick trip to Toronto with Jared and although we were only there a couple of days, we got to check a few places off of our 'foodie' bucket list.
It was my first time in Toronto and even though the weather was nahhhhhht so nice, I enjoyed exploring downtown by foot. I quickly realized that Toronto's downtown core was massive compared to Vancouver's and maybe I would need to download 'Uber' for future trips.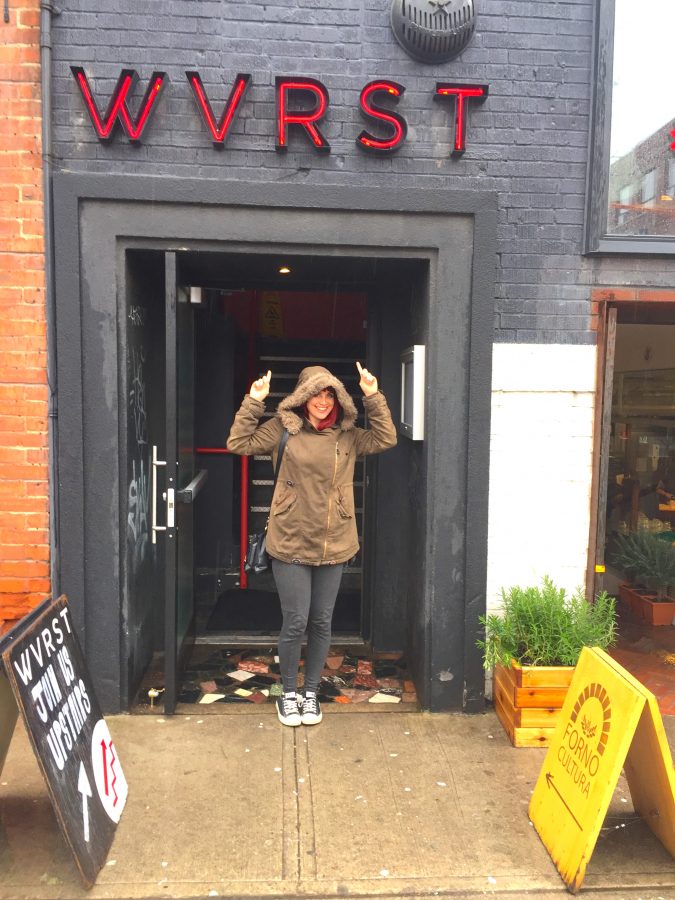 One of our first stops was at 'Wvrst', a sausage and beer hall right downtown. We were there around 2pm so things were relatively quiet but I longed to see this place packed on a Friday night because I just know that the vibe would be amazing. It's set up like a German beer hall with huge picnic table communal seating. The bar area is quite large and they have over 600 bottled and canned beer and ciders and 24 taps that are always rotating and changing…mama likey.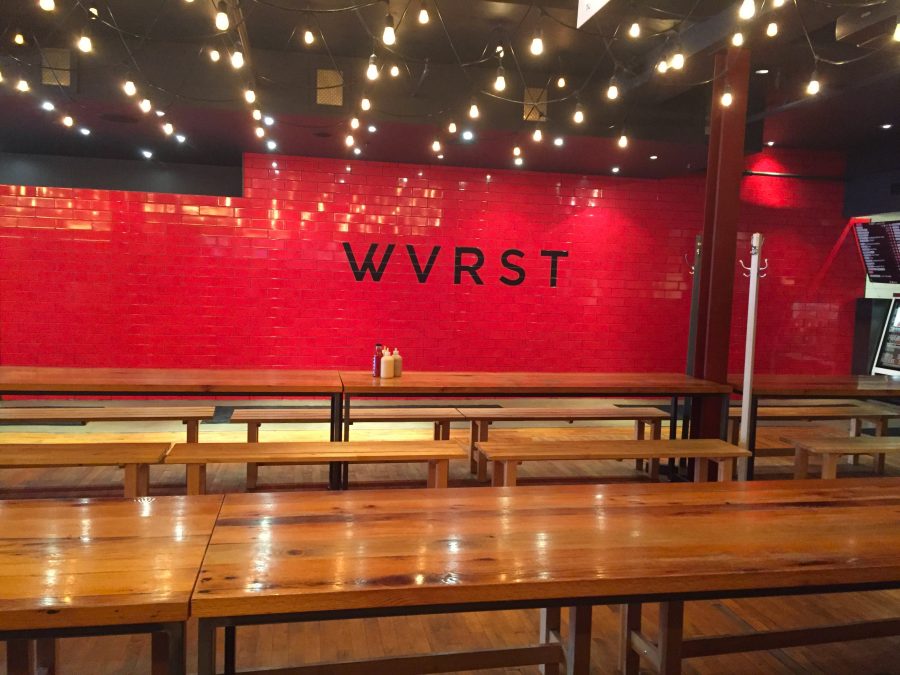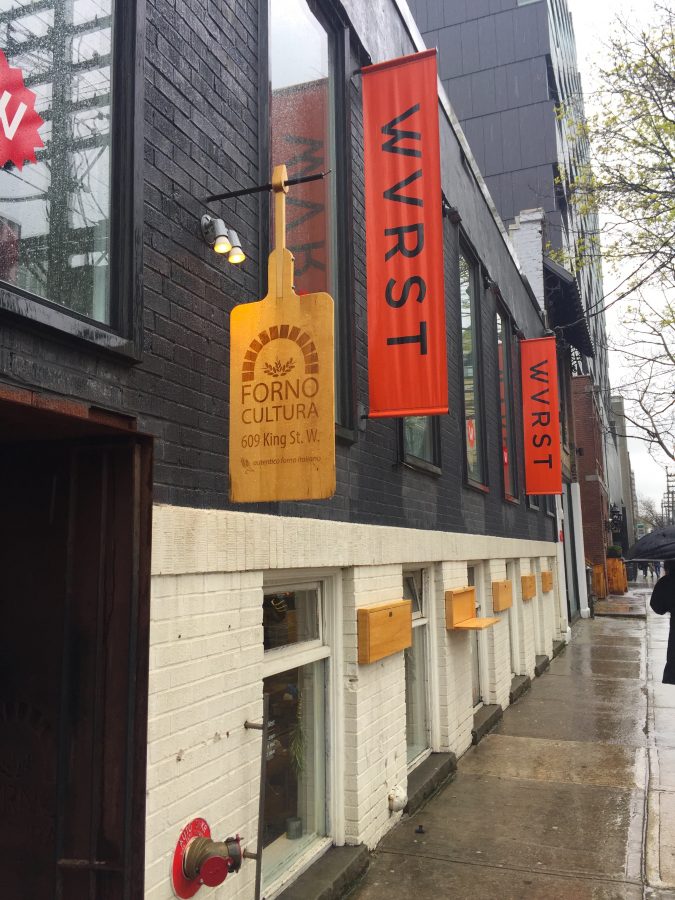 We  decided on 'Wvrst' because we had seen it on our old pal Anthony Bourdain's show, 'The Layover'. Well…that's what swayed Jared. I had to look into it further but when I discovered they had VEGAN SAUSAGE OPTIONS I LOST MY MIND AND HOPPED ON THE PLANE. KJDHGSKGHKLSJDGKLSG!!!!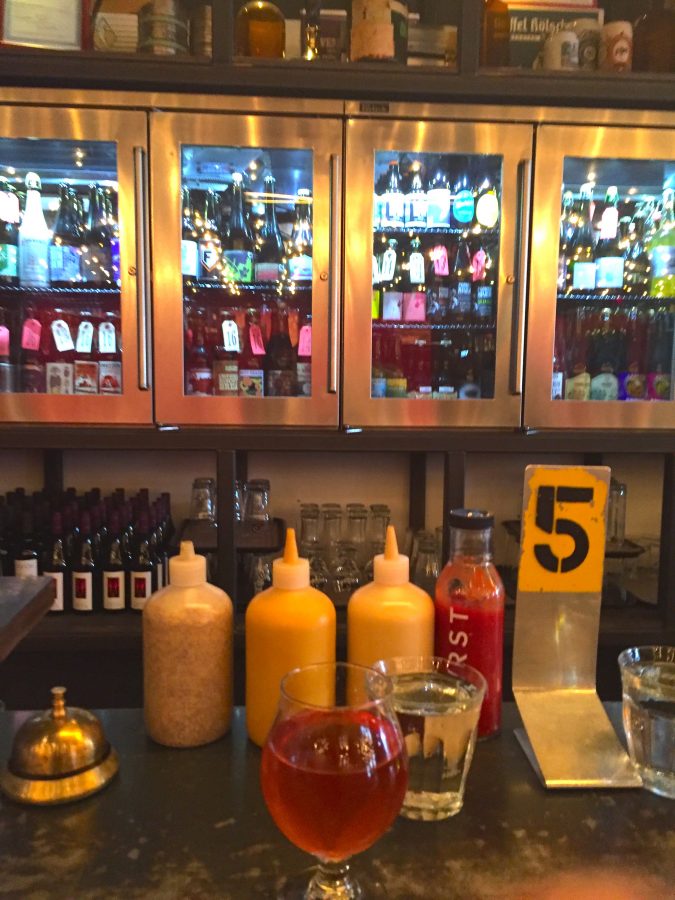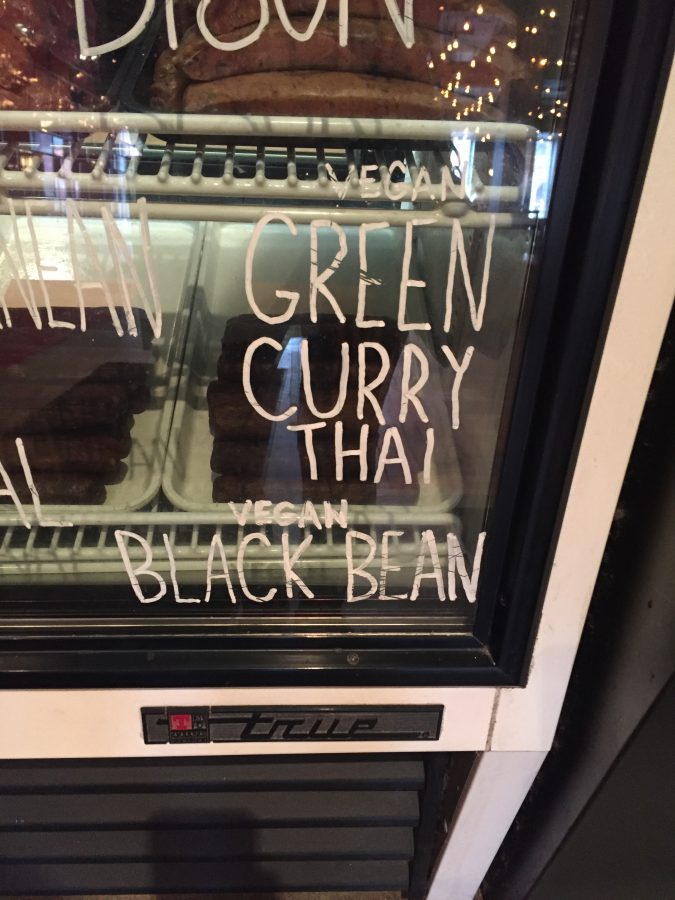 I decided on the black bean vegan sausage because I'm hella into chipotle lately. Jared got venison…whatever. After you choose your sausage, you choose your bun and what you want on it. They have an array of toppings and I'm sure they all taste incredible. Wvrst ferments more frickin' vegetables than I can count in-house. Just look how beautiful this pantry looks!!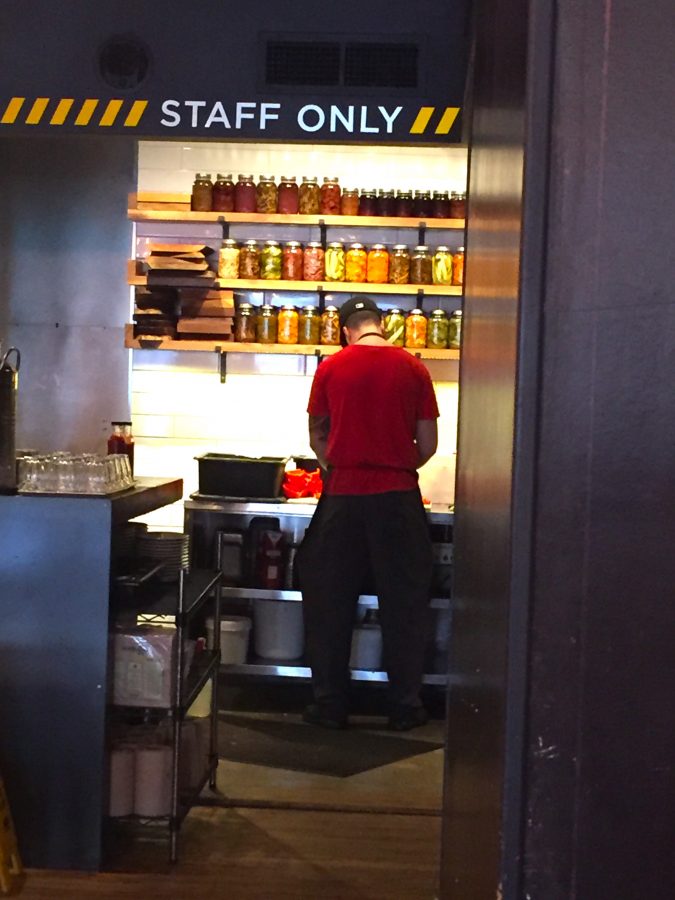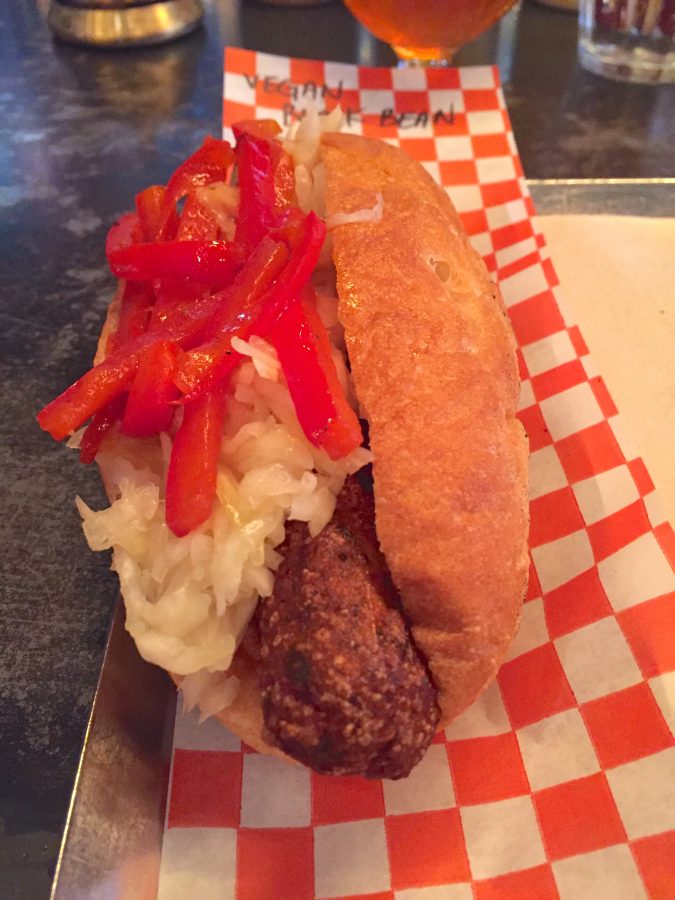 I got sauteed sweet bell peppers and sauerkraut on my sausage and then I smothered it in grainy mustard and a little ketchup because I'm a fiend. This HIT THE SPOT. We had been walking for miles throughout downtown and hadn't even had breakfast. By 2pm I was starved and this 'sausage' paired with a sweet lil' cider was just what I needed. Jared called eating at Wvrst a "euphoric sensation" and I'd have to agree. How cool is it that you can go to a German sausage house with your meat-loving boyfriend and find MULTIPLE VEGAN SAUSAGE OPTIONS SO YOU CAN ACTUALLY EAT SOMETHING TOGETHER THAT YOU BOTH ENJOY. Bliss!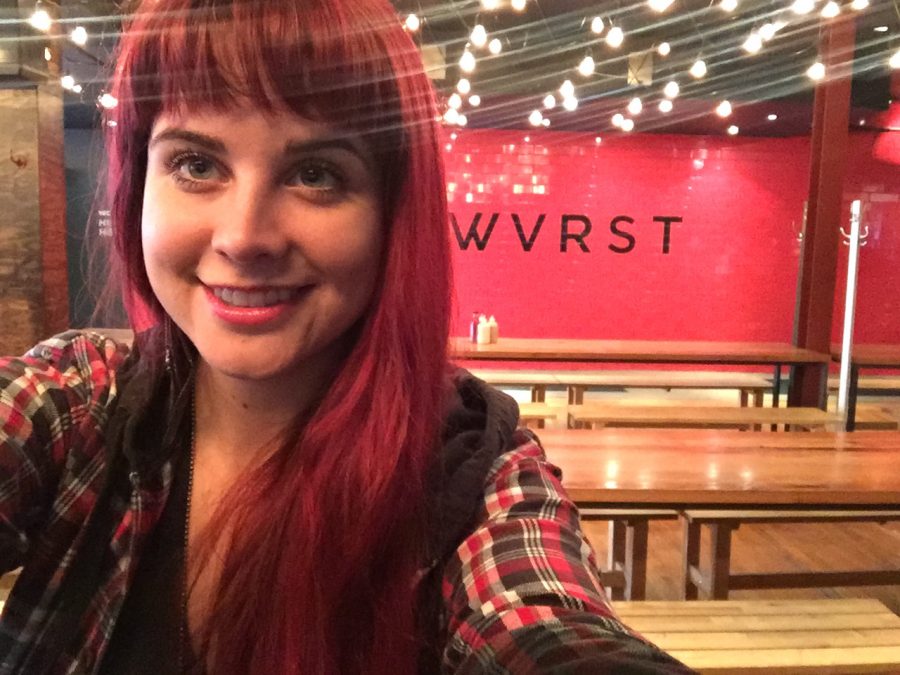 Find 'Wvrst' at 609 King St W, Toronto, ON M5V 1M5 – open 11am till late.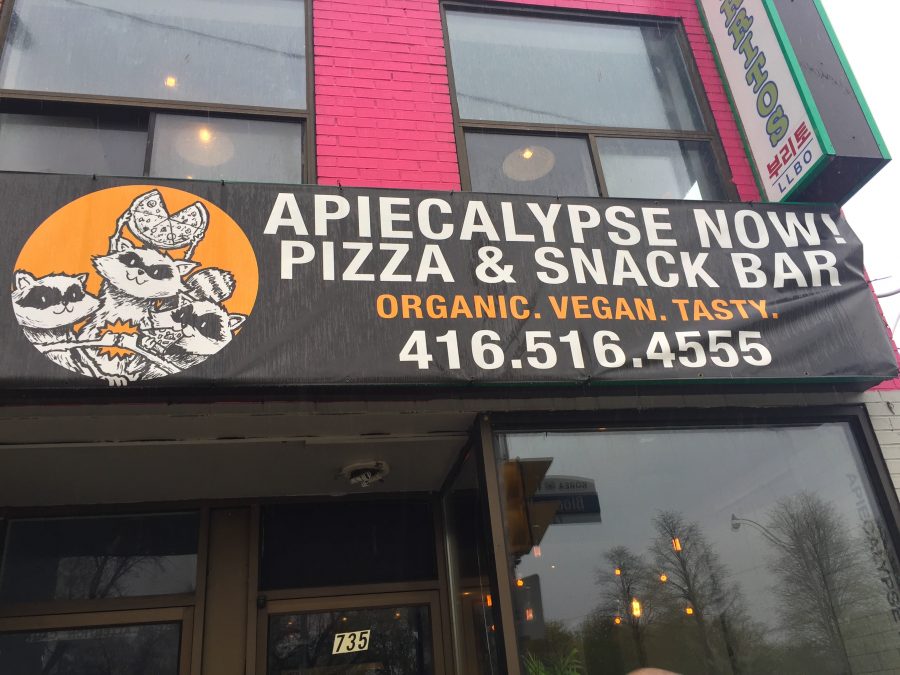 After leaving Wvurst we hopped in a cab and headed to Apiecalypse Now. This place had been recommended to me by a friend and when I took a peek at their menu online, I knew I had to go. It's a small spot with just a couple bar seats to grab a slice of pizza and quickly chow down and it looks like it's mainly catering towards delivery orders. They had all their pizza by the slice on display as well as their homemade donuts. We decided on the 'Reunion Tour' and the 'Fat Mac'. Reunion tour was just okay for me, it had 'local organic tomato sauce, savoury marinated mushrooms, garlic artichokes, red onions, sweet cherry tomatoes, fresh baby spinach, house cashew ricotta cheese'. I probably would stick with some of their more exciting flavours in the future. The Fat Mac on the other hand was TO DIE FOR. It had 'ground not beef, shredded dill pickle, diced vidalia onion, vegan cheddar cheese, iceberg lettuce, sesame seed crust, vegan fat mac sauce' and I kid you not it tasted just like a big mac but way frickin' better. If I lived in Toronto I would order this twice a week.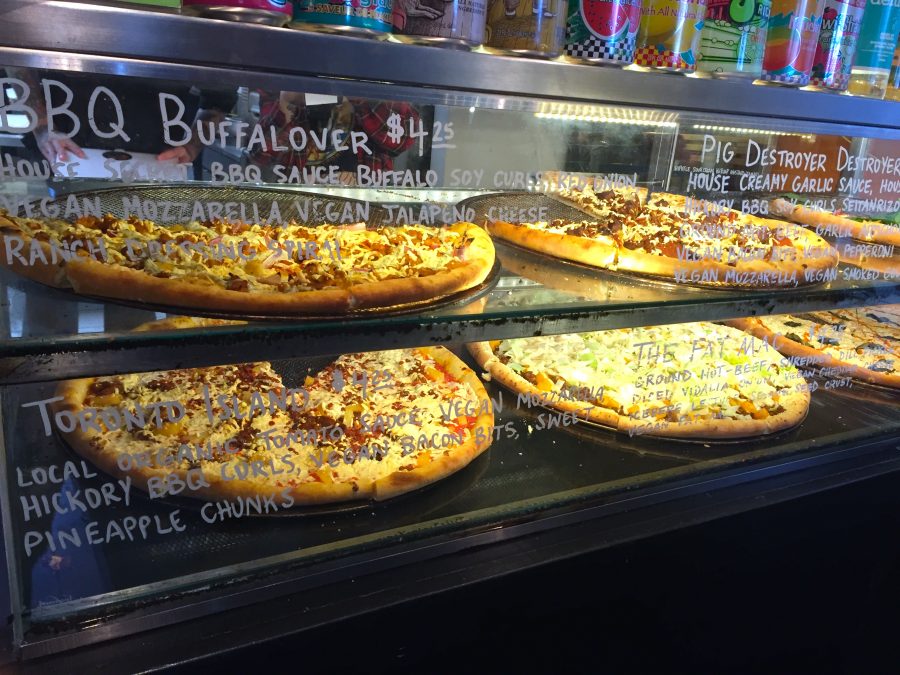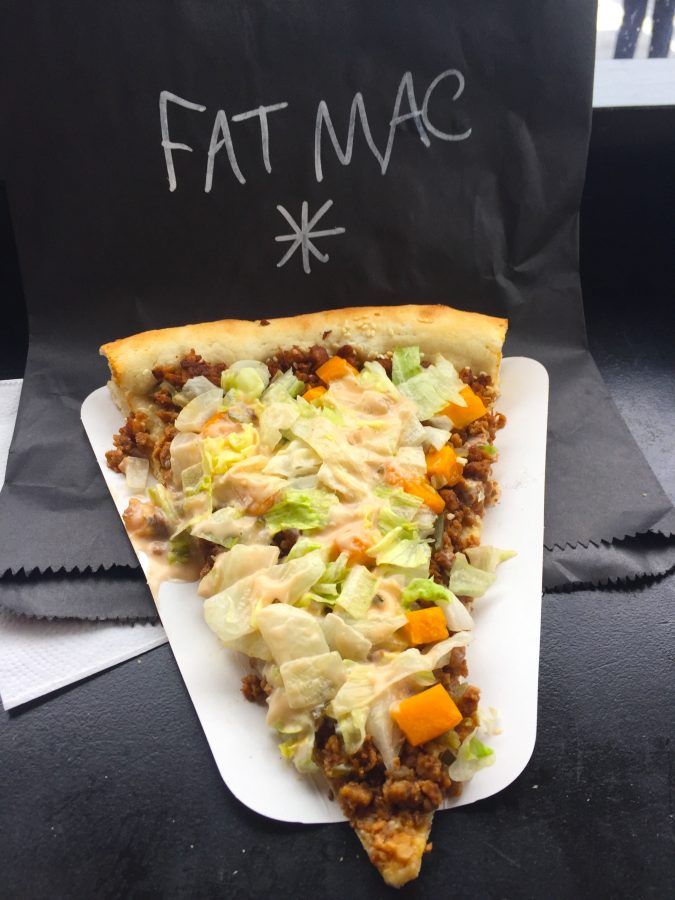 We also had to get a donut and they had some reeeeeaallllly good lookin' flavours from cookies n creme to classic simpsons donuts to one called  'The Toothache' all covered in candy. I decided on the Butterfinger  donut with white icing and homemade vegan 'butterfinger' bar. This thing took me two days to eat – it was BIG and it was cakey and delicious.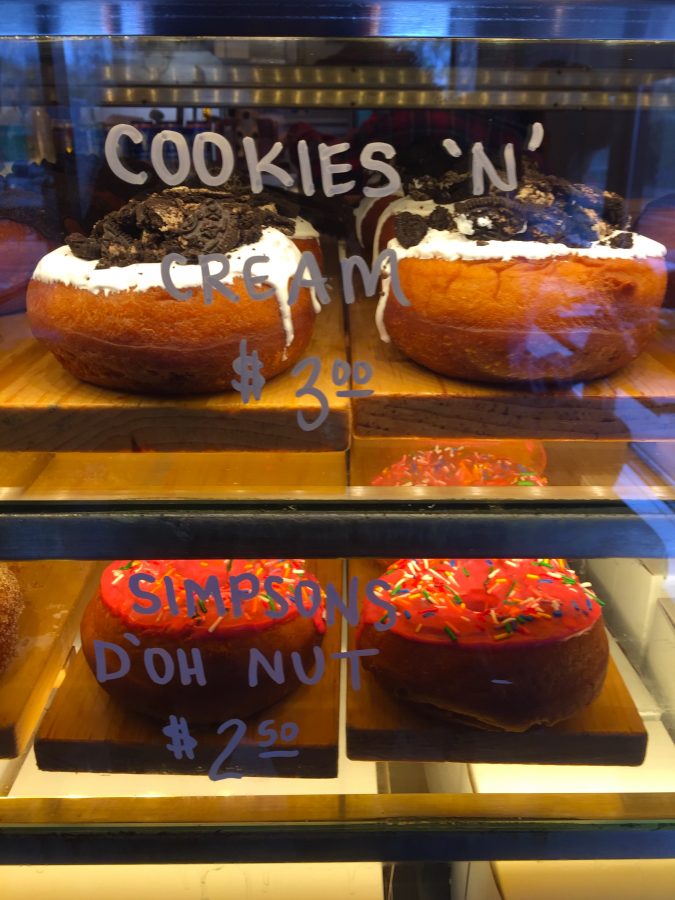 Koko's Kitchen | Apiecalypse Now
There are so many other things I would love to try, from their nachos to their ice cream. I can't wait to go back!
If you wanna check out Apiecalypse Now, head to 735 Bloor St W, Toronto, ON M6G 1L5.
Where are you favourite places to eat in Toronto!?
Yum