Zucchini Fritters with Lemon Basil Cashew Cream- Vegan + Gluten Free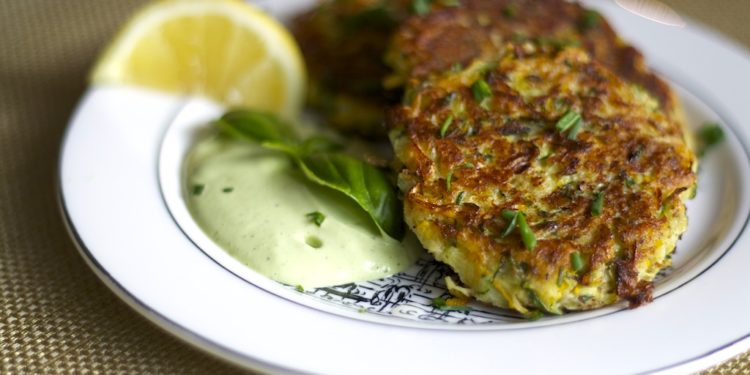 I saw this recipe a few months ago in a Bon Appetit Magazine, and I just knew I had to put my own spin on it. I love fritters, but I'm not so down with eggs…an ingredient they always contain. I made these egg free by using a flax-egg, and I replaced the all purpose flour with gluten free chickpea flour. I used a mix of green and yellow zucchini, because that's what I had on hand. Lastly, the cornstarch was nixed, and arrowroot powder joined the party!
When it came to serving these, I wanted something fresh and summery….lemon and basil- it had to be! Instead of using sour cream or yogurt as a sauce, I whipped up a lemon-basil cashew cream. I love everything about it from it's light, minty green colour to it's balanced, fresh flavour. It helps that the basil and chives came straight out of the backyard garden, too. You just can't beat that.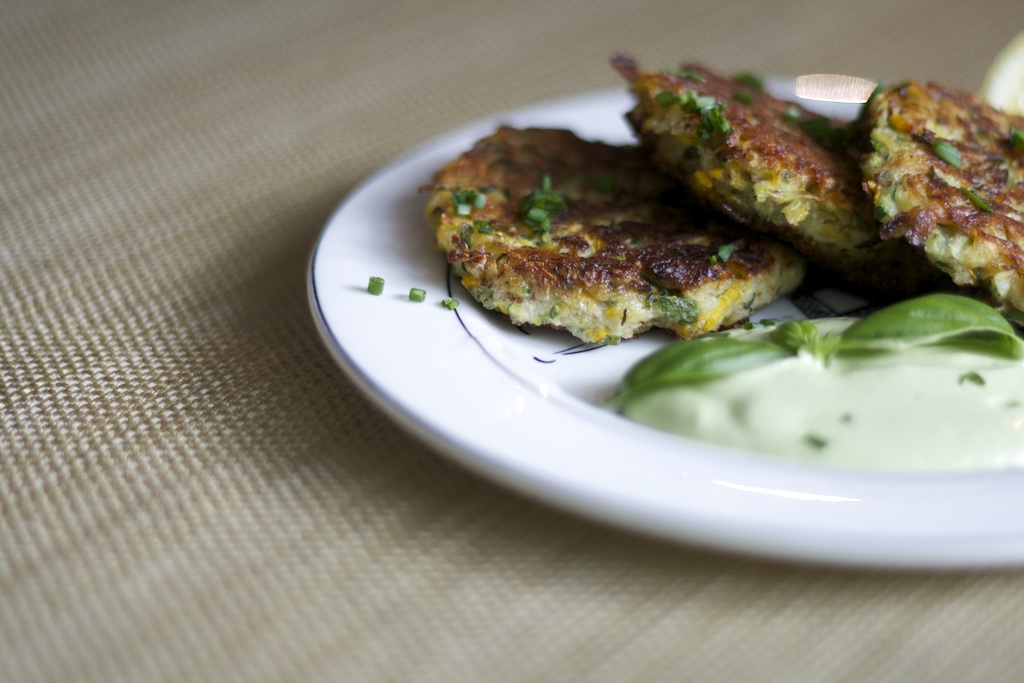 I hope you'll give these a try!
On another note, I'm a contender in Best Health Magazine's Best Health Blog competition. I would LOVE if you could send a vote my way. I'm honoured to be in such good company, too! Be sure to check out the other blogs that are nominated. Vote HERE.
Lastly, the wonderful Sophie of Sophie's Foodie Files gave me an award a little while ago. It requires me to tell you 7 things about myself….so here goes:
1. I loooove Instagram, if you don't follow me already, my username is @kokobrill, so add me up because I'd love to connect with you there 🙂
2. I love to travel. I have been to Hawaii, Greece, Italy, a brief stop in Turkey, as well as Thailand, Cambodia, and Nepal. Most recently I went on a road trip throughout California, and Nevada. I want to explore everywhere.
3. I love my dog Pepper soo much! I got her when I was just 5 years old, and she is still kickin', and cute as ever. She has been having some rough times lately, which of course is normal for any 18 year old dog….I don't know what I'll do without her!
4. I have two tattoos right now, one is the logo for Blink-182, and one is an exclamation mark. I'm looking forward to a few more.
5. I love to workout out….seriously! Exercise is one of my favourite things. I do yoga twice a week, run, and lift weights. Tone It Up has some great workouts that I do, as well.
6. I think my favourite food might be avocados…I probably eat at least half of one a day. I am ALL about healthy fats, and find them incredibly beneficial. Down with sugar, and bring on the healthy fats!
7. I am starting up my own business, also called Koko's Kitchen. I will be selling primarily raw foods and juices…I can't wait to share it with you!
Zucchini Fritters with Lemon Basil Cashew Cream
Gluten-free, and vegan zucchini fritters accompanied by a lemon-basil cashew cream
Ingredients:
Zucchini – 1 1/2 pounds, grated
Kosher Salt – 1/2 tsp
Ground Flaxseeds – 1 Tbsp
Water – 3 Tbsp
Chickpea (Garbanzo) Flour – 1/4 cup
Chives – 3 Tbsp, finely chopped
Arrowroot Powder – 1 Tbsp
Freshly Ground Black Pepper –
Vegetable Oil or Coconut Oil – 1/3 cup
Cashew Cream:
Raw Cashews – 1 cup
Water – 3/4 cup
Lemon Zest – From One Lemon
Lemon Juice – 2 Tbsp (1/2 lemon)
Basil – scant 1/2 cup
Dijon Mustard – 1 tsp
Salt + Pepper
Instructions:
Combine flax seeds and water and let sit 5-10 minutes, until thickened.
Place zucchini in a colander set in the sink and toss with 1/2 teaspoons salt. Let stand 10 minutes, then wring zucchini dry in a clean kitchen towel. Place zucchini in a large bowl and gently mix in flax mixture, flour, chives, and arrowroot powder; season with salt and pepper
Heat oil in a large skillet over medium heat. Working in 2 batches, drop 1/4-cupfuls zucchini mixture into skillet, flattening slightly; cook until golden and crisp, about 3 minutes per side. Transfer fritters to a paper towel–lined plate; season with salt. Serve with lemon basil cashew cream.
For cashew cream: Blend all ingredients in a high-speed blender until smooth. Taste, adjust seasoning.
Yum