Stuffed Zucchini Blossoms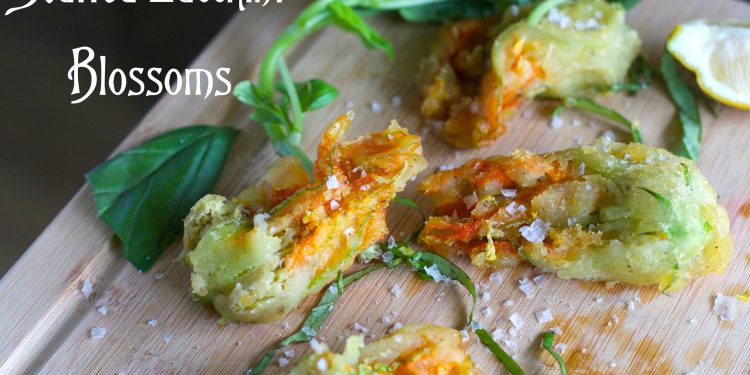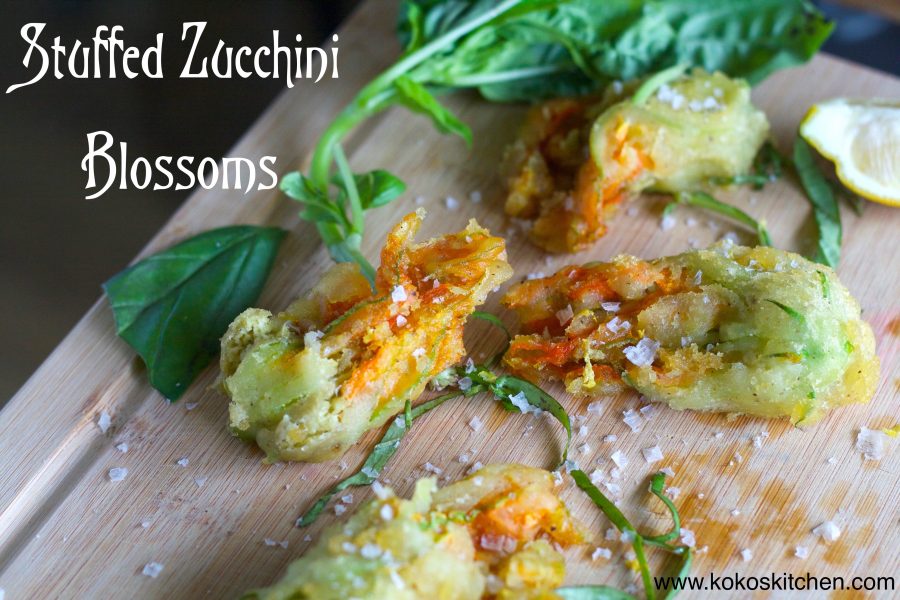 Every single year I swear that I am going to pick the zucchini blossoms in my parents garden and fry them up. Every year the quick window of opportunity passes without me getting my lazy butt up to pick them before it's too late. This year was different, though – I carpe'd the crap outta the diem and got my act together.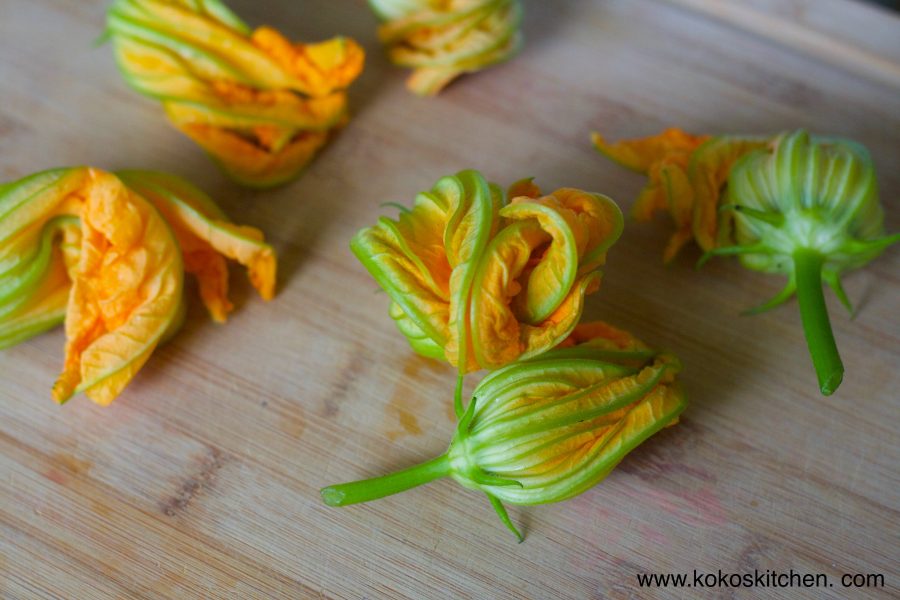 Look how pretty these flowers are! They are easy to prepare and they taste great…what an excuse to get deep-frying and create a unique dish that many people have never tried before.
I did a quick search and learned that most commonly squash blossoms are stuffed with goat cheese or cream cheese mixtures. I thought a simple, fresh, lemon and basil cream would be great for this type of recipe. I used cashews to create a creamy, flavourful 'cheese' stuffing.
If you don't have zucchini blossoms in your garden, fear not! This time of year they can often be found in organic grocery stores, or at farmers markets. Also…any type of squash blossom can be used- not just zucchini! Have some fun and try out a different variety, I would love to hear how it goes!
Tag @KokoBrill on Instagram or Twitter or use the hashtags #KokosKitchen or #NourishYourGuts so I can see what you've been up to in the kitchen! Follow me on snapchat @KokoBrill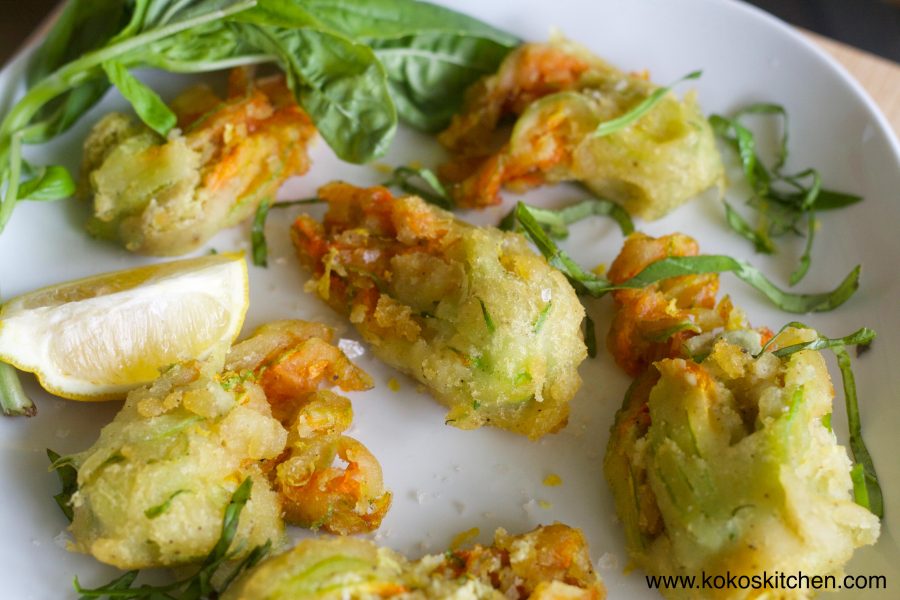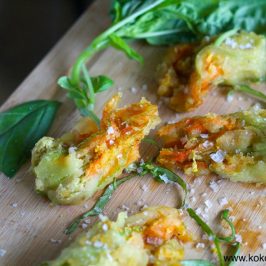 Stuffed Zucchini Blossoms
Zucchini blossoms stuffed with a basil-lemon cashew cream and deep-fried until golden brown and crisp.
Ingredients
Blossoms
12

zucchini blossoms

gently rinsed

Oil suitable for deep-frying

ie. rice bran oil, safflower oil, sunflower oil

1

cup

cashews

soaked 2+ hours

1/4

cup

fresh basil

packed

zest and juice of one lemon

1/2

tsp

sea salt

1/2

tsp

black pepper

1/2

cup

almond milk
Batter
1

cup

white rice flour

1/2

tsp

baking soda

1

cup

soda water

pinch of salt, pepper, and cayenne
Instructions
Remove the pollen-y stem part inside of the blossom (those are official terms). Set aside.

Prepare your filling by blending the cashews, basil, lemon zest and juice, salt, pepper and almond milk in a high-speed blender until smooth.

Stuff each blossom with the filling, depending on the size of your blossoms. They should be full, but not spilling over overflowing. Set aside.

Prepare the batter as your frying oil heats to 350 degrees. Pour the oil into a large saucepan. Ensure it is about 2 inches deep. If you don't have a thermometer, you can throw in a 1 x 1 cube of bread. When it browns in about a minute, the temperature should be right!

Whisk together flour, baking soda, salt, pepper, and cayenne. Whisk in soda water until mixed. The mixture should resemble pancake batter.

Dip the stuffed blossoms into the batter and coat well. Let the excess batter drip off. Place the blossoms a few at a time into the oil. Cook for 2-4 minutes, turning once, until golden brown and crisp.

Use a slotted spoon to remove the blossoms from the oil to a plate lined with paper towel. Season liberally with flaky sea salt, fresh basil and freshly ground black pepper. Enjoy while HOT!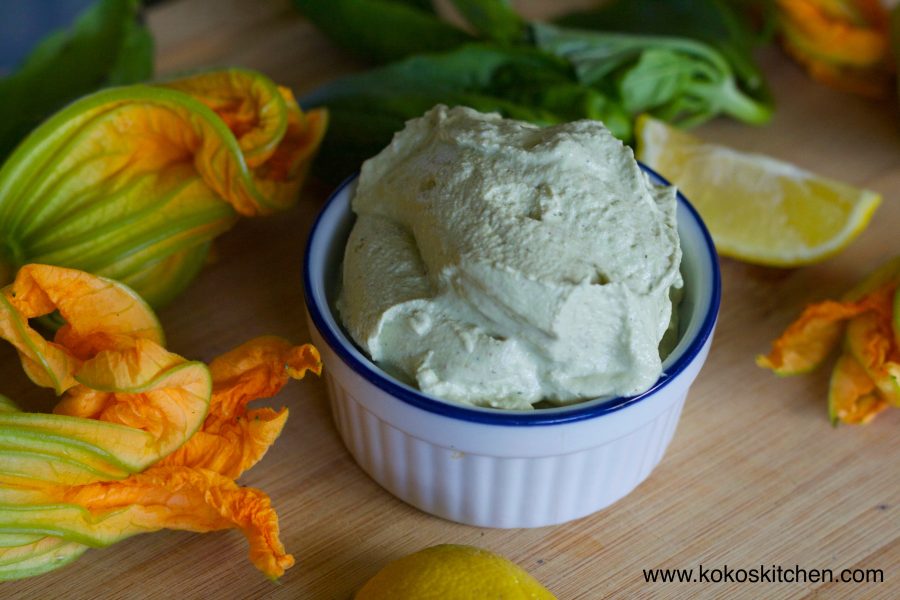 Yum