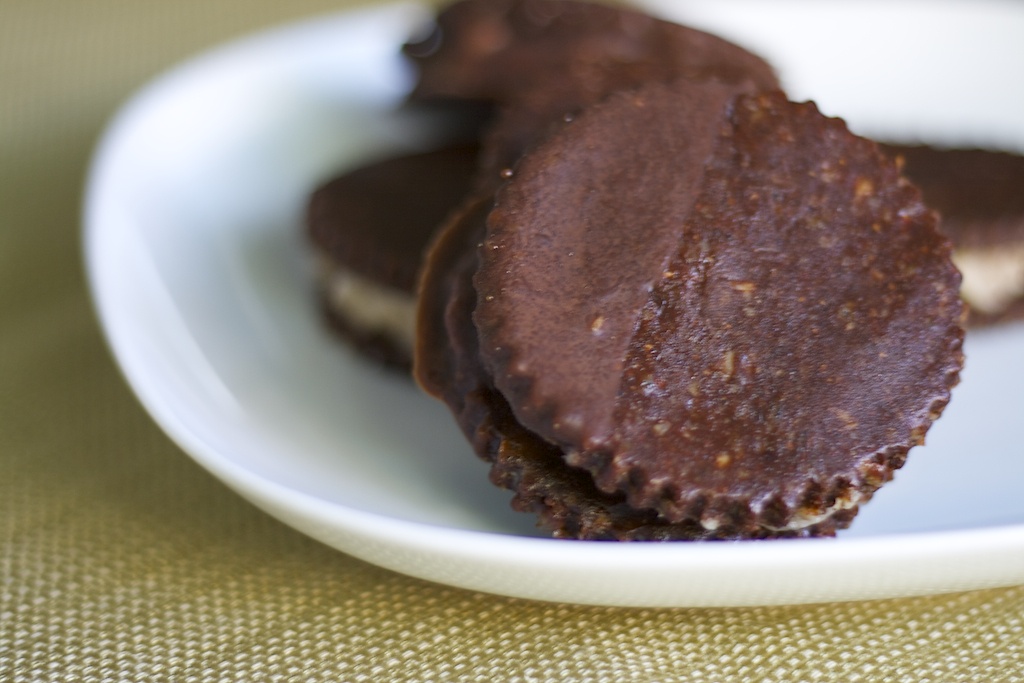 You might have seen these bad boys that I made for Drop Dead recently, but I thought to myself, why not make a raw version, too. You can never have enough ice cream sandwiches, right??
This version for raw ice cream sandwiches uses only nuts and dates as the 'cookie', and the very same banana ice cream and dipping chocolate. Just a wee change takes this ice cream sandwich to a gluten-free, refined sugar-free, raw level.
Wherever I use raw honey or coconut syrup, you may use honey, coconut syrup, agave, or perhaps even maple syrup.
If you don't know where to find these ingredients, try your local health food store or Whole Foods. Otherwise, iHerb.com is a great option. Use code OKO712 for $5 off your first order. If you live in BC, Real Raw Foods is an amazing supplier.
Try out both versions, and let me know what you like best!!
Raw Ice Cream Sandwiches
Raw banana ice cream sandwiched between two raw chocolate cookies and dipped in pure raw chocolate.
Ingredients:
Instructions:
Cookies: Process all ingredients together in a food processor until mixture starts to ball up. You want the mixture to be smooth, but have chunks of nuts in it. Remove from food processor and roll out into a 1/2 inch thick layer. Freeze 30 minutes. Cut out cookie shapes with a cookie cutter. I used a 2-3 inch round cookie cutter. Place back in freezer as you prepare the rest.
Banana filling:
Process all ingredients in food processor until smooth. Place in freezer.
Dipping Chocolate:
Mix all ingredients together until smooth.
Take two cookies, and sandwich a scoop of banana ice cream between them. Place in freezer until hardened. Prepare chocolate mixture, and dip frozen sandwiches into them. I like to cover just half the sandwich in chocolate. Place back in freezer. You may let the chocolate harden and then re-dip for a thicker layer. Enjoy!