Raw Superfood Chocolate Dipped Strawberries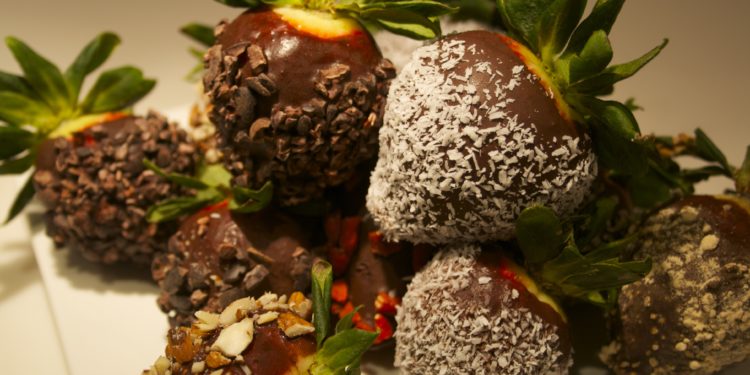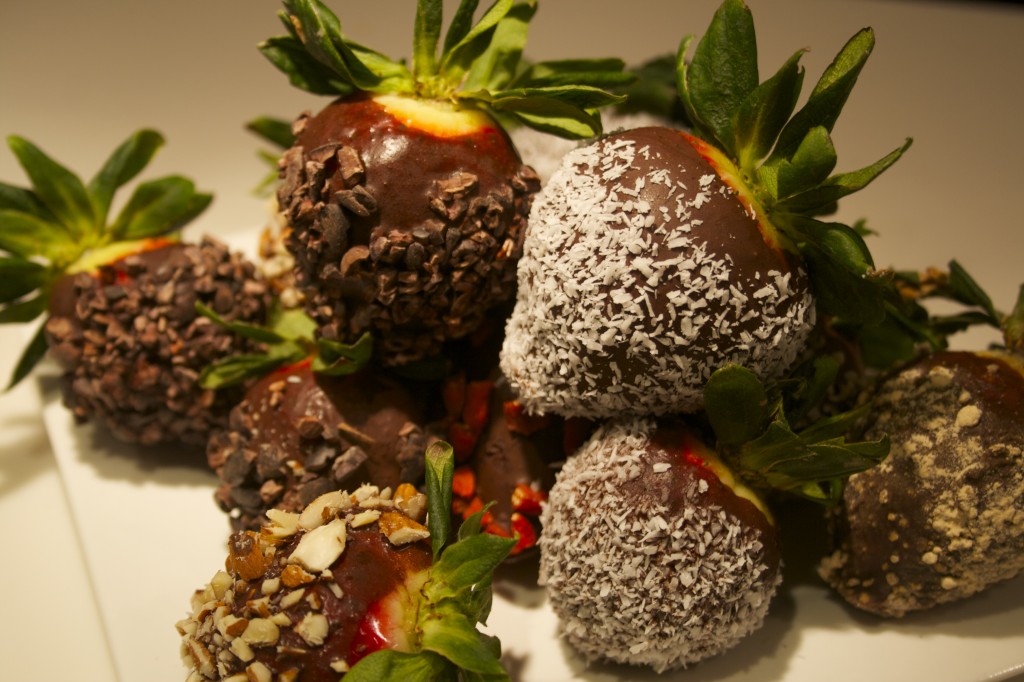 Whoaa! The count is in…and according to my Instagram, people love chocolate-dipped strawberries. When I posted a picture of these raw superfood chocolate dipped strawberries, like after like kept coming in!
I think this is an awesome recipe for Valentine's Day this year. It's healthy, raw, dairy-free, gluten-free, and most importantly, these strawberries taste amazing! The raw chocolate alone is so tasty, you will want to dip just about anything it- I'm not even kidding. Okay, well…not everything, ya know. And when it comes to the toppings, you can use whatever you please. My suggestions are more superfoods because superfood chocolate is apparently just not enough! We're talking goji berries, raw coconut, raw almonds, cacao nibs, etc. I actually tried rolling on in Maca Powder, and I've decided that you shouldn't do that. Unless you like inhaling mouthfuls of powder and choking. You can even catch a glimpse of this little ugly duckling maca strawberry in the background- awwwww!
On another note, you can see that my strawberries are absolutely monstrous in size. They came from somewhere faaaar away. This worked out great for allowing me to use lots of chocolate and bigger toppings, and they were surprisingly juicy, too. But local is always best…I look forward to making these again in strawberry season where I can use the little ruby red strawberries from my local farms.
Regardless of the time of year, though, Valentine's Day or not, these raw superfood chocolate dipped strawberries will be loved by any and all that you make them for. And if you want to eat them all yourself, well, that is fine, too.
I used Tropical Traditions coconut oil, and if you are wondering about vanilla powder in comparison to vanilla extract or vanilla beans, it is just simply like scraped vanilla bean pods. You may substitute the seeds scraped from a vanilla bean, or you can find vanilla bean powder. As for the coconut nectar or coconut syrup, it's my new favourite sweetener. It's low on the glycemic index, and is a great option for those with diabetes. If you need to find some, you can try iherb, although I have not personally tried this brand. Use code OKO712 for $10 off your first purchase!
I have entered these festive strawberries into my Healthy Valentine's Day Round-Up! I hope you'll join me in submitting you own great recipes.
Lastly, if you are looking for some Valentine's Day gift ideas that are healthy for the body or the Earth, Whole Foods has great options right now. They are selling Whole Trade Roses that give back to the growers and farm workers that grew them, and ensure conditions are safe for them, as well as the environment. They come in various shades and you can use this little guide to pick what colour you should get:
·         Red –  romantic love
·         Yellow – friendship or congratulations
·         White – "I miss you" (also truth and purity)
·         Peach – "Thank you"
·         Purple – love at first sight
·         Yellow with red tips – friendship turning into love
A 1% donation of each purchase goes to Whole Planet Foundation for poverty relief.
Right now, you can purchase the roses at $20 for 20 roses. Not too shabby!
Raw Superfood Chocolate Dipped Strawberries
By Koko, February 7, 2013
Mouth-watering strawberries dipped in decadent raw, dairy-free chocolate and rolled in superfood toppings like hemp seeds, goji berries, coconut, cacao nibs, and almonds.
Ingredients:
Strawberries – 1 lb
Coconut Oil – 1/4 cup
Raw Cacao Powder – 1/4 cup
Coconut Nectar Syrup – 2 Tbsp
Vanilla Bean Powder – 1/4 tsp
Himalayan Sea Salt – A pinch
Goji Berries, chopped
Raw Almonds, chopped
Hemp Seeds
Cacao Nibs
Unsweetened Shredded Coconut
Instructions:
Wash strawberries and dry thoroughly. Heat coconut oil to a liquid state. Mix liquid coconut oil with raw cacao powder, coconut nectar syrup, vanilla bean powder, and salt. Prepare toppings and place in separate bowls. Dip strawberries into chocolate mixture and let excess chocolate drizzle off. Roll in topping of choice and let dry on wax paper as you finish the rest. Place in refrigerator before serving to set chocolate, if necessary.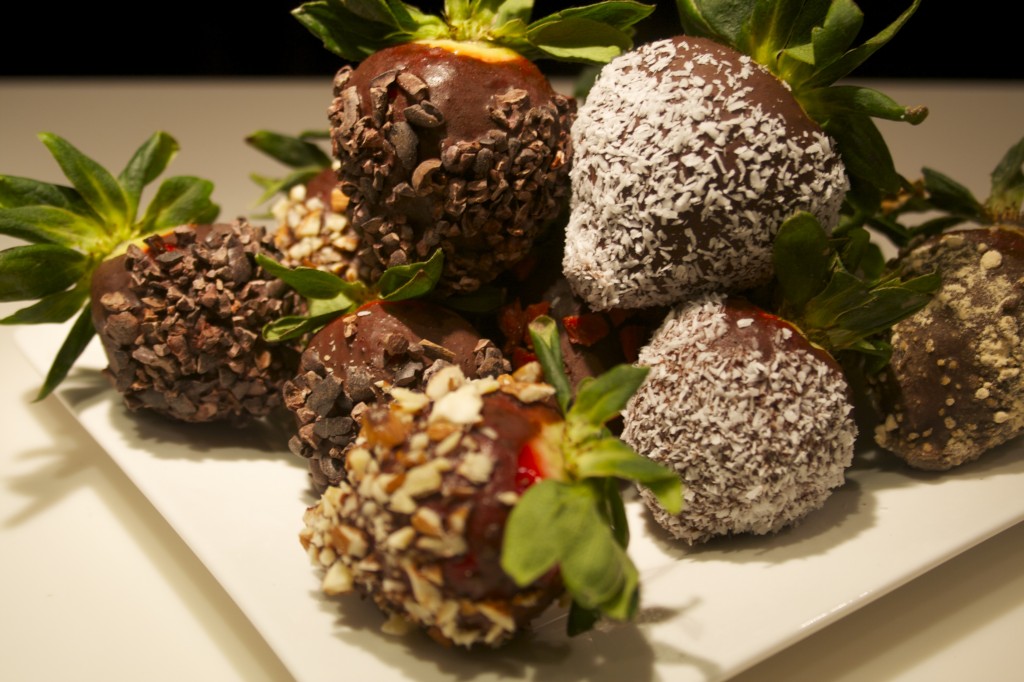 Yum