Drop Dead Recipes- Vegetarian and Vegan Pizza Recipes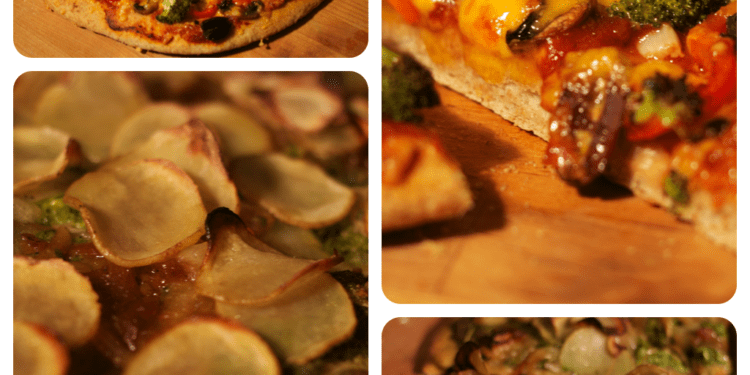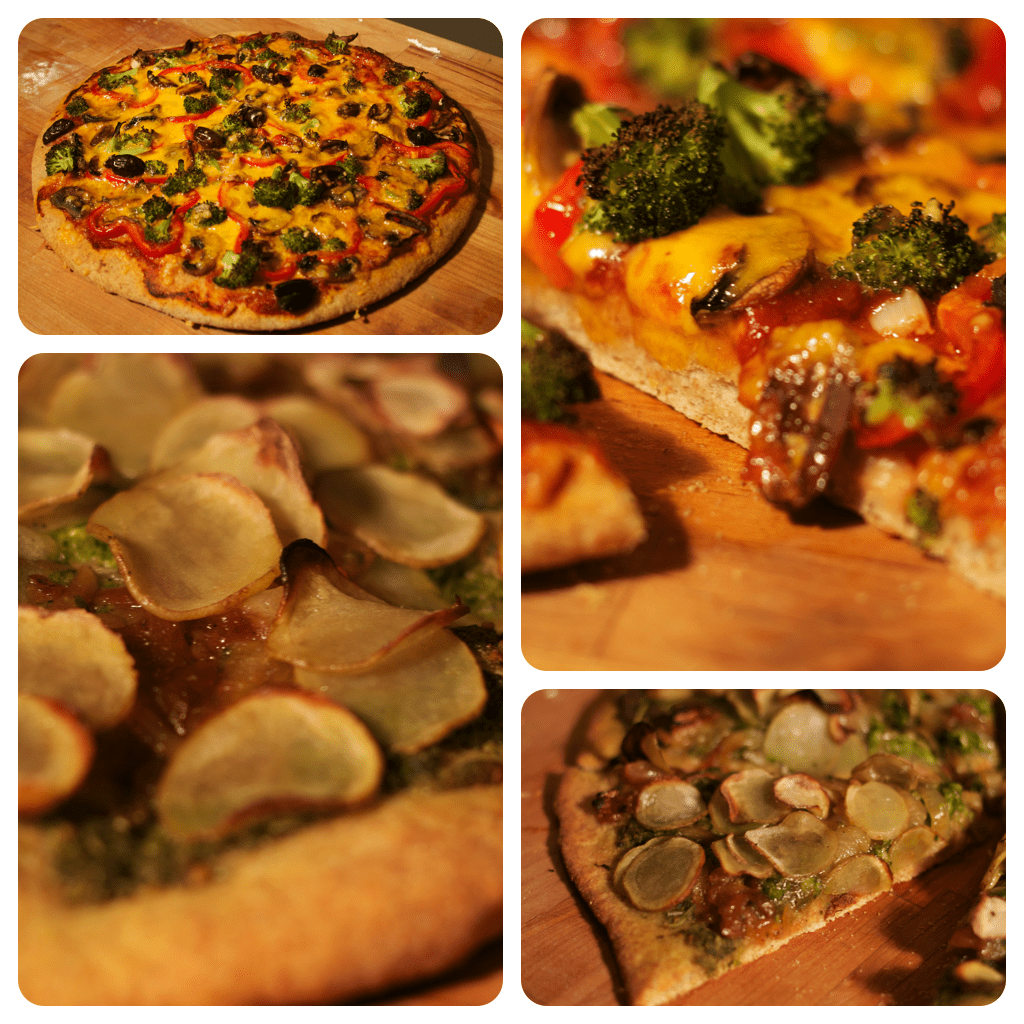 Hey everyone. You all like pizza, right? K good. That's what I thought. How many of you have made pizza at home before? We're talking crust and everything. It's not that hard!! I think the outcome tastes better than delivery pizza, too. And guess what? If you don't like olives, or green peppers, or mushrooms, you can just leave them off! No more picking off each thing you don't like. The crust is whole wheat as well, so it's going to be healthier than the white processed crust you might get with delivery or frozen pizzas.
Some people might think a pizza isn't a pizza without cheese, so I've made a great vegetarian pizza with plenty of veggies, including broccoli, and cheddar cheese. It's such a unique and delicious pizza!
The second pizza I've made is a completely vegan pizza. It's smothered in vegan basil pesto, sweet caramelized onions, and thinly sliced potatoes. I don't think that anyone would even notice this is vegan- there are so many other flavours to focus on!
Also, check out my cute shirt! I think that kitty wants some pizza…!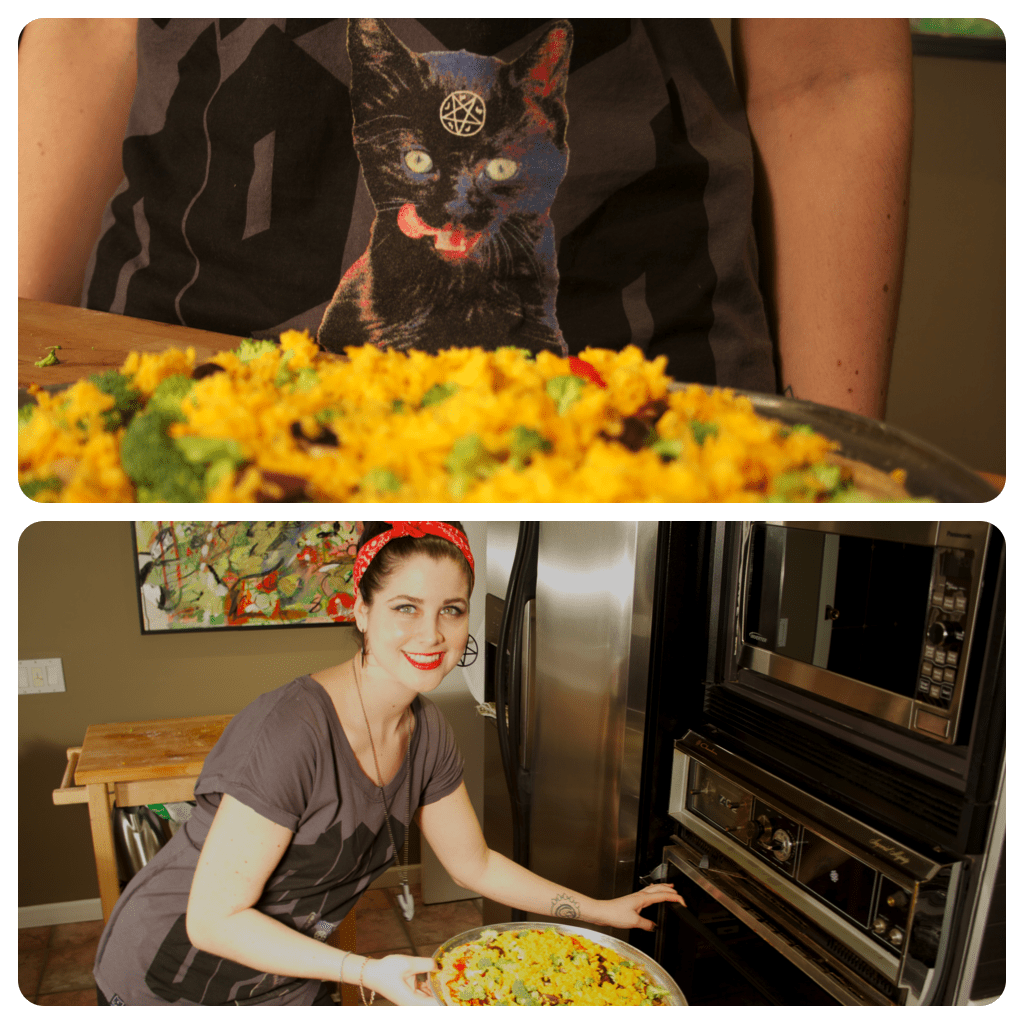 You can't go wrong with pizza- I'm pretty sure it's a food group in itself. Whether you want a quick meal on a weeknight, or you're eating it cold straight outta the fridge on Saturday morning, it's always a good thing. It's not that hard to make your own pizza, either. Vegetarian options from delivery places can sometimes be boring, and the perfect way to switch it up is to make your own veggie pizza topped with whatever you want. In one of the following recipes, I make a cheddar-broccoli pizza that's completely delicious…even the meat-eaters won't miss the pepperoni! And for the vegans out there, I've got you covered, too. It's pretty impossible to get a vegan pizza delivered to your door, unless you just order a crust with tomato sauce and veggies on it- not too exciting. I've made an awesome, super flavourful vegan pizza that anyone will love. The dough in this recipe is a healthy whole wheat dough, and it only requires one step of rising, instead of two. After that, you can throw it in the fridge until the evening when you're ready to use it. This recipe makes enough dough for three pizzas, but if you only want one, just wrap the others up in plastic wrap and put them in the freezer for a later date.
Pizza Dough (makes enough for 3 pizzas)
3 cups warm water (45 C / 110 F)
2 Tbsp active dry yeast
1 Tbsp honey/maple syrup/ sugar (if you want pizza to be vegan, use syrup, or sugar, as honey isn't vegan)
2 Tbsp olive oil
2 tsp coarse salt
4 cups whole wheat flour
3 cups all purpose flour
2 Tbsp sesame seeds
In a large bowl, mix water and honey/sugar together until dissolved. Add yeast and let stand 5-10 minutes, until foamy. Stir in olive oil and salt. Add flour gradually, along with sesame seeds, mixing until dough comes together. Use a stand mixer with a dough hook, or knead by hand until flour has been absorbed and dough is smooth. You may add more water, a tablespoon at a time, if dough is too dry to mix. Kneading by hand will take at least 10 minutes. Form dough into a ball, and place in an oiled bowl. Drizzle olive oil on top and cover with plastic wrap. Place in a warm, draft-free area (I put mine in front of the fireplace), and let dough rise until it has doubled in size and then collapsed- 2 hours. Punch down dough, and use immediately, or place covered bowl in refrigerator until ready to use.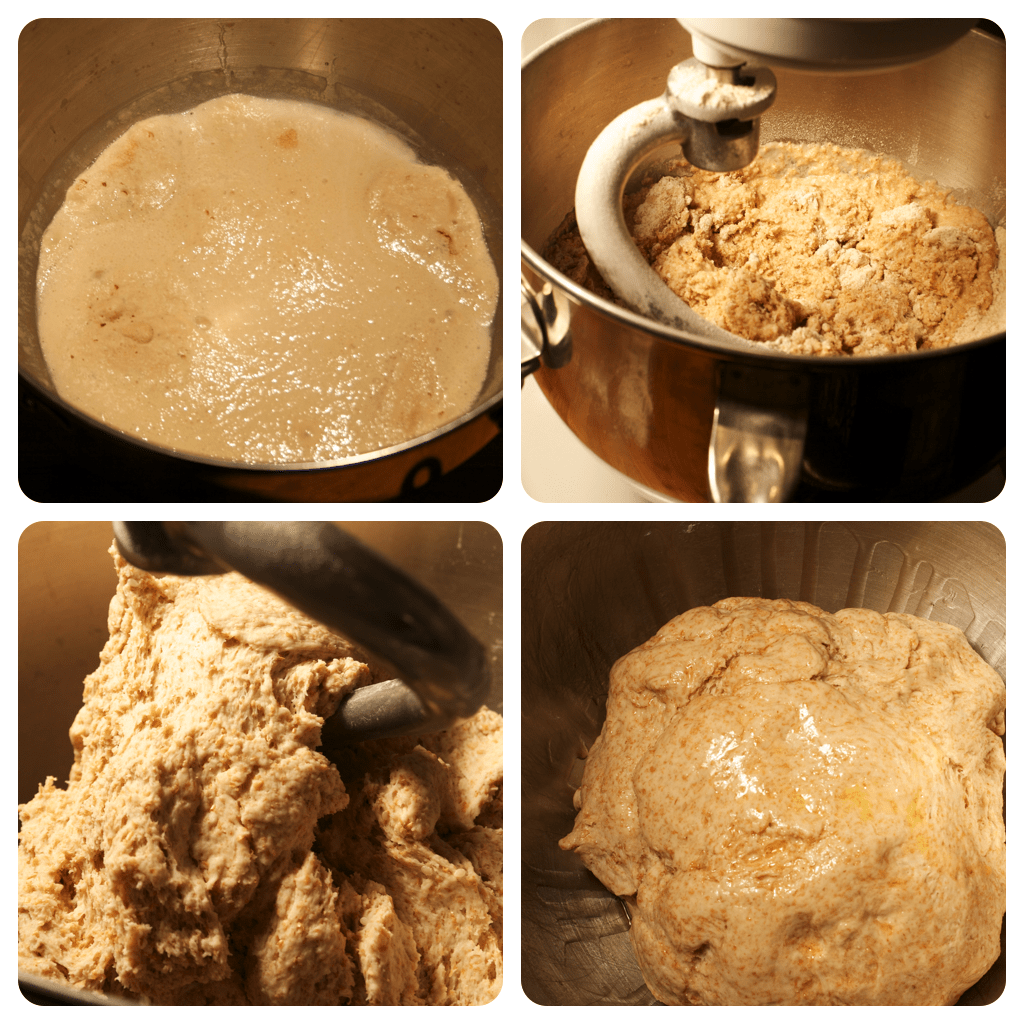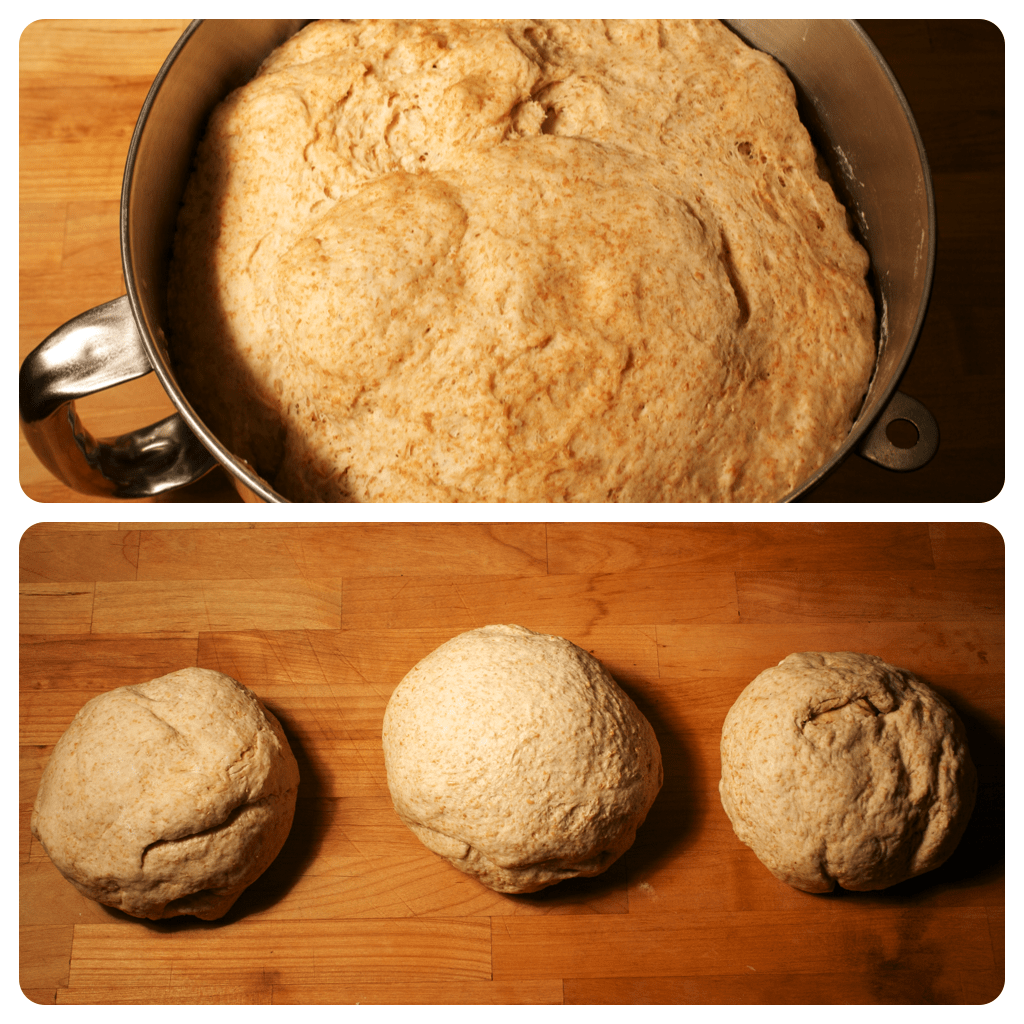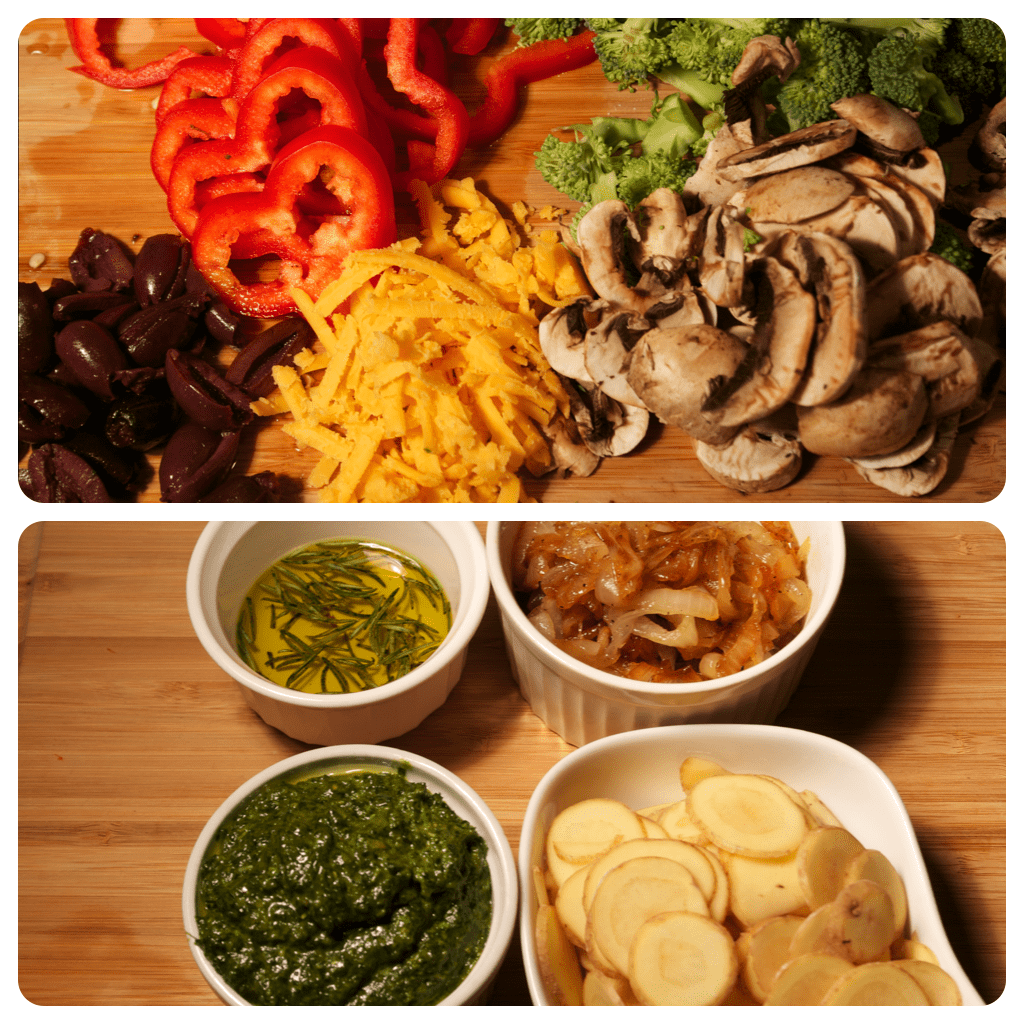 When ready to use, preheat oven to 450 degrees C/ 232 degrees F/ Gas mark 8. Divide dough into 3 equal portions. Sprinkle flour onto work surface and rolling pin. Roll dough out into a circle, of the thickness you desire for your pizza crust. Oil a pizza pan or unrimmed baking sheet with olive oil and sprinkle with cornmeal. Place pizza dough onto prepared pan. Top with desired toppings. Bake for 10- 16 minutes, until crust is cooked and toppings are browned, and cheese is melted.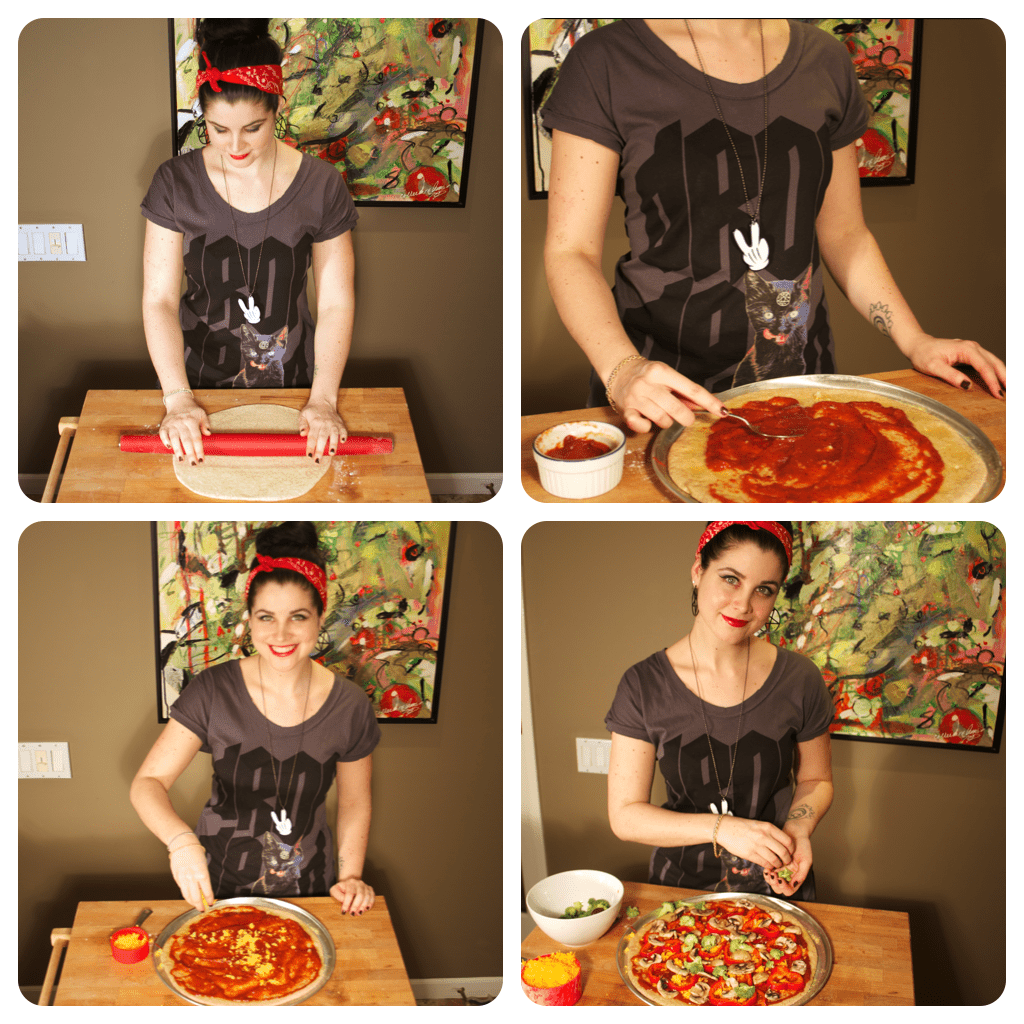 Vegetarian Pizza
¼ – ½ cup pizza sauce (you can make your own or just use a store bought kind)
garlic oil (recipe to follow)
1 cup broccoli florets
¾ cup sliced button mushrooms
1 red bell pepper, sliced thinly
¼ cup black or kalamata olives, sliced
1 ½ cups grated cheddar cheese
Spread garlic oil onto dough. You may have some leftover. Spread pizza sauce evenly on top. Top with ½ the cheese. Add broccoli, peppers, mushrooms and olives. Finish with the remaining cheese. Bake.
Garlic Oil
Mix 1 clove of minced garlic with ¼ cup olive oil in a small pot. Heat gently over low heat for a few minutes- careful not to burn garlic. Remove from heat and place in fridge if not using immediately. Preparing ahead of time is better, as it gives the garlic more time to infuse into the oil.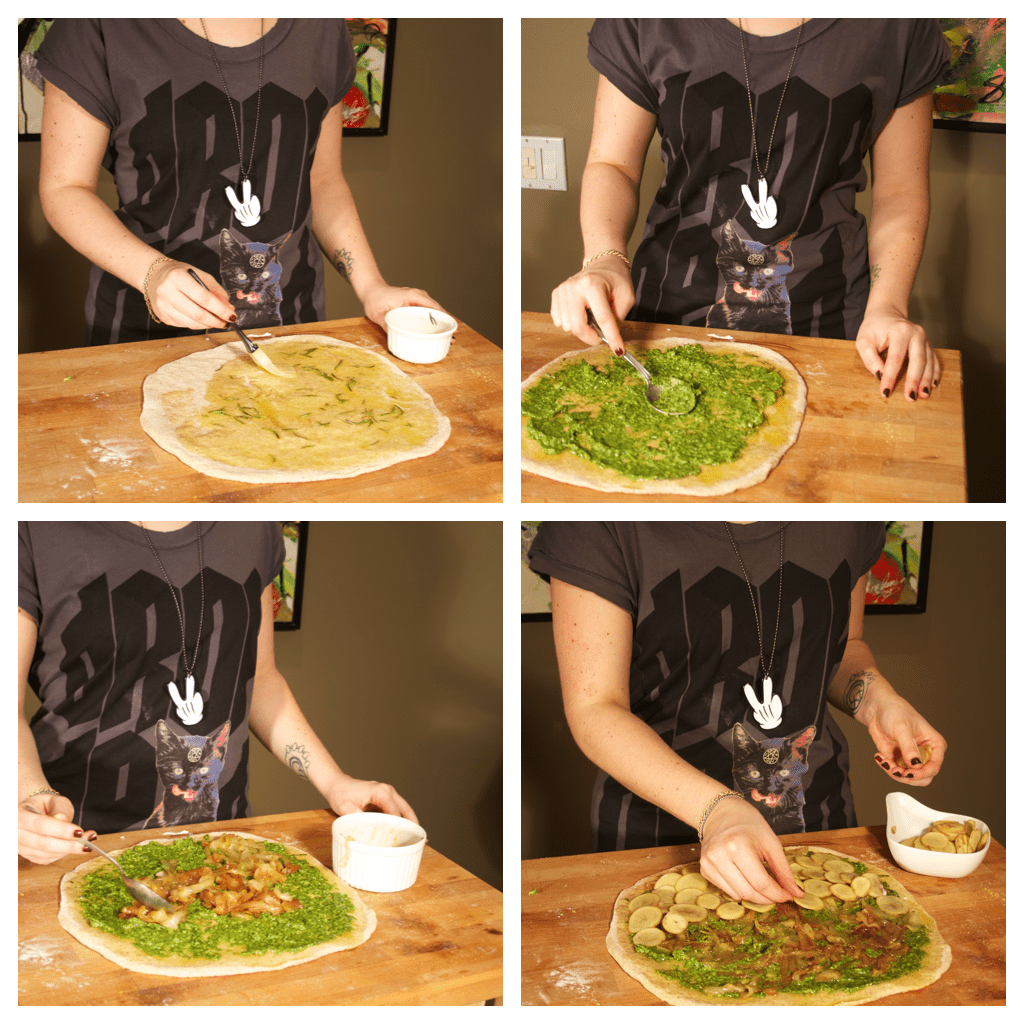 Vegan Pizza
¼ – ½ cup vegan pesto (recipe to follow)
1 potato, thinly sliced (I used a mandolin for paper thin slices, and a Yukon Gold potato, but any kind will do, I'm sure.)
caramelized onions, from one large yellow/brown onion (recipe to follow)
Brush rosemary oil onto dough. You may have some leftover. Spread pesto evenly onto pizza dough. Cover with caramelized onions, and layer potato slices on top. Bake.
Rosemary Oil
Mix 1 tablespoon of chopped fresh rosemary with ¼ cup olive oil in a small pot. Heat gently over low heat for a few minutes, careful not to burn rosemary. Remove from heat and place in fridge if not using immediately. Preparing ahead of time is better, as it gives the rosemary more time to infuse into the oil. 
Caramelized Onions
Chop an onion into thin slices. In a pan over medium heat, heat a tablespoon of olive oil. Add the onions and reduce heat to low. Stir until all onions are coated with oil. After ten minutes, season with sea salt and black pepper. Add a tablespoon of honey or sugar. Cook until soft, sweet, and brown, stirring occasionally to prevent sticking or burning. This process may take anywhere from 30 minutes to one hour. When finished, onions will be a deep brown colour, with a sweet, rich flavor.
Vegan Pesto
¼ cup fresh parsley, loosely packed
1 ¾ cups fresh basil, loosely packed
½ cup pine nuts
1 clove garlic
¼ – 1/3 cup olive oil
sea salt and pepper, to taste
In a food processor, combine herbs, pine nuts, and garlic. Pulse until coarsely chopped. Slowly drizzle in olive oil as you pulse food processor, until a smooth paste is formed. Season with sea salt. Store in refrigerator.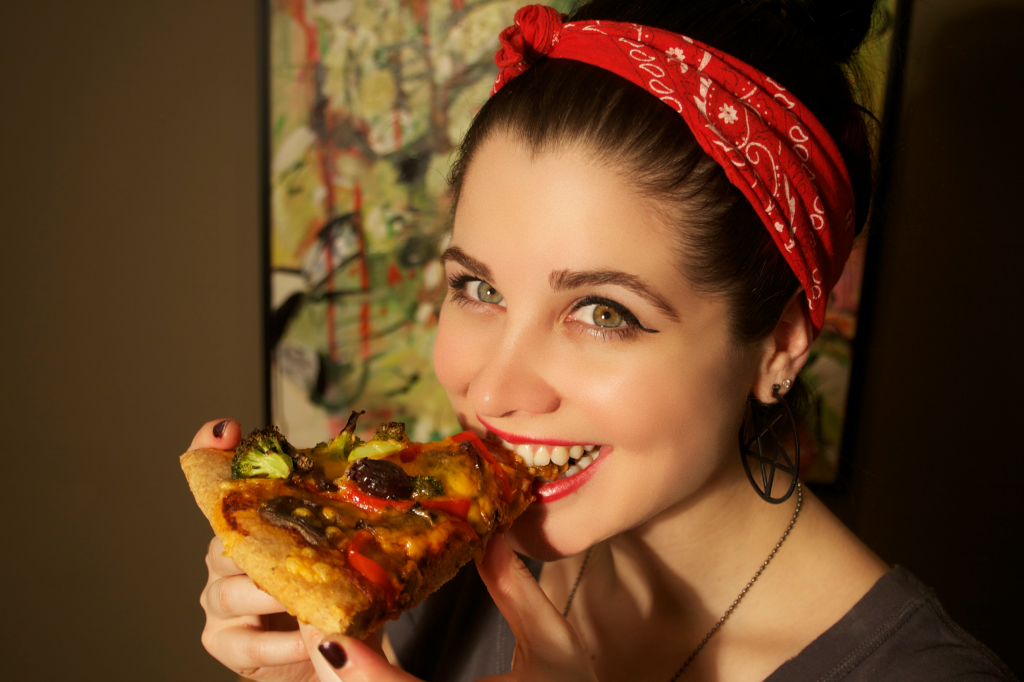 Yum