Roasted Garlic Mashed Yams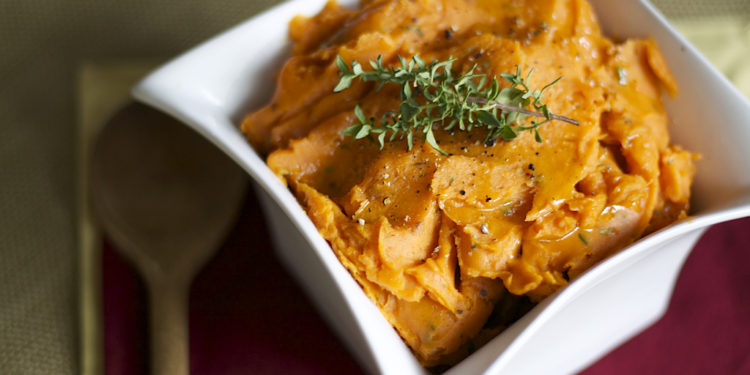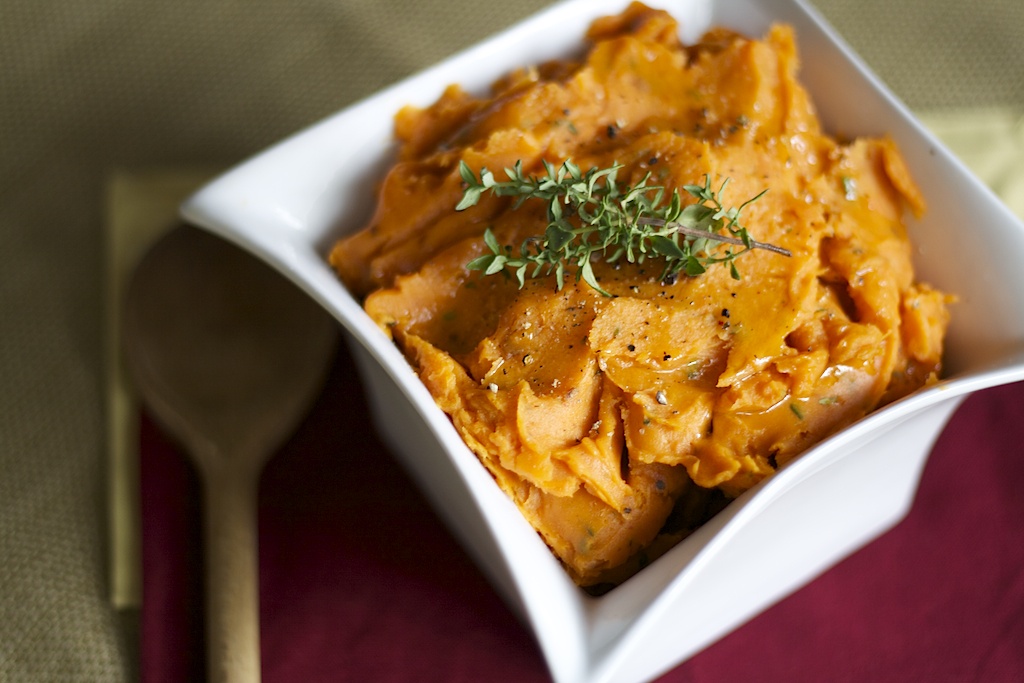 Canadian Thanksgiving is this weekend and I have the perfect side dish for your family table. Roasted garlic mashed yams….OM NOM NOM!! I could eat these as a main course, but that is beside the point…
Also I'm confused as to whether I'm talking about yams or sweet potatoes…someone help me out. I think in North America we refer to these orange-fleshed sweet potatoes as yams.
2 whole heads of roasted garlic go into this perfect Autumn dish. I love roasted garlic because it's so much more sweet and mellow than regular raw garlic. I pair it up with fresh thyme, but you could use any fresh herb that you like. I also love this dish instead of regular mashed potatoes, because it's so unexpected. So often yams and sweet potatoes are used in sweet dishes with brown sugar and oh god…even marshmallows. It's really nice to have a savoury side dish with them. And obviously when preparing a big meal, timing is very important. I'm happy to say that this entire dish can be made ahead of time and just heated up before serving. Woooooooohooooo!
So watcha waitin' for!? Get cookin'!
If you are still deciding on a vegetarian or vegan main course, try my veggie shepherd's pie: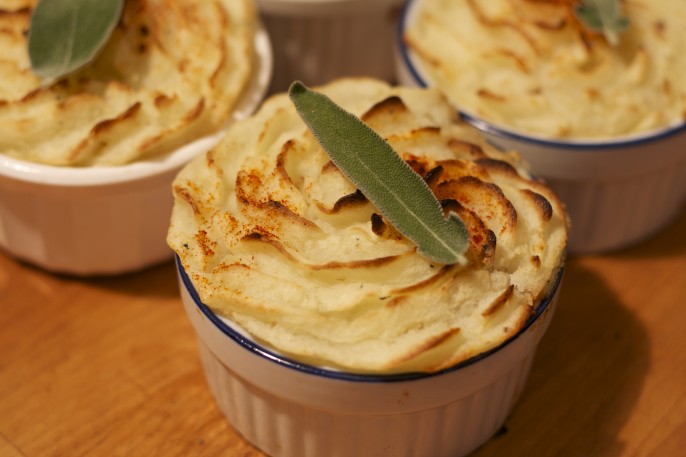 Do you want to start the meal with soup? How about a creamy chestnut soup: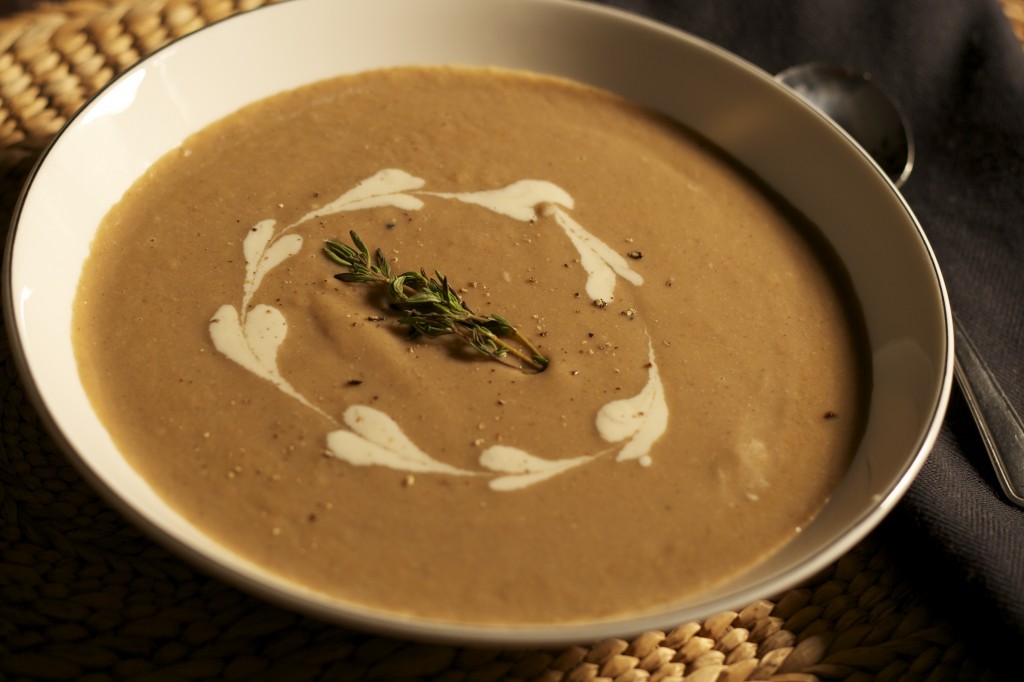 Dessert? I've got ya covered with my raw vegan caramel apple pie: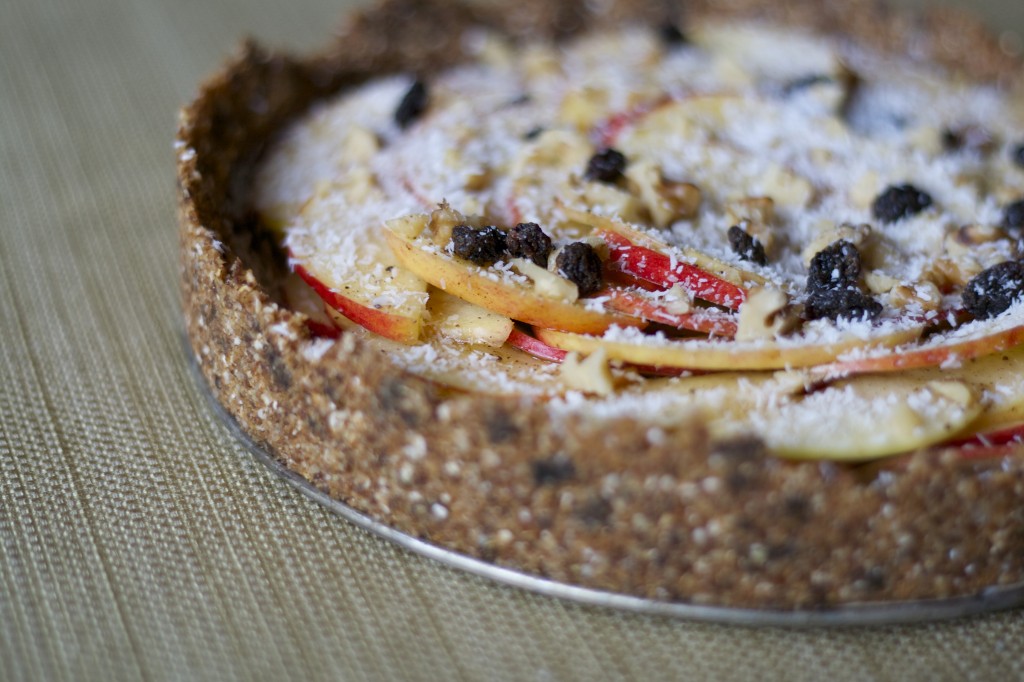 Happy Thanksgiving!!!!!
Roasted garlic mashed yams, perfectly smooth and rich with flavour. A perfect holiday side dish for Thanksgiving or Christmas.
Ingredients:
Yams – 4 medium sized, skins removed
Garlic – 2 heads
Fresh Thyme – 2 TBSP
Olive Oil – 1/4 cup
Salt and Pepper – To Taste
Instructions:
Preheat oven to 425 degrees F. Cut the top off of each head of garlic. Place in a large ramekin and drizzle with a tablespoon of olive oil. Cover dish with foil. Pierce yams several times with a knife. Place yams on baking tray and roast for one hour. After 15-20 minutes, turn heat down to 400 degrees F and add the garlic for the remaining amount of time. Remove from oven and let cool slightly.
Add yams, garlic, rosemary, salt and pepper to a food processor. Add ¼ cup olive oil or butter. Process until smooth, or consistency you desire.
You can prepare this dish ahead of time and reheat it in the oven just before serving.
Yum