Tropical Coconut & Passionfruit Chia Pudding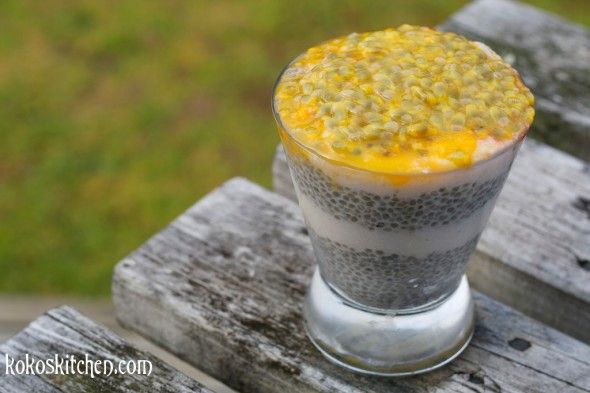 One of my favourite things about eating raw foods is that often dessert and breakfast can be the same meal! Who doesn't want a chocolatey raw cacao and banana smoothie, or banana soft serve with fruit and coconut cream for breakfast. In this instance, I made a sweet and fruity tropical coconut & passionfruit chia pudding for breakfast; but I could easily enjoy it as a healthy, sweet dessert, too.
I love all of the amazing fruit they have here in New Zealand. I rarely get to work with things like passionfruit, or guava. We stopped at "Fruit World" the other day, and picked up quite the haul of delicious veggies and fruit, including one that I have never tried- the feijoa.
We bought three feijoas, and they lasted about 3 minutes. They were so tasty, and unlike any fruit I have ever had. They are just coming into season here, so luckily I will be able to enjoy them many more times while I'm here. They have a strong, almost perfume-like aroma to them and when you taste them they are sweet and tangy and oh-so-hard to describe. If you're ever in New Zealand, make sure you try a feijoa!
Now back to the chia pudding. If you aren't familiar with chia seeds, they are superfood seeds packed with goodness. They contain tons of soluble and insoluble fibre– great for digestion and they have more omega 3's than salmon. They contain many minerals such as iron, potassium, and calcium and are very high in anti-oxidants. They're also gluten-free.
I use chia seeds almost every day (although things have changed a bit here in New Zealand).
I like to add a tablespoon to my daily smoothies for a boost of energy and  nutrients.
I also sprinkle it on my oatmeal
I make "agua fresca" with it. To do this, you simply add chia seeds to a pitcher of water and fill it with fresh fruits and a bit of sweetness. I like to use lime juice and honey and give the mix a very quick blend in the vita-mix. Adding a few drops of liquid chlorophyll is a great idea to boost health, too, and we called this "swamp water" at my last job. *Note: keep the vitamix on the lowest setting possible or the chia seeds will be crushed.
I use chia seeds is to replace eggs with them. If you take 1 Tbsp of chia seeds, and stir in 3-4 Tbsp of water and let the mixture sit for 5-10 minutes, you will notice it thickens a ton and becomes a gel. This can act as a binding agent instead of eggs in almost all recipes.
I make chia pudding for breakfast or dessert
Chia pudding can be so versatile and you can really mix in whatever flavour you like. I always add a bit of sweetness, whether it be through xylitol, stevia, maple syrup, or honey. For this particular recipe, I used tropical fruits like coconut and passionfruit, along with vanilla powder for a healthy, filling breakfast.
If you can't find chia seeds at your local grocery store or health food store, you can purchase them through iherb.com by clicking here. Use the code OKO712 to save 5-10%!!
Have you had chia seeds before? What is your favourite way to use them?
A tasty tropical breakfast or dessert made with healthy chia seeds, young coconut meat, and passionfruit. Makes approximately 4 servings.
Ingredients:
Chia Seeds – 2/3 cup
Almond Milk – 2 1/4 cups
Sweetener of Choice (ie. maple syrup, honey, xylitol, sugar, stevia) – 1-2 Tbsp
Coconut Cream* – to taste
Passionfruits – 1-2
Instructions:
You may make the coconut cream ahead of time, or in the morning. To prepare coconut cream, blend the meat of one young coconut with a pinch of vanilla powder, or a splash of vanilla extract and a splash of coconut water. Start with only a little bit of the coconut water, and then add more if you need to until desired thickness is reached.
In a lidded container, combine the chia seeds with the almond milk and mix very well. Place in the fridge overnight. If you get the chance, stir the mixture once or twice before you go to bed.
In the morning, layer the chia pudding with the coconut cream and top with passionfruit.
Yum