How to Make Natural Food Colouring – Recipe for Raw Cheesecake Included!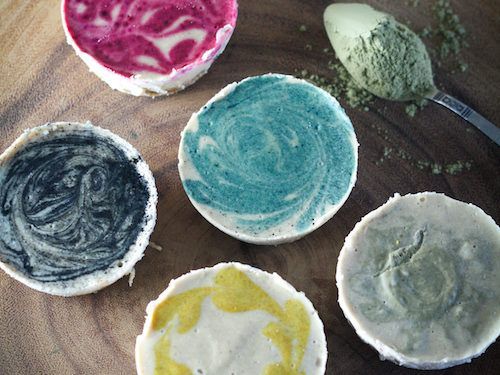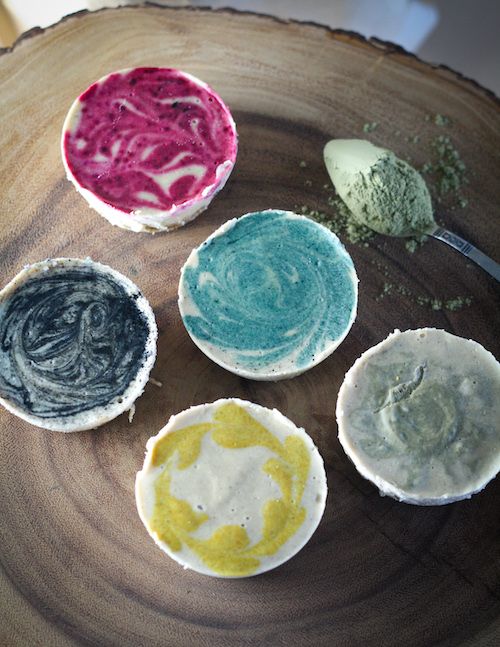 With Easter just around the corner, I know there will be a lot of egg decorating, and plenty of delicious cookies, cupcakes, and sweets made. I got to thinking about how much food colouring must be used over the course of this holiday to make all of those pastel colours. I'm going to guess a lot of Red # 40 and Yellow #5.
I know ya'll know how much crap these colours contain. In addition to known carcinogens, their consumption has been linked to hyperactivity in children. They add no nutritional value to our food, and they are detrimental to our health.
Now  I want to make a genuine effort in the future to use natural food colourings instead of fake ones! I've realized that there are many ways to create beautiful natural colours without using harmful products.
My cakes brightened in colour after setting in the freezer but if using these in baking, you may find that they diminish in colour slightly.
Beet Powder – you can actually buy this in some health food stores and definitely Whole Foods carries it. You can stir it in or blend it into whatever you are trying to dye and get a really nice fuschia colour. You can also make this yourself.
use a mandolin to slice a couple of beets super thin
place the beet slices in a dehydrator and let them dry completely
grind up the slices to a fine powder using a high-speed blender
BOOM! You did it! Beet powder!
Turmeric – we have all been hearing so much about this superfood lately! It's highly anti-inflammatory and has a brilliant yellow colour that stains absolutely everything and therefore works as a good food dye, too!
Spirulina – another superfood! This blue-green algae is great for curbing cravings (just add 1 tsp to a glass of water/juice/almond milk) and detoxing the body. It is a deep, dark green in colour and made a great aqua-blue colour in my cakes!
Matcha– a specially grown and processed green tea that is full of antioxidants. This made a really earthy greenish-grey colour that would be great if you're looking for a muted, earthy tone.
Activated Charcoal– you may have seen this trendy ingredient popping up lately in black lemonades, face masks and tooth pastes. It's a highly-detoxing product, and is actually used in very high doses in cases of poisoning, as toxins bind to it and can be flushed from the body.
If you would like to learn more about the effects of synthetic food colouring in our diets, here is a quick article about the hidden risks.
Basic Vanilla Raw Vegan Cheesecake
A recipe for basic vanilla raw vegan cheesecake that you can easily adapt for whatever flavouring you would like to. This basic recipe is also great for adding natural food colouring to if you want to make a cool design or pattern on your cake!
Ingredients
Crust
1

cup

oats

1/2

cup

pecans

2

tablespoons

maple syrup

2

tablespoons

coconut oil

melted
Filling
1

cup

cashews

soaked 2+ hours

1/2

cup

almond milk

1/4

cup

maple syrup

1/4

cup

coconut oil

melted

1

tablespoon

lemon juice

1/4

tsp

vanilla bean powder

a pinch of sea salt
Instructions
Crust
In a food processor, combine all ingredients and process until crumbly and mixture has come together but is not completely ground up.


Divide evenly into 6-muffin tin and press down to form the bottom crust.
Filling
Combine all ingredients in a high-speed blender and blend until completely smooth.
Food Colouring
Set aside up to half of the filling mixture.

Choose the natural food dye of your choice and stir into the filling you have set aside.

*Start with a little bit at a time - you can always add more.

Pour the plain filling over the prepared crusts.

Add the coloured filling and use a toothpick to make the design of your choice.

Place in the freezer to set and store. The cake only takes a few minutes to thaw when you're ready to eat!
Have you ever tried making natural food colouring? What did you use!?
Happy Easter! What are you up to this weekend?
Follow @kokoskitchenofficial on Instagram for recipes in stories, or @kokobrill for my personal account
Yum