I've been super busy the last couple of weeks putting the finishing details together for my road trip with Rhys. As I mentioned before, we are heading down the coast throughout California, and over to Vegas, with plenty of awesome stops along the way. The countdown is on…I can't wait!
If you have any restaurant suggestions, please let me know! I'd love your thoughts on vegetarian/vegan eats in the Portland area, as well as San Francisco, Santa Monica, Lake Tahoe, etc.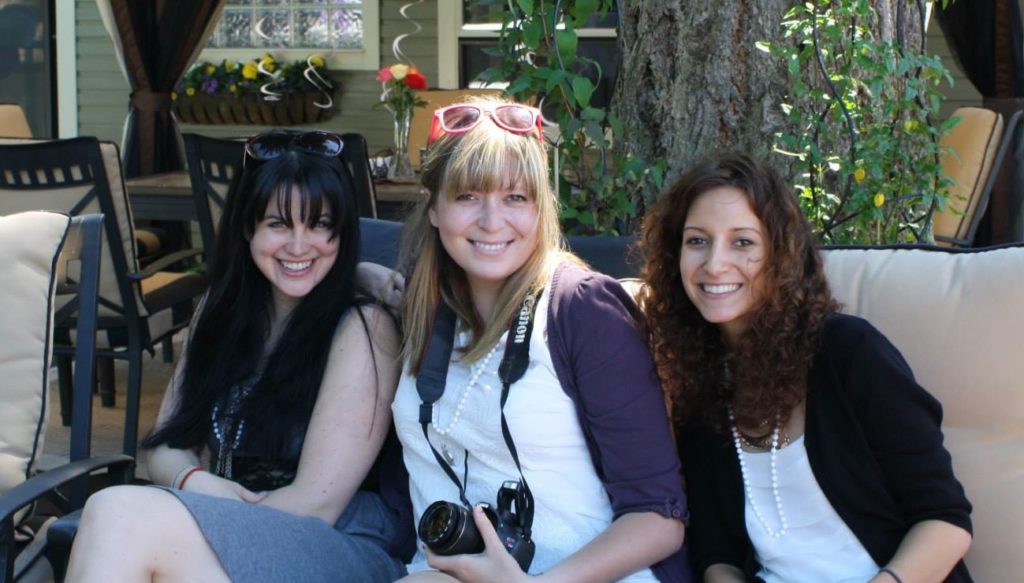 Aside from that, I was also very busy planning a bridal shower for one of my best friends! She is getting married this Summer, and its going to be so much fun. For her shower, we decided on a purple theme, and although it was very stressful due to a lack of time, I really enjoyed the planning of this shower. One of our friend's baked the beautiful cupcakes, and our other friend planned the hilarious shower games! I think the day was a success, and most importantly, the bride had a great time.
I wanted to share some of the food and drinks served, as well as the favours for the guests. There was plenty of food, including a cheese platter with boursin cheese and warm brie cheese topped with mango, strawberries, and pistachios. There was a big fruit platter with tropical pineapple dip, and a large veggie platter, as well. There were sandwiches (made by the bride's soon-to-be grandmother-in-law) and a great broccoli salad made by the bride's aunt. The bride's mom brought a fantastic crab and artichoke dip. I made a tropical quinoa salad, an asian noodle salad, a grilled vegetable tart, caprese skewers, smoked salmon appies and marinated shrimp with homemade cocktail sauce. My mom made great bourbon chicken dish and steak crostini.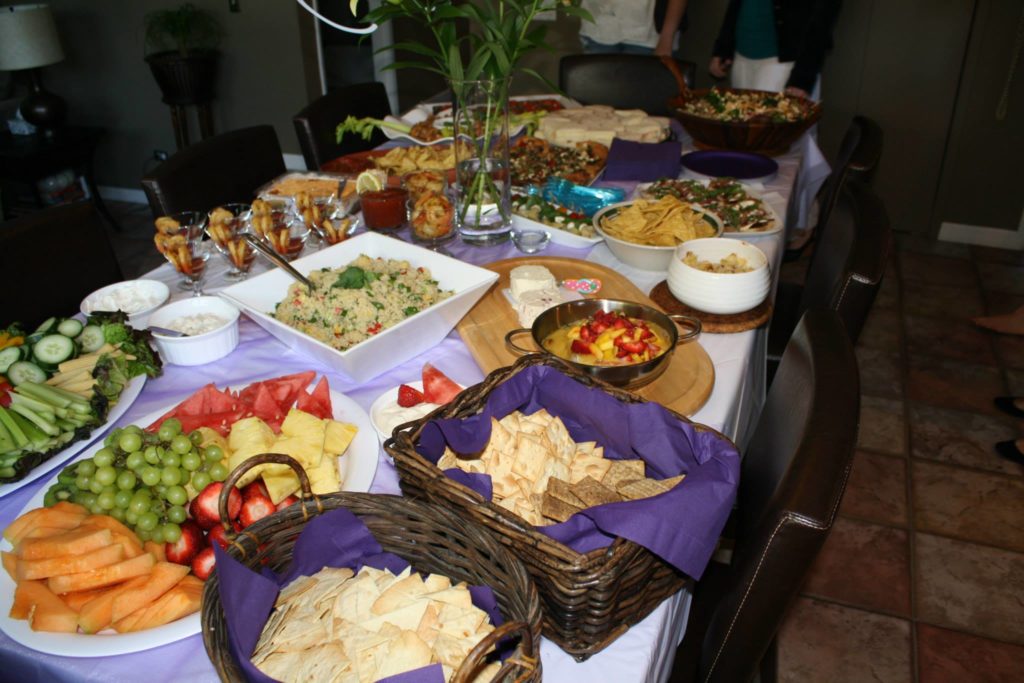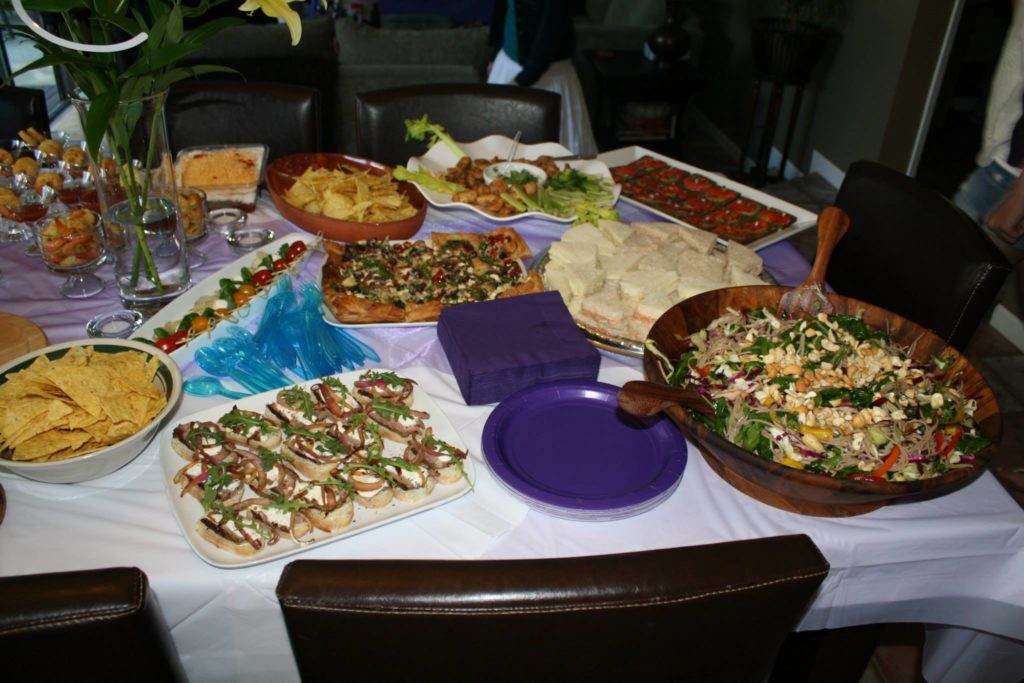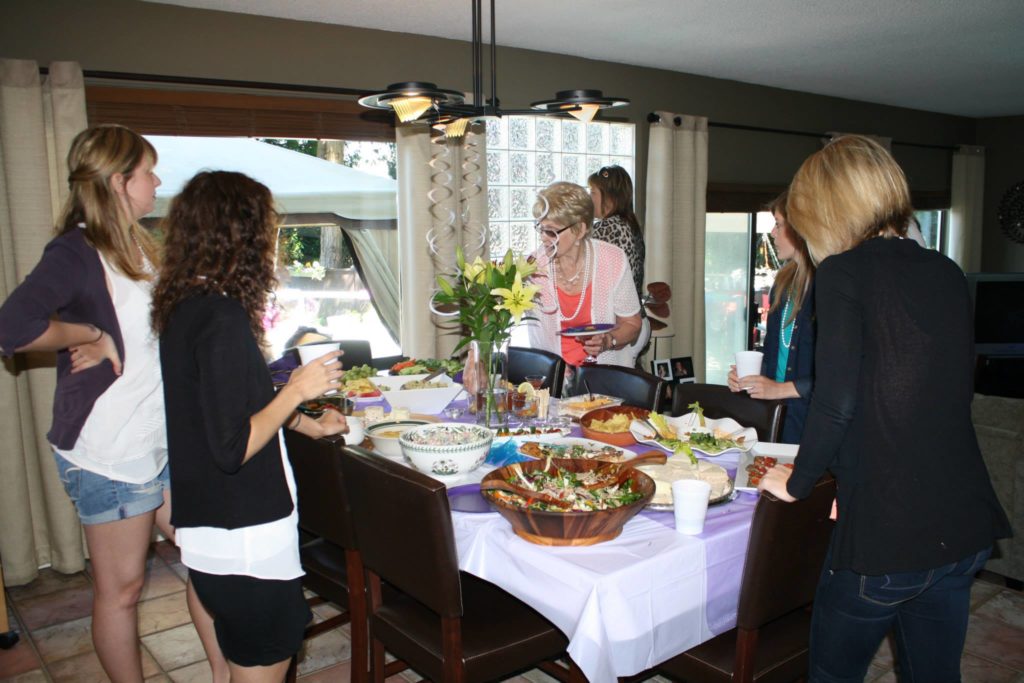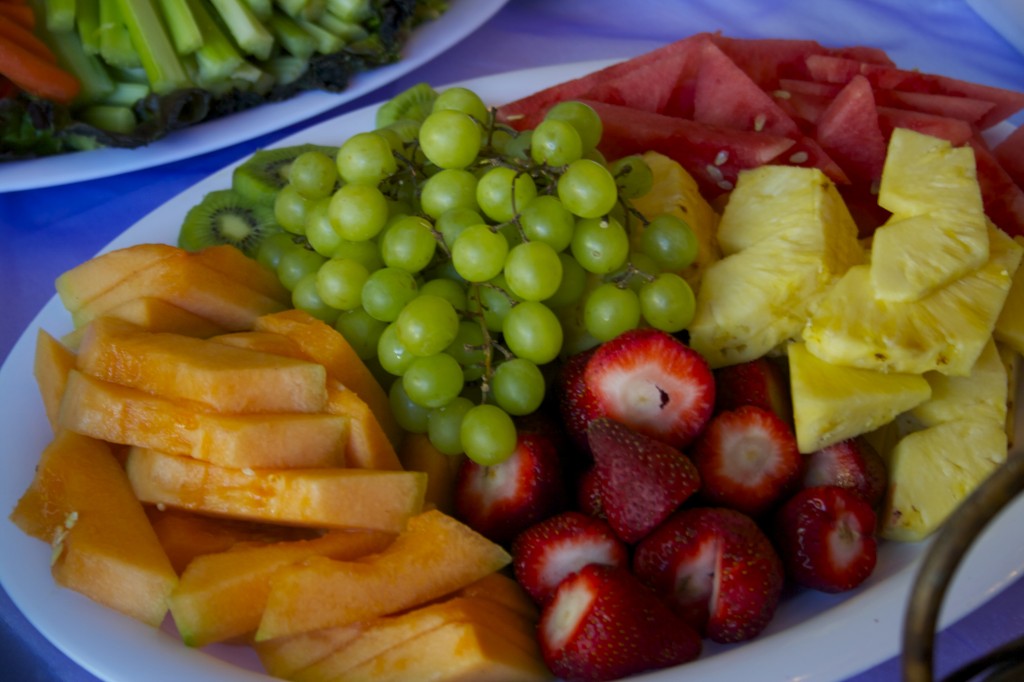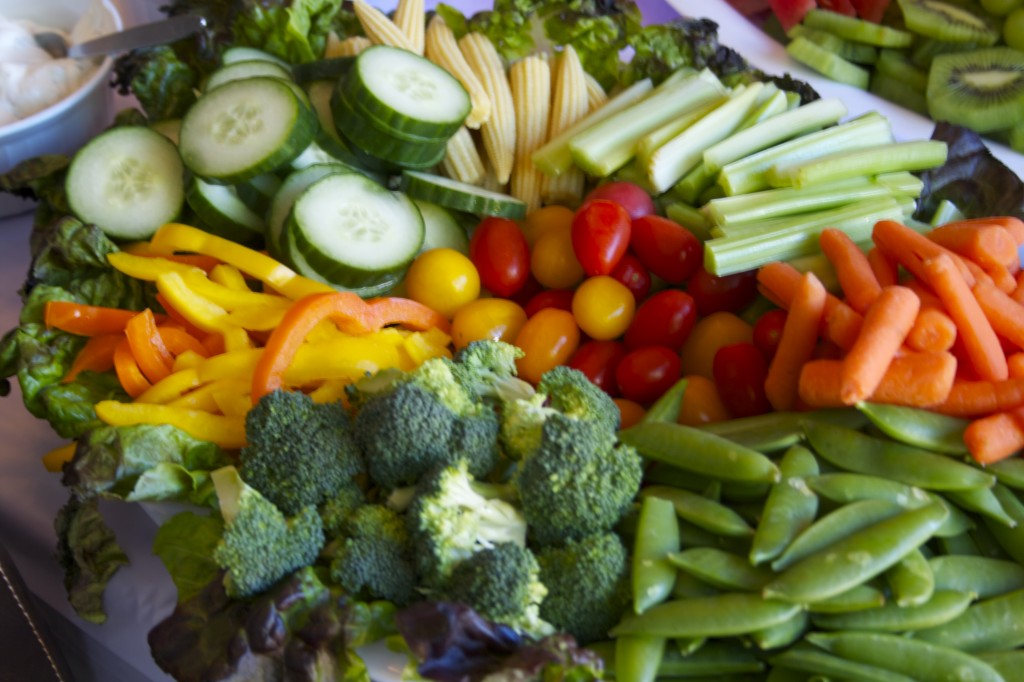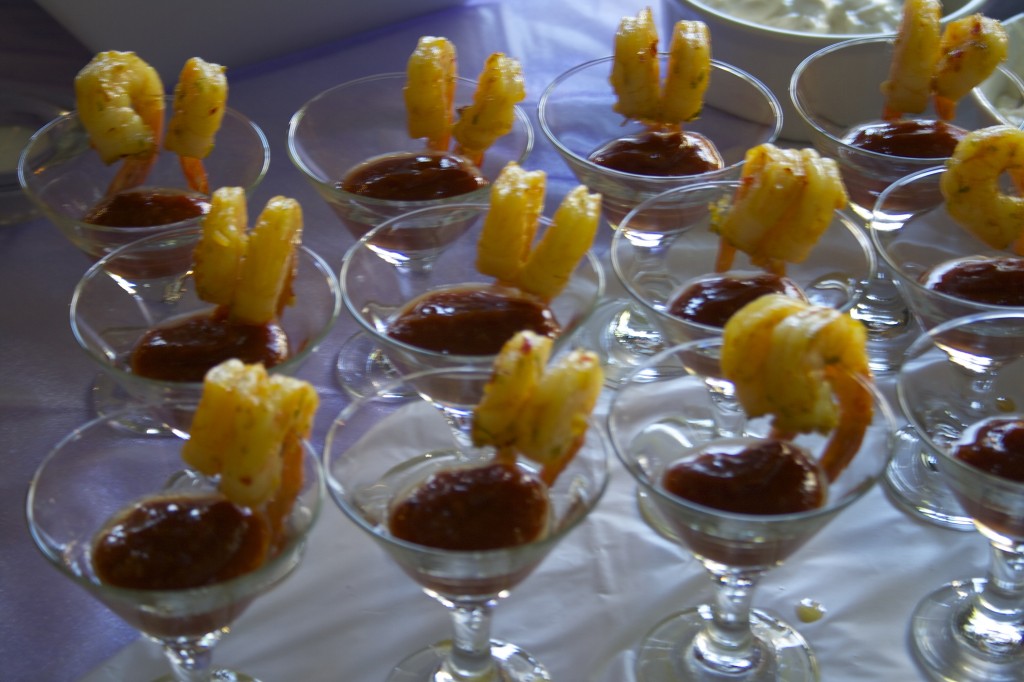 For drinks, there were large pitchers of lavender lemonade and Spanish sangria. YOU HAVE TO MAKE THIS LAVENDER LEMONADE. IT IS TO DIE FOR.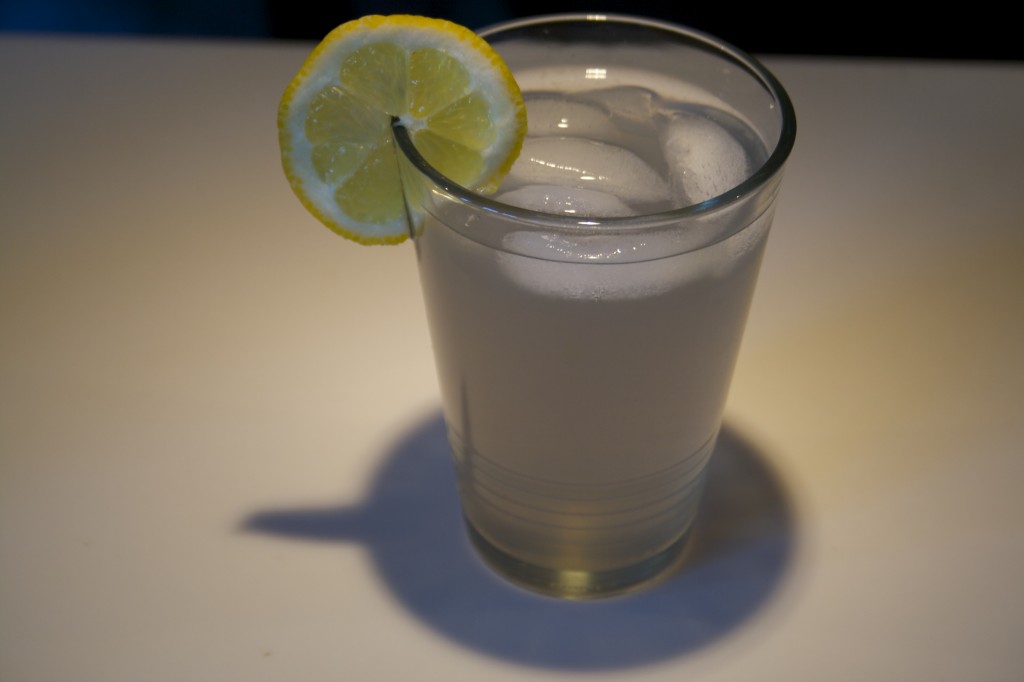 Lavender Lemonade
2 cups water
1/2 cup sugar
1/4 cup honey
3 Tbsp edible dried lavender
3/4 cup freshly squeezed lemon juice
4 cups water
Over medium heat, combine two cups of water and sugar, bringing to a boil until sugar is dissolved.  Remove from heat and honey and dried lavender.  Cover for about 10 minutes, allowing mixture to steep.  Strain lavender, making sure to release all juices and syrup.
In a large pitcher, combine freshly squeezed lemon juice, lavender mixture and water.  Feel free to add a drop of blue coloring and a drop of red to mixture to give it a lovely purple color.  Chill before serving and garnish with sliced lemons.  Enjoy!
The dessert table was super fun to put together. As I said before, a friend made the lovely cupcakes! There was also chocolate dipped pretzels, mini pies on a stick, cake pops, rock candy, purple M+Ms, chocolate chip cookies and huckleberry salt water taffy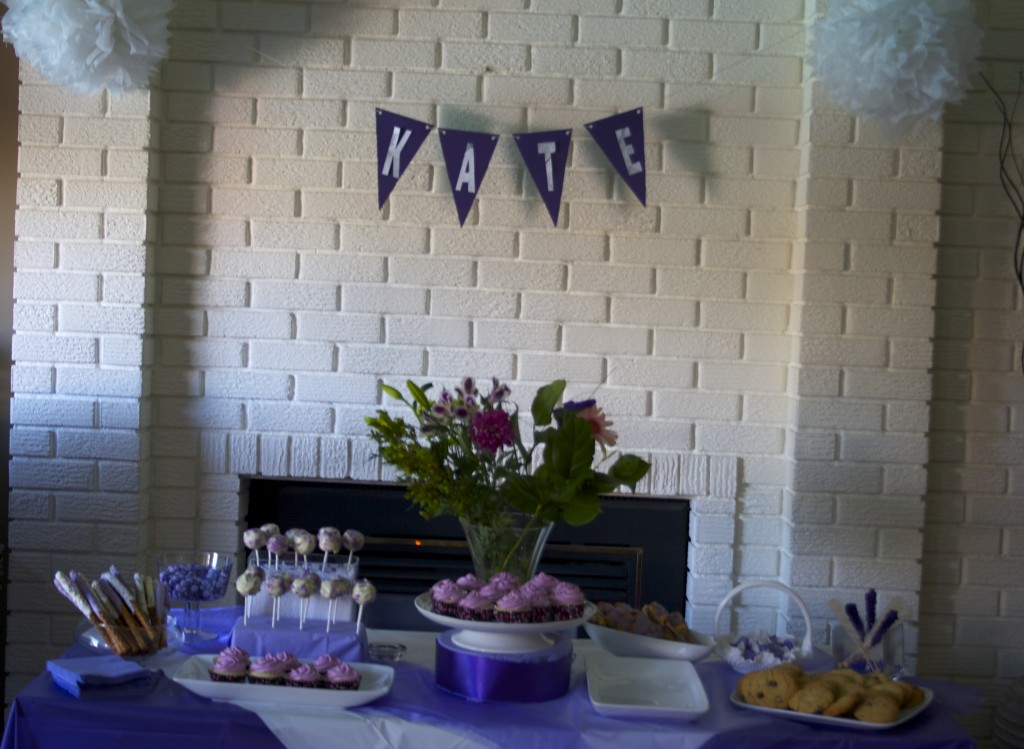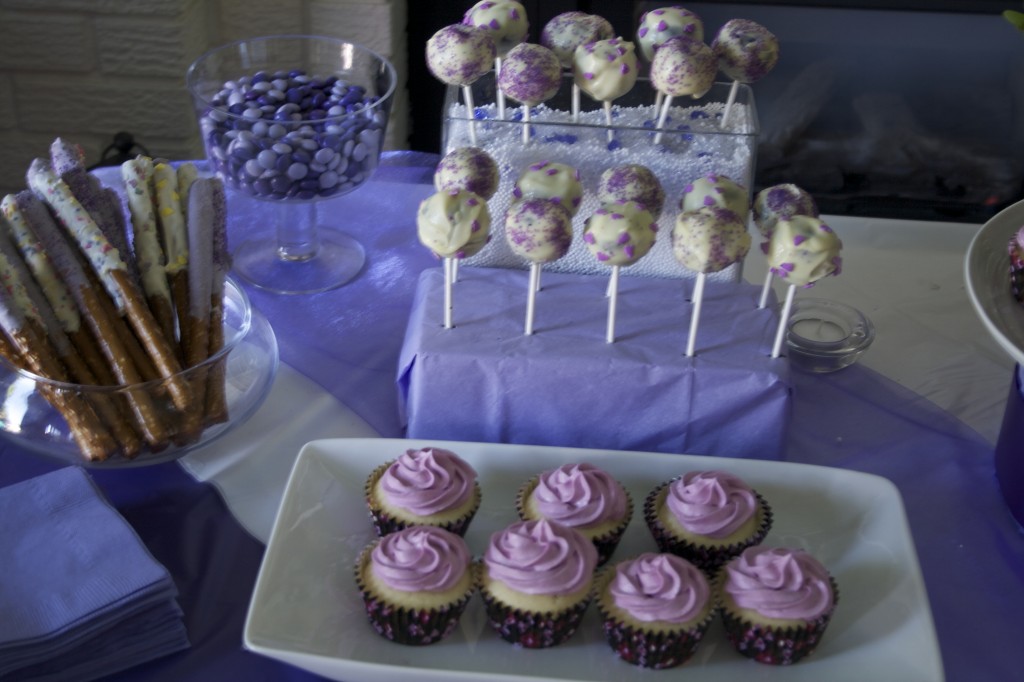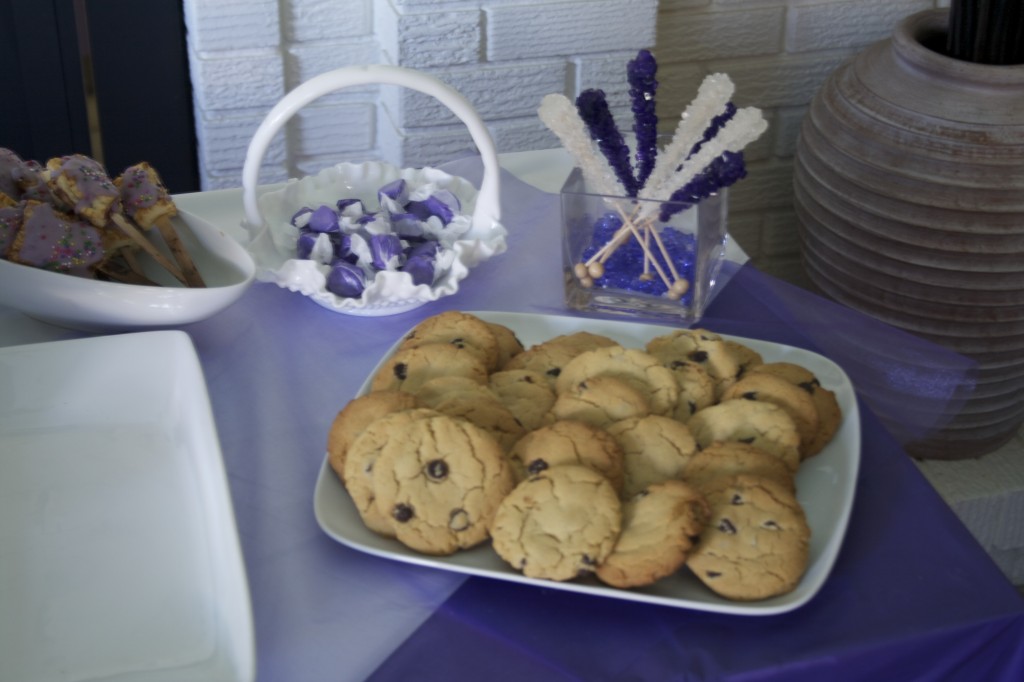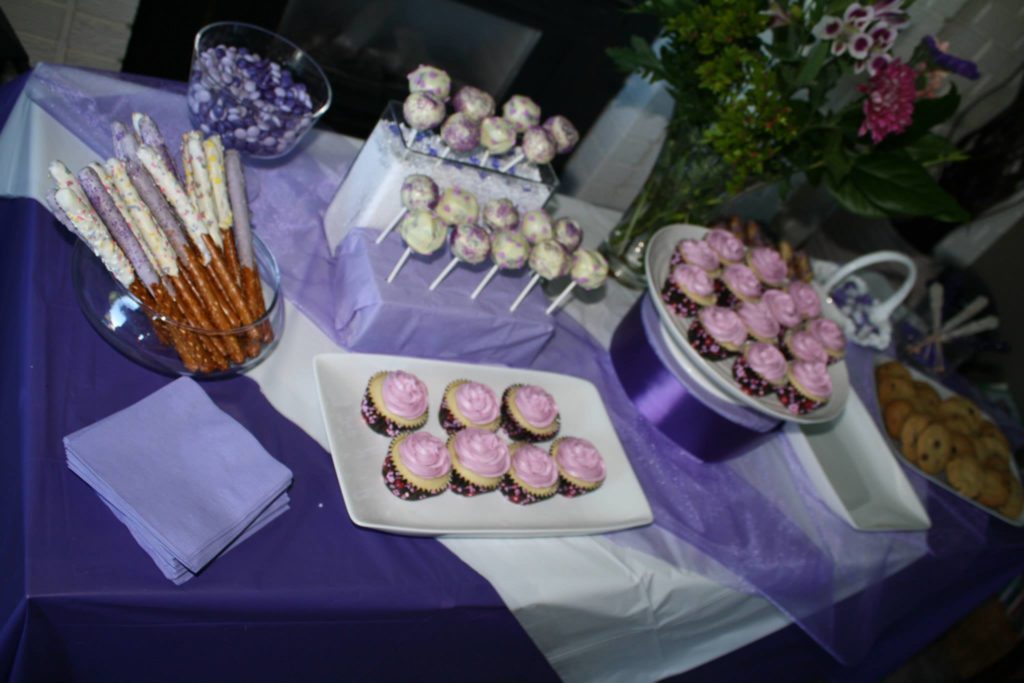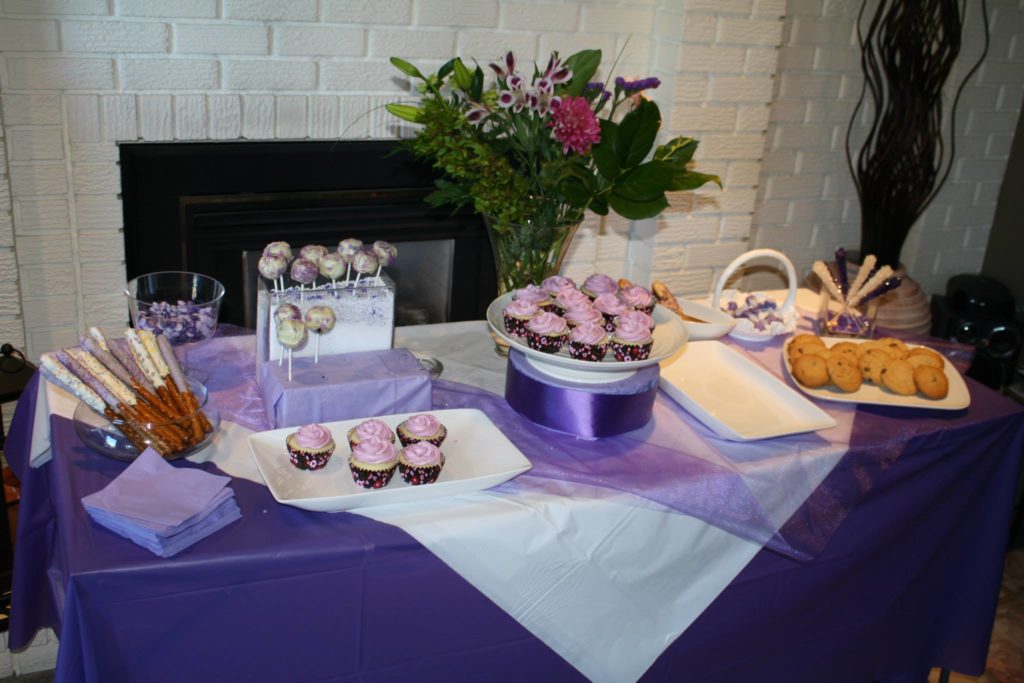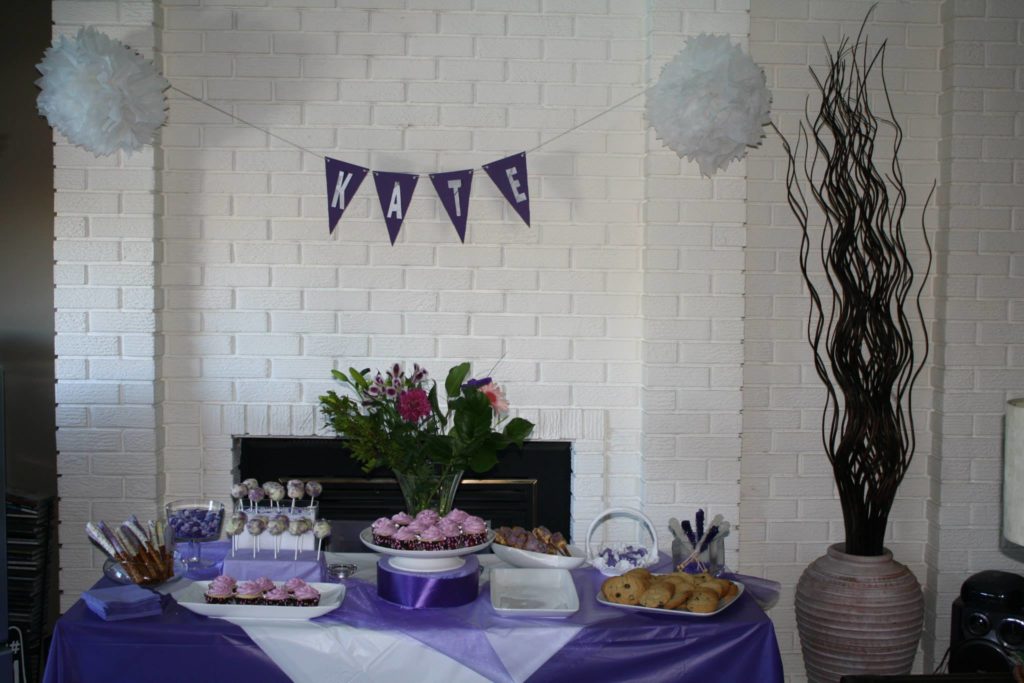 The favours were a ton of fun. The bride loooves tea, so I picked up some loose leaf tea from David's Tea. If you haven't been to David's Tea yet…you HAVE to go. It's amazing. I picked a tea called Love #7 (appropriate, no?). I set them up with a little sign that said Love is Brewing! And put two servings worth of tea in each little heart-shaped container. The containers were purchased at Michael's and are literally called favour tins.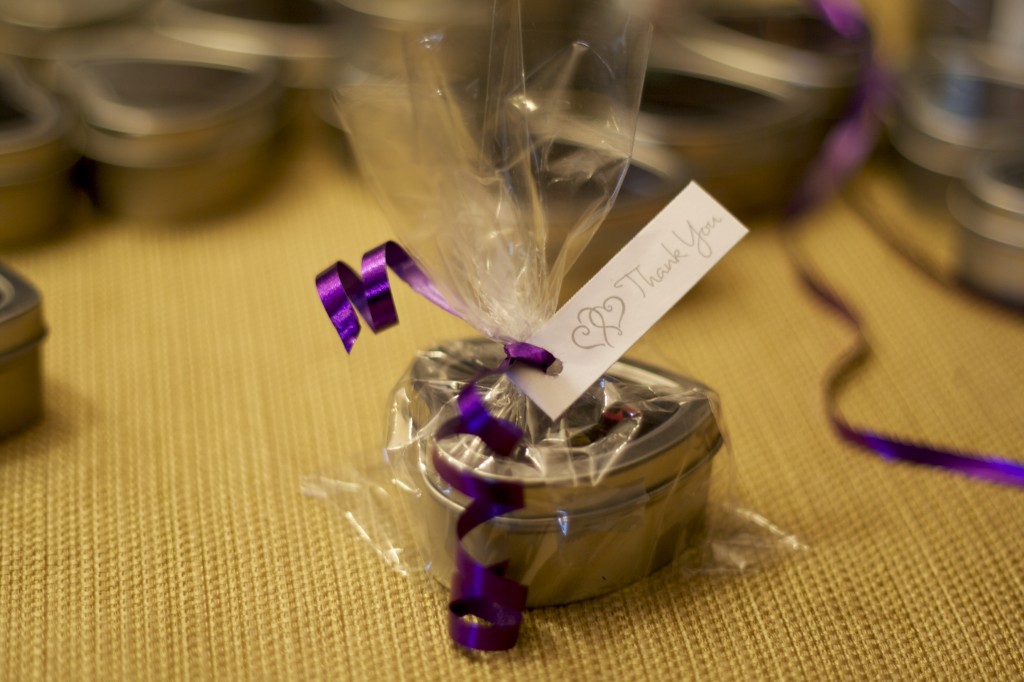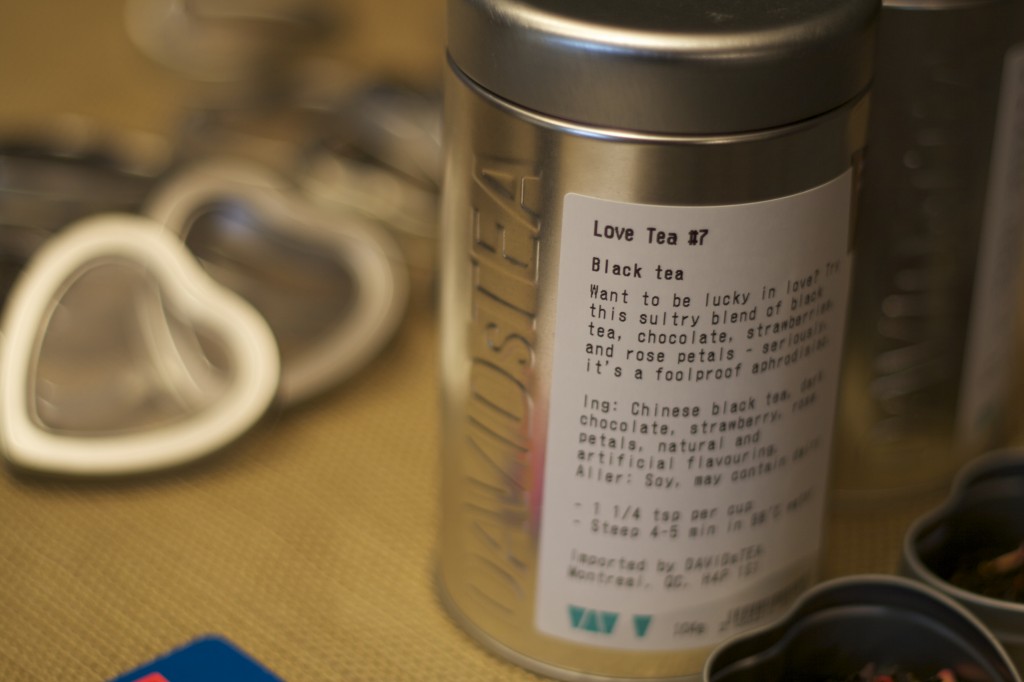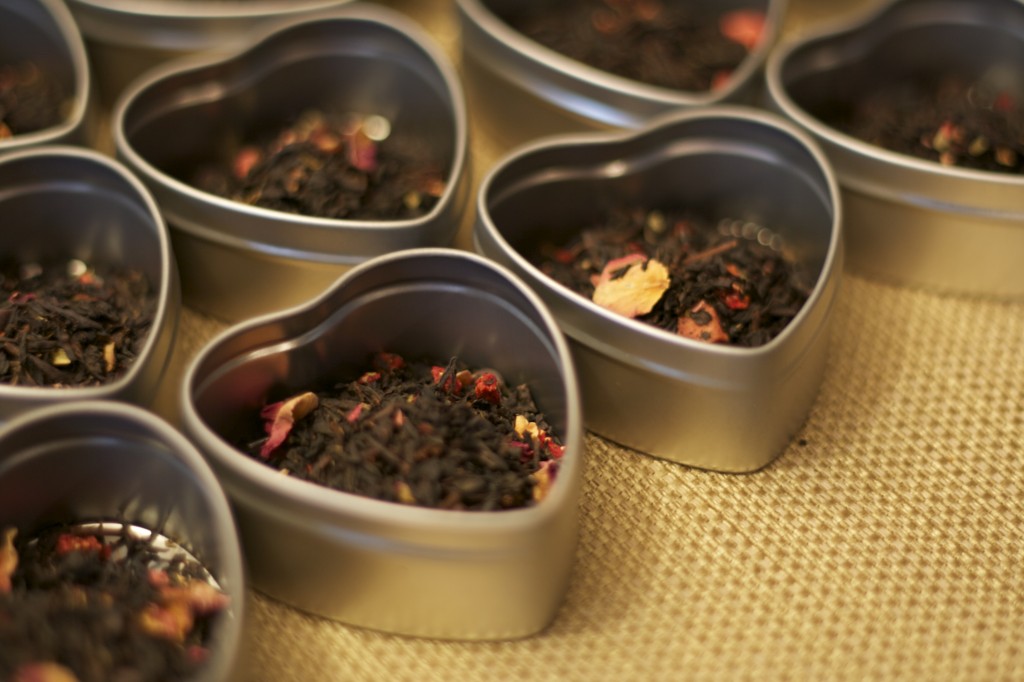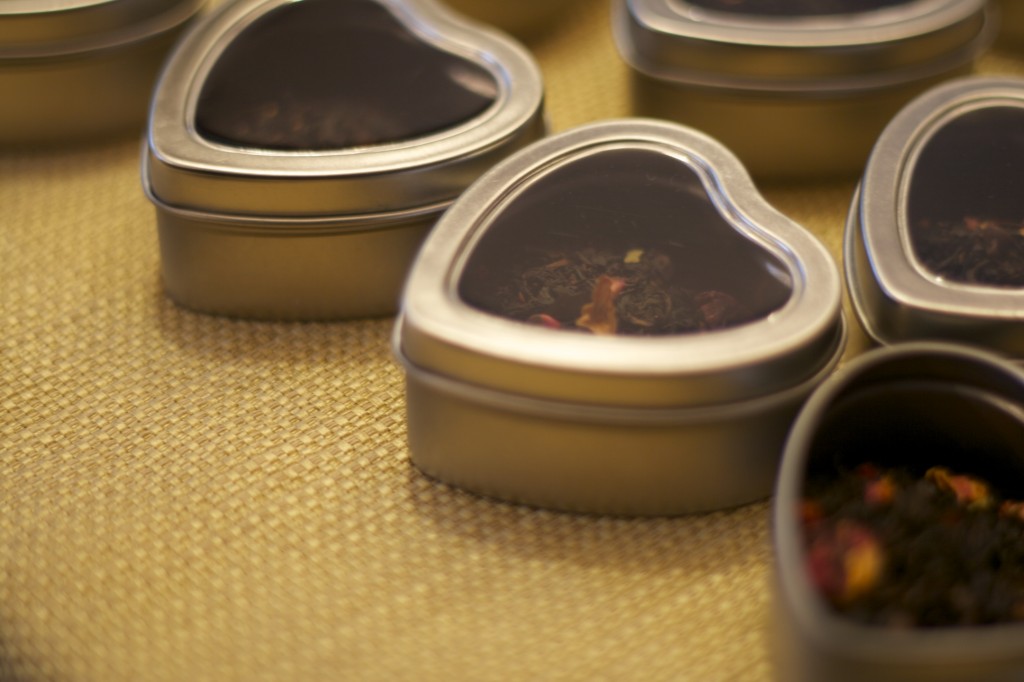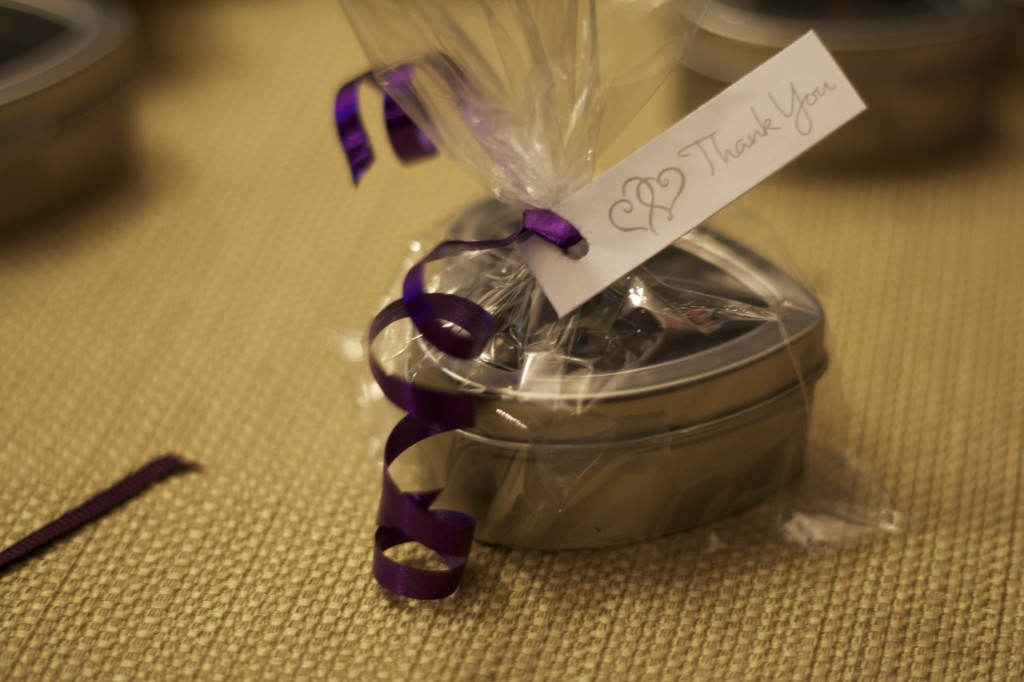 Yum