Drop Dead Recipes- Peanut Butter Cups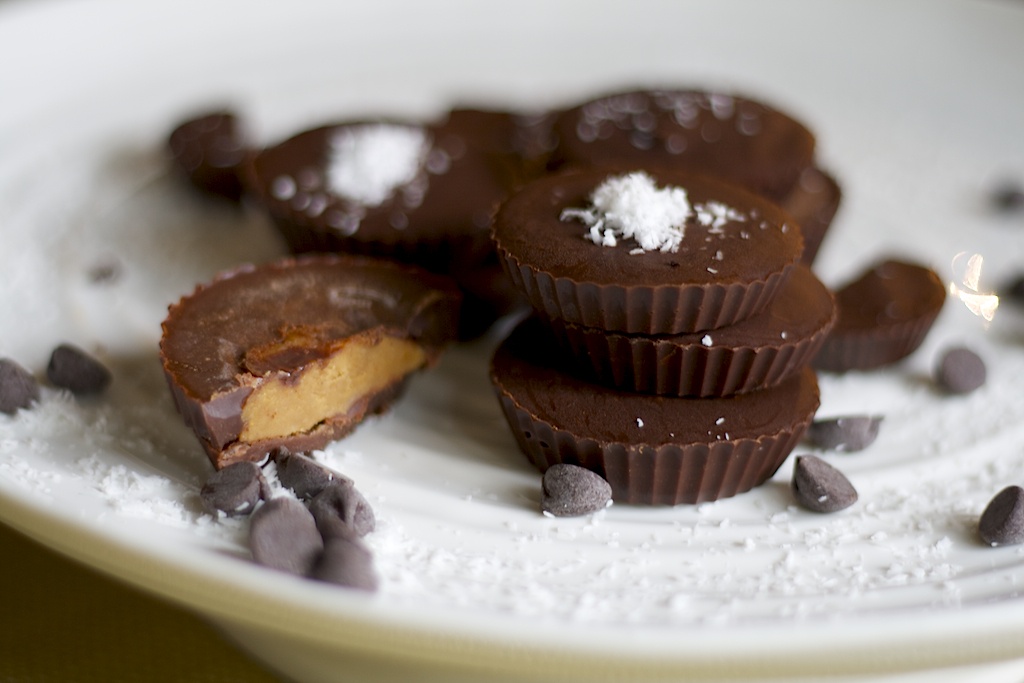 This month, in celebration of October which I think of basically as the month of candy, courtesy of Halloween, I've created an extremely delicious but healthy treat. These peanut butter cups are made from raw chocolate, and you can use a raw almond butter or sunflower seed butter inside, if you want to make this totally raw.
Also, if you follow me on Instagram, you would've seen how stoked I was about my Bitchcraft Dungarees. I mean, I haven't worn anything like this since I was a kid! I am digging them soo much.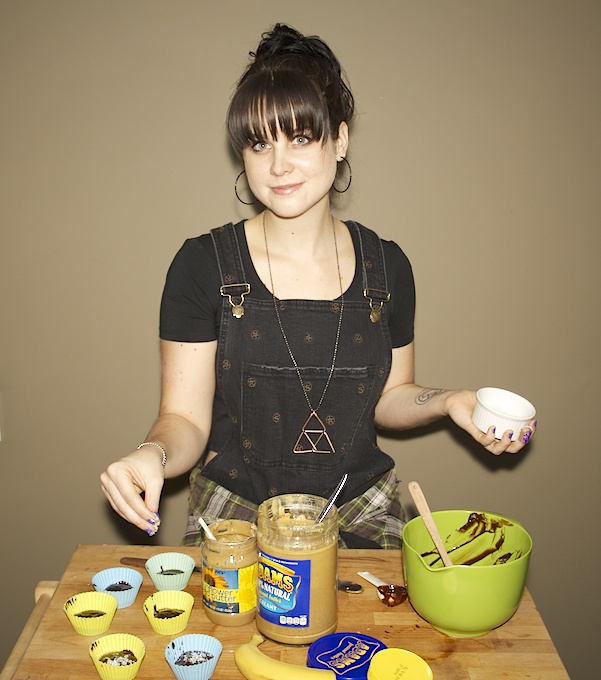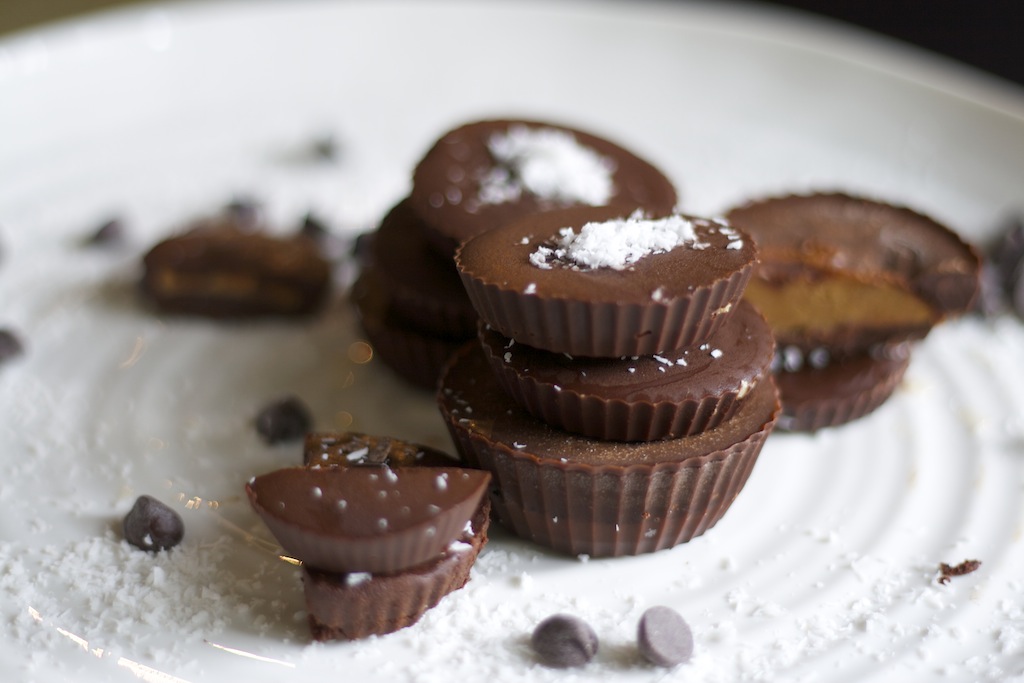 Who doesn't love the combination of peanut butter and chocolate…it's so good! Reese's peanut butter cups rank pretty highly among most people I know. But there are a lot of extra ingredients in them that really aren't necessary, and definitely are not beneficial health-wise. I've come up with a recipe for a completely dairy-free peanut butter cup that I think is as good as the original.  Even if you aren't vegan or vegetarian, these make a great dessert or treat that will benefit the body. Raw cacao is one of the highest antioxidant foods you can consume. If you can't find raw cacao powder at your local health food store, feel free to use regular cocoa powder. It doesn't have the same benefits, but it will do the trick!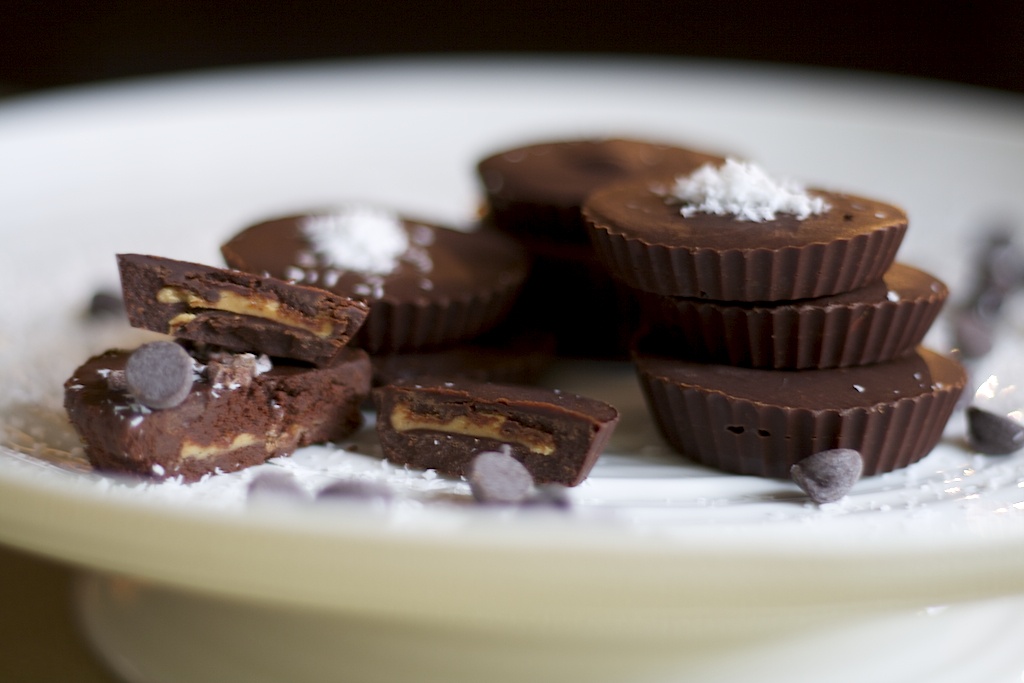 If you aren't down with peanut butter, these guys can be made with any nut butter. I suggest trying almond butter or sunflower seed butter, too! If you are into raw foods, please note that this recipe is completely raw if you use raw cacao powder and a raw nut butter.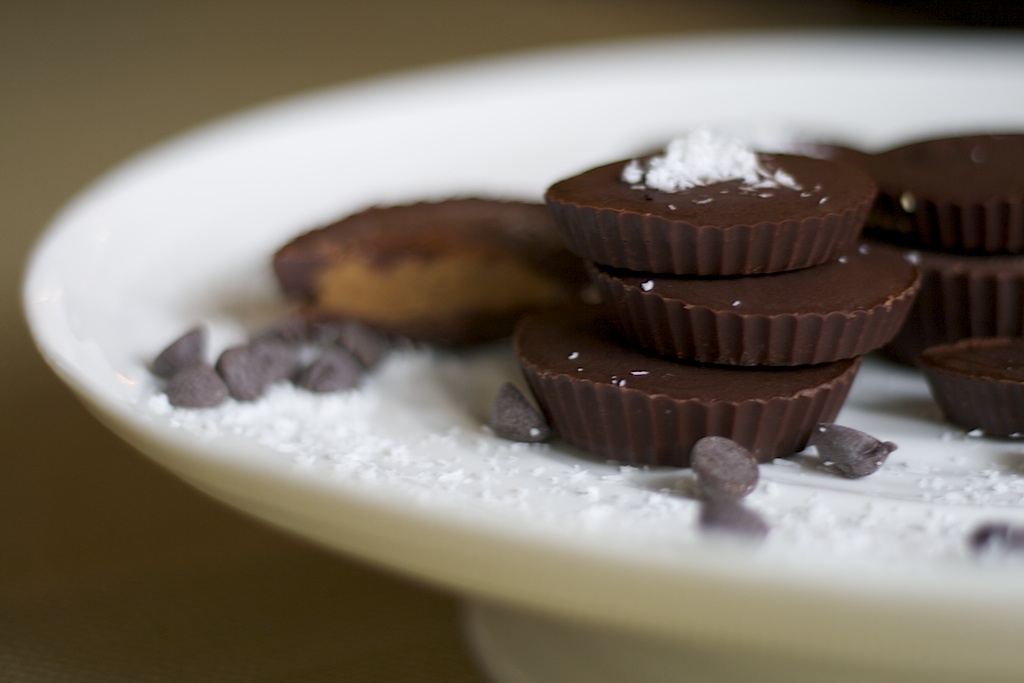 This recipe is super versatile and you can make it as simple or as complicated as you like. Some suggestions I have for gettin' a little crazy with these are:
 adding banana slices under the peanut butter
adding shredded coconut into the peanut butter or on top of the cup
adding raw cacao nibs or mini chocolate chips into the mix
adding chopped peanuts or almonds on top
Peanut Butter Cups (makes about 6 regular cupcake sized cups, or 12 minis)
1/3 cup raw acao powder, or cocoa powder
¼ coconut oil, melted
3-4 Tablespoons maple syrup, honey, or agave nectar
a pinch of sea salt
1 teaspoon peanut butter, or other nut butter per regular sized cup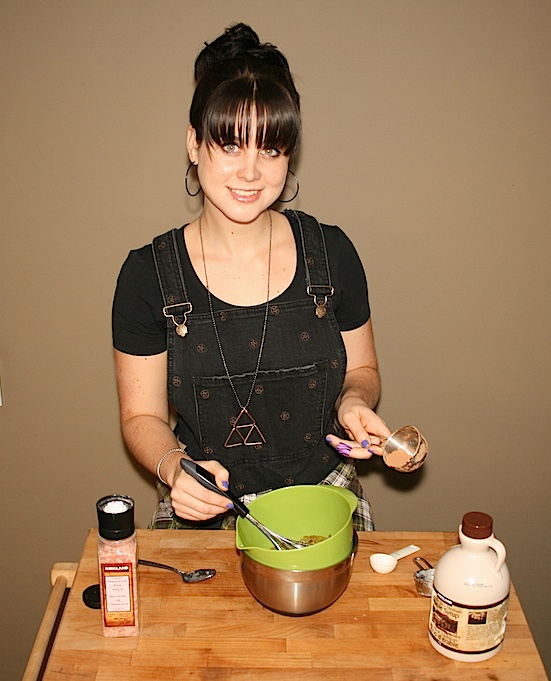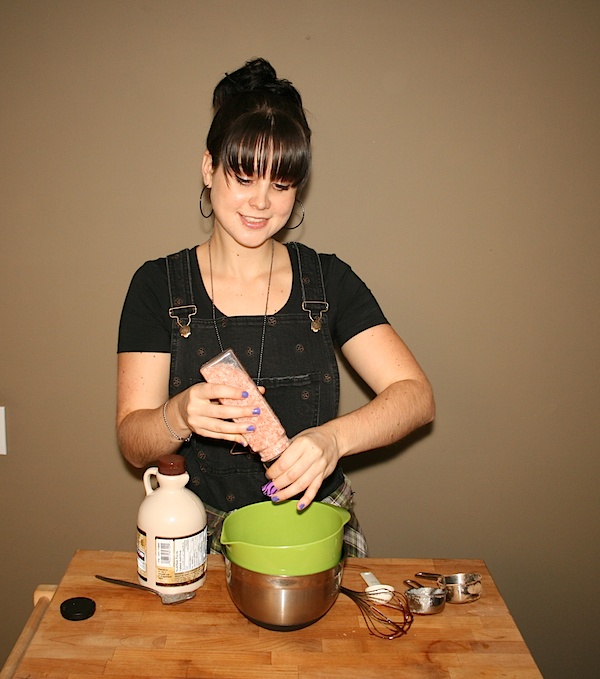 Mix cacao powder, coconut oil, salt and maple syrup together. I like to do this in a small bowl that is sitting in a bigger bowl of hot water. This keeps the coconut oil in its liquid form, and makes it easier to mix.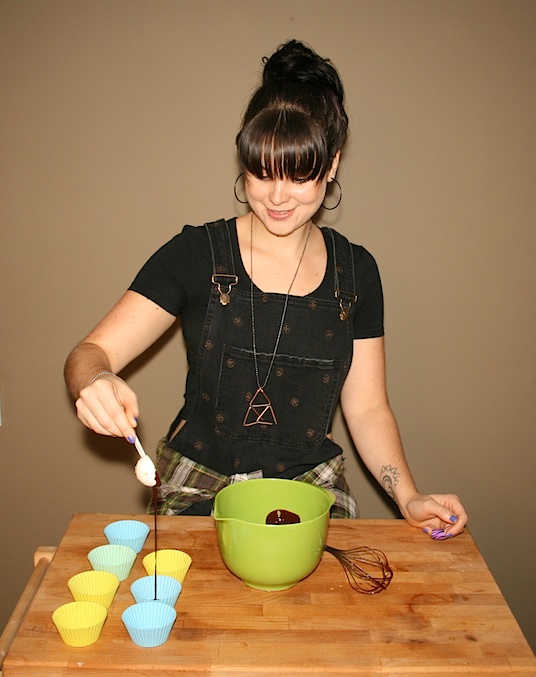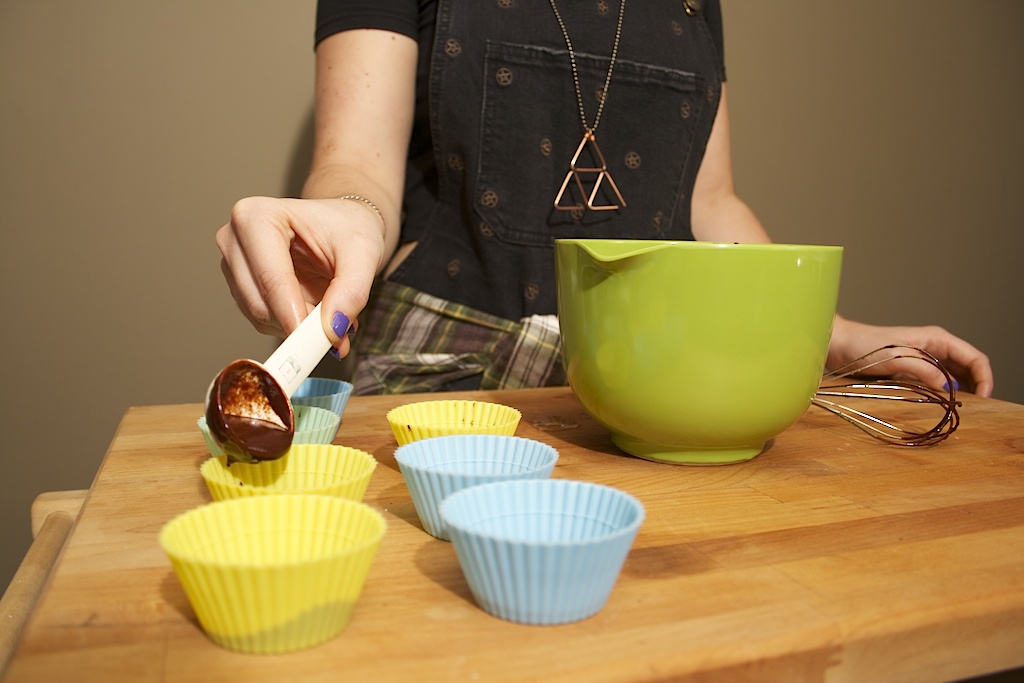 Pour ½ – 1 TBSP of chocolate into the bottom of each regular sized cupcake liner and place in the fridge until set (this only takes a few minutes). You only need a thin layer on the bottom…more chocolate is necessary for the top layer.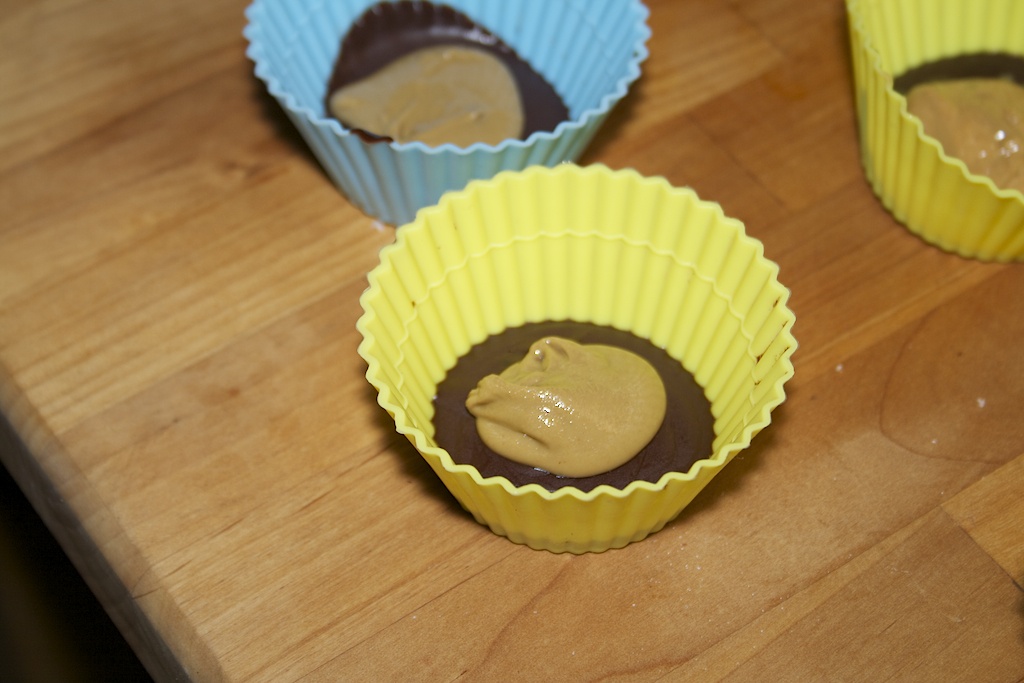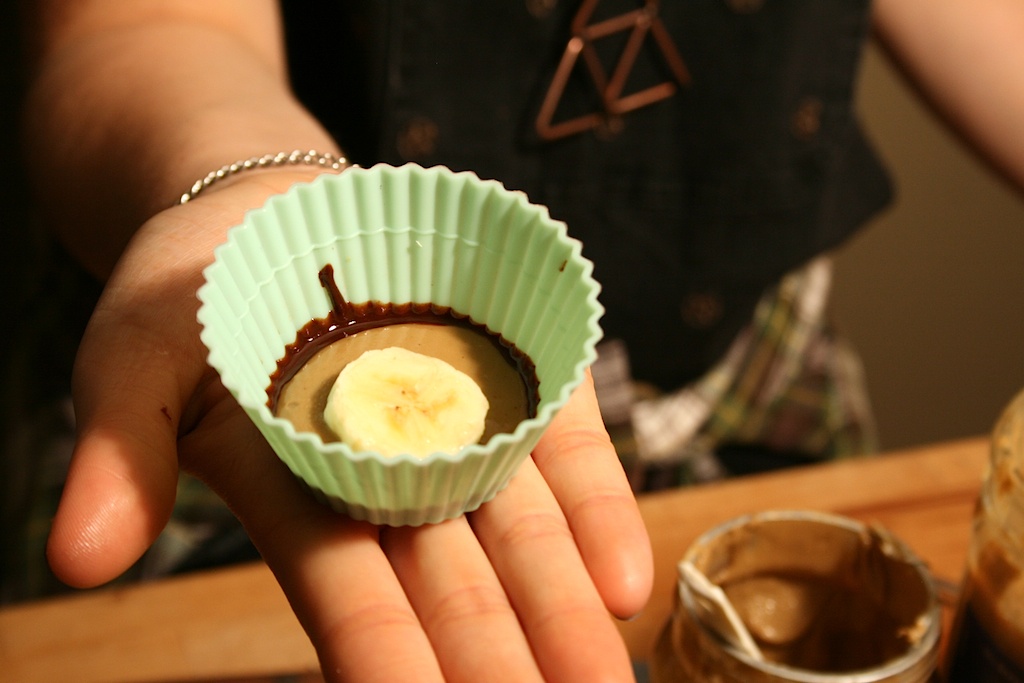 Add a teaspoon of peanut butter on top of the set chocolate. If you want to add anything else inside the cup, like sliced banana, add it now. The peanut butter should not quite reach the edges, or else it will show.
Pour another tablespoon or so of chocolate on top of the peanut butter until covered evenly.  Top with any shredded coconut or chopped nuts, at this point. Place back in the fridge to set.
Once set, peel from cupcake wrappers and enjoy! Keep stored in the fridge, as these melt quite easily!
Yum