Fiesta Flatbread
If you can recall my last post, I made pita bread as part of a Middle Eastern meal…well, I still had a ton of light whole wheat dough leftover from that. I decided to make a pizza/flatbread, using whatever I could find in the fridge! I had recently seen a pizza that used caramelized onions as a base, and I thought that was great, flavourful idea. My onions were burnt extra caramelized! It still turned out fantastic, and like my mom said 'it's like a fiesta in your mouth!' *hides head in shame* Just so corny! Regardless, the comment is true. Try it for yourself!
Light Whole Wheat Dough (adapted from Artisan Bread in 5 Minutes a Day)
3 cups lukewarm water
1 1/2 tbsp granulated yeast (2 packs)
1 1/2 tbsp Kosher salt
2 cups whole wheat flour
4 1/2 cups unbleached all-purpose flour
Mix the yeast and salt with the water in a stand mixer bowl. Mix in the remaining ingredients, without kneading, using the dough hook on your mixer. Cover (not airtight) and allow to rest at room temperature approximately 2 hours. Use the dough immediately after this, or, refrigerate in a lidded (not airtight) container for up to 14 days.
I made one batch of this dough, and got some pita bread, and 3 pizzas out of it. Each pizza will take one grapefruit sized piece of dough.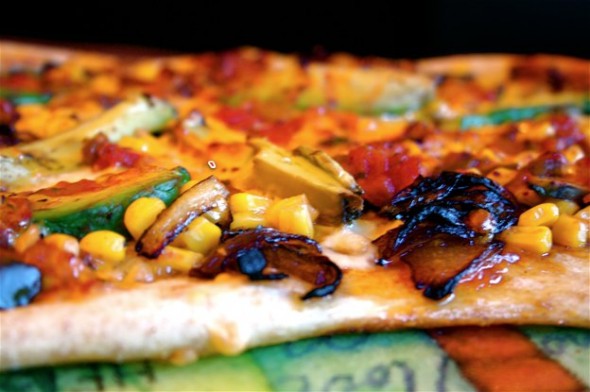 Fiesta Flatbread
1 grapefruit sized piece of light whole wheat dough
1/2 onion, sliced
olive oil
1 tbsp balsamic vinegar
1/2 cup corn
1/2 avocado
1/3 cup salsa
chilli powder
dried basil
mozzarella cheese
cheddar cheese
With a baking stone in your oven, preheat your oven to 500 degrees F. Dust your table surface, rolling pin, and the top of your dough with flour. Stretch your dough into a round ball. Roll out your dough to 1/4 inch thick. Grease a pizza peel, and place your dough on top.
Drizzle olive oil in frying pan and heat, toss in onions and balsamic vinegar and caramelize. Put the onions onto the dough, add the other ingredients on top. Top with a sprinkle of chilli powder, dried basil, mozzarella and cheddar cheese. *Keep in mind that I estimated the amounts that I used, and if you make your pizza larger, add more toppings! If you want this to be vegan, simply exclude the cheese and it will still taste delicious! I was making this with my cheese-eating family in mind.
Bake on the pizza peel on top of the baking stone for 10 minutes, until crust no longer feels doughy.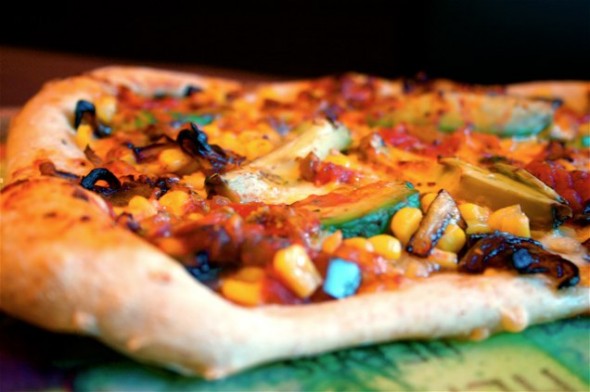 Yum