Gluten-Free Vegan Toasted Coconut Waffles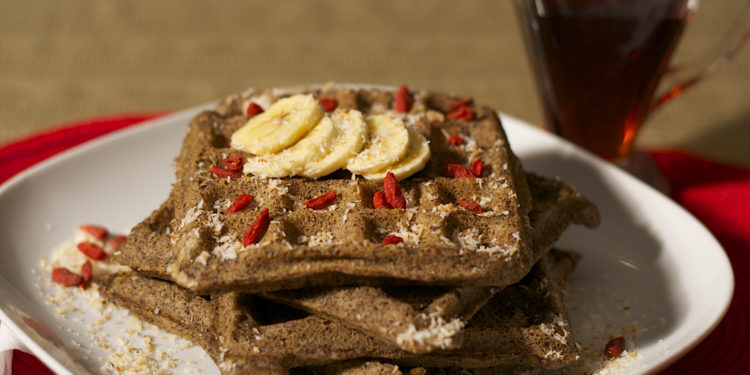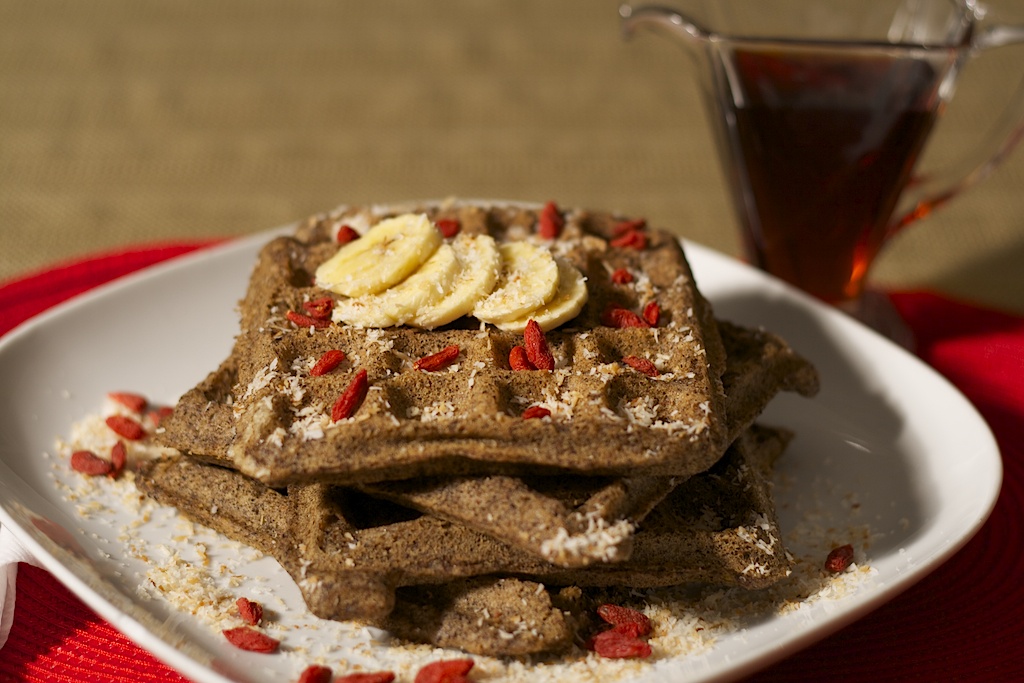 I am so excited to be sharing these waffles with you… mostly because it means I finally had the most awesome breakfast which I've been craving for weeks!! Unfortunately, I made them at about 8 at night after a long day at work, but hey…at least it happened!!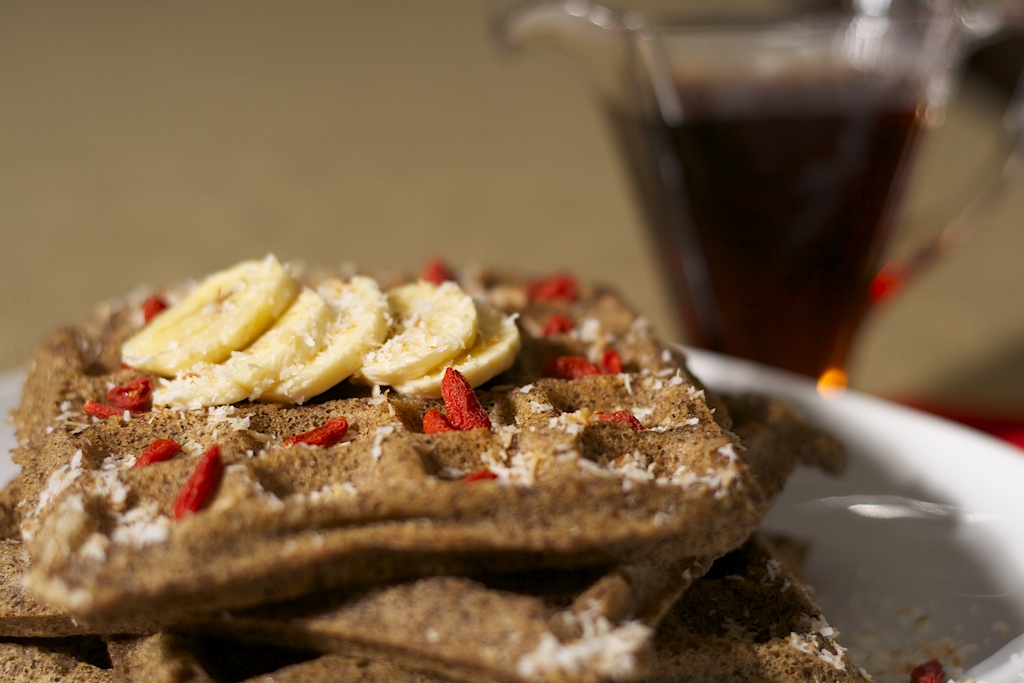 I am super stoked about these because they are totally gluten free and vegan…not an easy feat to accomplish with waffles! I used a blend of buckwheat (hence the dark colour) and brown rice flour, accompanied by arrowroot powder. To get these puppies nice 'n' light I used club soda and flax eggs. I love the toasted coconut in the batter, and extra sprinkled right over top. I strongly suggest you top these with lots of maple syrup and banana slices! These gluten-free vegan waffles manage to be so nice and crisp on the outside and fluffy and light on the inside- which is exactly how I think a waffle should be! They are boyfriend approved, and Rhys called them 'waffletastic' as he ate about 3, even though he had already eaten a huge bowl of Pho and finished half my Pho for dinner bahaha boys…
I hope you can enjoy these on a relaxed weekend this holiday season. You could even make them ahead of time and freeze them for a quick yet gourmet breakfast in bed! I'm dreaming of that right now, but as I prepare to move to New Zealand, there is just too much to do to even have a second to relax!! It will all be worth it in 20 days though. I can see the beach now…. 😉
I added links to some of the harder-to-find ingredients above. If you don't want to order online, look at your local health food store. If you are going to order online, I love iherb and the links above are my referral links…if you use code OKO712 when you check out, it can save you $5-$10 off your first order!! Crisp on the outside, light and fluffy on the inside gluten free and vegan waffles. Top these off with banana slices, toasted coconut, and maple syrup. Makes 8 waffles. Ingredients:
Buckwheat Flour – 3/4 cup
Brown Rice Flour – 3/4 cup
Arrowroot Powder – 1/2 cup
Vanilla Extract – 1 tsp
Coconut Sugar – 1/4 cup
Ground Flaxseeds – 2 TBSP
Water – 6 TBSP
Unsweetened Shredded Coconut – 1 1/2 cups
Sea Salt – 1 tsp
Baking Powder – 1 tsp
Baking Soda – 1/2 tsp
Almond Milk – 1 cup
Apple Cider Vinegar – 1/2 tsp
Soda Water – 1 cup
Coconut Oil, Liquid – 2/3 cup
Instructions: Preheat oven to 400 degrees F. Spread coconut out on a parchment lined baking sheet and toast for approximately 5 minutes, until golden. Watch carefully- coconut can burn quickly! Remove from oven and set aside. In a small dish, combine ground flaxseeds and water and let sit for 5-10 minutes, until thicken and gel-like. Combine apple cider vinegar and almond milk and let sit for 5-10 minutes until curdled. In a large bowl, combine buckwheat flour, brown rice flour, arrowroot powder, baking powder, baking soda, and salt together. In another bowl, whisk together flax mixture, almond milk mixture, sugar, coconut oil, and soda water. Pour wet ingredients into dry and whisk together, careful not to over-mix. Stir in 3/4 cup coconut, leaving the remainder for topping. Heat a waffle iron until hot. Coat with a coconut oil spray or nonstick spray. Cook waffles until crisp on the outside, yet soft on the inside. This took about 6-7 minutes in my old school ghetto waffle iron. It may be different for you, especially if you own a Wafflebot (bahaha). Top with coconut oil or butter, pure maple syrup, banana slices, goji berries, and toasted coconut. MMMMMMM!
Yum