Homemade Peanut Butter Cups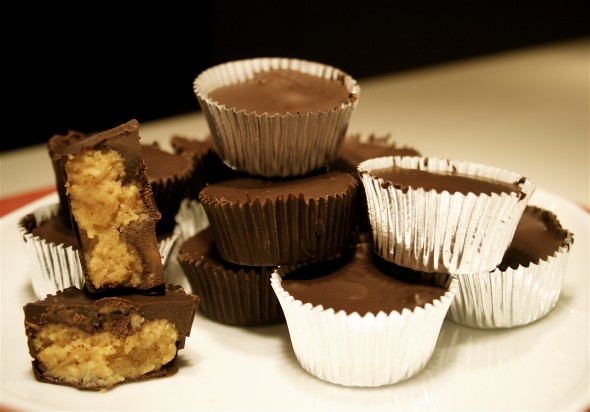 I love the combination of chocolate and peanut butter and after seeing chef Michael Smith of the food network make these, I could not resist! I made mine in teeny tiny mini muffin cups, but you could follow Michael Smith and use large ones, which I think would be delightful, but I knew that if I only made 4 big ones, I would have eaten them before anyone else got a taste…
Homemade Peanut Butter Cups
8 ounces of 70% bittersweet chocolate, cut into small pieces
1/2 cup peanut butter
1/2 cup cream cheese
1 tbsp sugar
1 tbsp vanilla
4 x paper or foil muffin cup liners
Melt chocolate in a bowl set over a small pot of simmering water.
Using a pastry brush or new paintbrush paint chocolate onto the inside of the muffin cups.
Place them in a muffin tin for easier handling.
Paint a thick layer and then refrigerate until it has set hard.
Puree the peanut butter, cream cheese, sugar and vanilla in a food processor until smooth.
Spoon or pipe into the hardened chocolate cups and then pour a thick layer of the remaining melted chocolate over the top making sure the edges are sealed.
Put back in fridge until the tops have set.
Peel liners off before serving.
Stay tuned for…Thai Green Coconut Chicken Curry
Yum