Vegetable Pasta- Raw!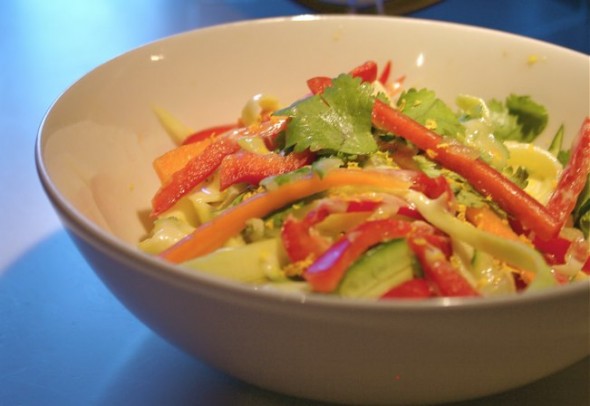 So I have dabbled in a couple of raw food dishes, such as the raw cheesecake I tried in the summer. I'm feeling a bit less than myself lately and was sick over the past week or so. Because I am in pastry school, I find myself consuming a lot of sugar, and I basically went from a near zero sugar diet, to one where I'm bringing home cakes, pies, tarts, and bread several times a week, and while a lot gets shoved in the freezer right away, it's the odd bites that catch up to us. I want to start cleansing my diet again, as my school winds down, and wean myself off the sugar once more. I thought a good place to start would be a raw food dish, and though I don't necessarily think that having a completely raw diet is the best diet, I know that I can count on raw food recipes to provide light, healthy nourishment. I got the recipe from here and only slightly modified it. I really enjoyed the dressing and used it on several salads I had in the following day or two. This was a very nice lunch, and also a great side dish at dinner. Enjoy!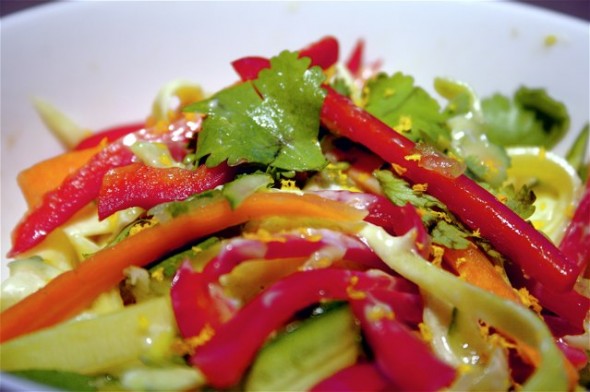 Raw Vegetable Pasta
Dressing:
1 inch ginger
3/4-1 cup olive oil
2 tsp sesame oil (toasted)
Juice of 1 lime
4 tbsp mellow white miso
¼ cup maple syrup
zest of one orange
1/3 cup water
Blend in a blender or food processor until creamy and emulsified.
Pasta:
1 large zucchini, sliced with a vegetable peeler
1/2 red pepper, sliced into matchsticks
1 carrot, sliced into matchsticks
1/2 small cucumber, grated

Scallions or green onion to garnish

Sprinkle of raw sliced nuts of your choice

handful of cilantro, chopped
Prepare and mix all veggies, save the scallions or green onion. Toss them with 1/4 cup sauce, adding more if necessary, and sprinkle with scallions. Sprinkle with sliced nuts and cilantro.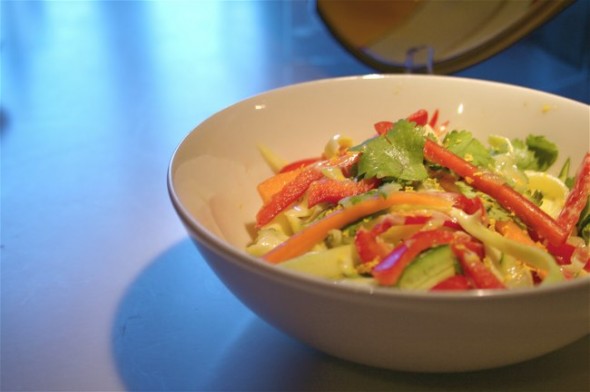 Yum